Lateral Movement Of Uniswap, When Is There A Chance Of Correction?
Uniswap has displayed tight trading conditions for over the last 24 hours. The coin has been consolidating and it recorded minor losses over the last day. Although Uniswap performed well over the past week securing more than 30% gain, recently, the bulls seem to be resting.
Recently UNI broke past the $6.00 mark and it could be eyeing the $8.00 price ceiling now. Buying strength displayed slight decline but buyers were still more in number than sellers in the market. Bitcoin's price action has helped many altcoins to rally but continued support from the buyers still remain crucial.
Going by the technical indicators, it seems though that UNI might hover around the same price zone at least over the upcoming trading sessions. After the rally, chance of a pullback cannot be ruled out, Currently UNI hasn't witnessed a pullback but consistent consolidation could drag the coin to the nearest support level.
If it manages to clear its immediate resistance, there are chances for UNI to trade beyond the $8.00 price mark.
Uniswap Price Analysis: Four Hour Chart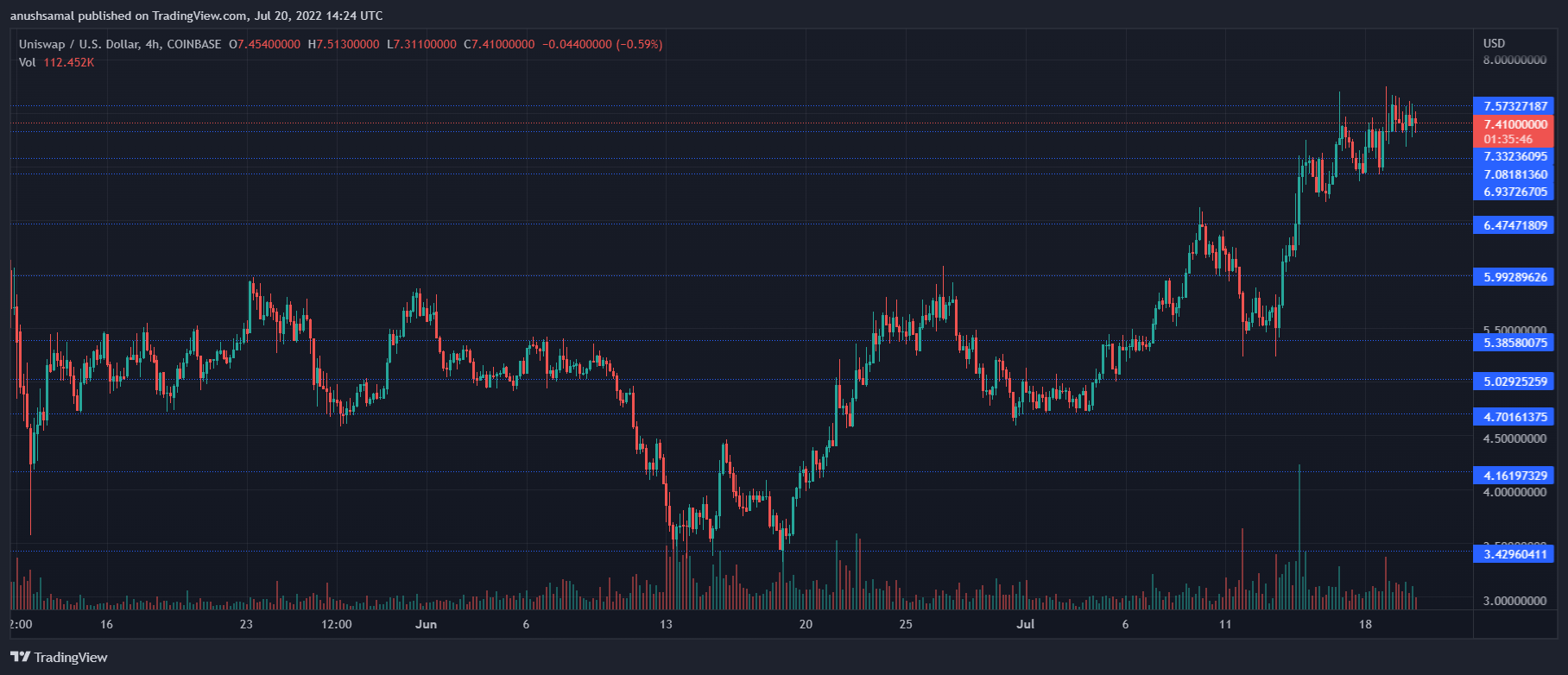 UNI was trading at $7.41 at press time and the coin was still optimistic on its chart. The current range of consolidation was between $7.33 and $7.49 respectively. A slight push from the buyers could help Uniswap to zoom past the $7.57 resistance mark.
If that happens, reaching $8.00 becomes easy and there could be a chance that UNI would trade above the $8.00 mark. On the flipside, the local support for the coin was at $7.08 and then at $6.47. A break below the $6.47 will push Uniswap near $5.38. Volume of UNI traded declined slightly pointing towards a slight fall in buying pressure.
Technical Analysis
UNI has witnessed growing buying strength on the chart ever since the coin rallied. There is a small downtick in the number of buyers even then buyers are still in control of the market. The Relative Strength Index was above the half-line and that meant buying pressure exceeded selling pressure.
Price of UNI was also above the 20-SMA line which signalled that buyers were driving the price momentum in the market. UNI was also above 50-SMA and 200-SMA which meant that the coin was trading on a bullish momentum.

UNI was positive in terms of the buying strength however some indicators suggested otherwise. Chaikin Money Flow determines the capital inflows and outflows of the asset. Chaikin Money Flow was below the half-line and that meant a decline in the capital inflows. Moving Average Convergence Divergence picture the price momentum and a change in price trend.
MACD underwent bearish crossover and red histograms were seen below the half-line. This reading is connected to a change in the current price direction over the upcoming trading sessions and also a sell signal. If Uniswap has to remain in the bullish zone, buyers need to be present along with support from the broader market