Shiba Inu price predictions: will 2023 be "The year" for SHIB?
The Shiba Inu (SHIB) token is experiencing a noticeable amount of network activity, as the project continues to release new features. The token has had a topsy-turvy 2022 in terms of price, falling down from a high of $0.00003 in Feb. to its current price of $0.000009 as of Oct. 13.
The token still remains in the top 15 tokens in the market, with a fully diluted market cap of roughly $5.8 billion. While the drop in price might have investors worried about the future, there are a number of factors that analysts are pointing to that indicate that SHIB might actually have a strong future.
Among these factors are the fact that the Shiba Inu project is working on developments that will add a lot of functionality and service to the ecosystem. Furthermore, meme coins are continuing to show that they have a place in investors' hearts, and other projects like Tamadoge (TAMA) are proving that this is the case.
Shiba Inu Releasing a Slew of Features
One of the main reasons why SHIB could have a strong 2023 is because of all the features it is expected to release in the months to come. It has already made progress in this regard, having recently released the Shiba Eternity card game, which became the number 1 card game on the App Store upon release. The game was developed in partnership with PlaySide Studios and is free to play.
The crypto community has appreciated Shiba Inu's capacity to innovate and introduce new features, which is setting itself apart from a regular meme coin. Besides Shiba Eternity, the team is also working on the layer 2 solution Shibarium. This has no fixed date for releases and there have been some calls for at least a date on the public beta.
Wish I could move at the "speed of science". Sorry for the delay #SHIBARMY #SHIBAETERNITY guide is being completed and all bugs are being addressed. Had to make adjustments to make sure everyone can understand the tutorial. Thanks for your patience.

— Shytoshi Kusama™ (@ShytoshiKusama) October 11, 2022
Shibarium had been slated for launch in Q3 2022 or possibly a little later, but it appears that the team will only announce it when they are ready. The layer 2 solution will help reduce gas fees, which plagued Shiba Inu like it has other ERC-20 tokens. The team has claimed that Shibarium would bring transaction costs down to pennies and reduce transaction times to seconds.
Price Predictions for SHIB for 2023
Price predictions in the crypto market are difficult to make under the best of circumstances, but Shiba Inu's developments may offer some insight into where the token is moving. Currently, the token is priced at $0.000009, which is about 89% down from its all-time high of $0.000086. However, it is worth noting that SHIB has had an astronomical rise of 17204584.7% from its all-time low.
It's unlikely that the token will match that great rise, but the aforementioned developments and potential bull market in 2023 have investors hopeful of a strong run at the very least. Hitting 2022's high of $0.00003 is well within the realm of possibility, and investors will be more expectant of a range of $0.045 to $0.05 next year.
The crypto market is unpredictable, however, and meme coins in particular are subject to a great degree of volatility. It may very well be that SHIB experiences even higher growth as the hype takes over the market once more.
Of course, some analysts are suggesting an even higher rise to $1 – but this is unrealistic. At a $1 valuation, the total market cap of SHIB would be $549 billion. That is more than half of the crypto market's current total market cap. For comparison, bitcoin's current market cap is only $364 billion.
Tokens Like IMPT Could Also Match SHIB's Growth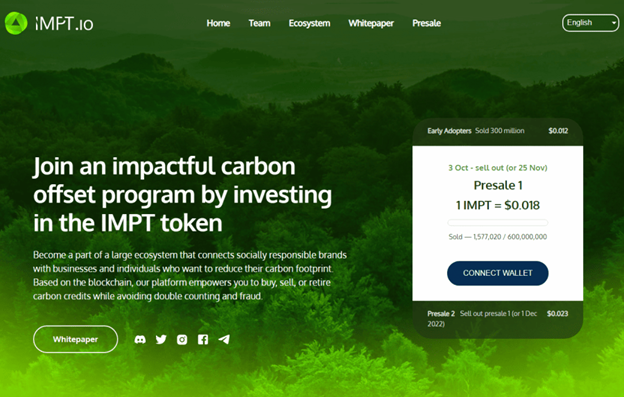 IMPT is a carbon credits platform where users can offset carbon footprints.
While SHIB may be on the minds of most investors, it's not the only token that is showing the potential to have an explosive 2023. One project that has been causing a stir in crypto circles is IMPT, which is making headlines for its focus on bettering the environment. Analysts are drawing comparisons between meme coins and IMPT because the latter is also creating a large following – but not because of the meme appeal, but because it is working on a good cause.
IMPT, which is currently undergoing the first stage of its presale, is essentially a carbon credits platform where users can offset their carbon footprints. Each carbon credit is equivalent to one ton of carbon output, and the team sees potential in the growing carbon market. These carbon credits can be burnt to earn NFTs, which can then be traded.
But the primary reason that IMPT could see growth in the near future is that, just like Shiba Inu, the team has focused on creating a set of features that serve the project's purpose. The team has outlined a shopping platform, a social platform, the ability to support hundreds of environmental projects, and a green NFT marketplace.
🚨🚨 ANNOUNCEMENT #IMPT CREW 🚨🚨

Stage 1 Presale Is Selling Out Fast! 🚀🚀

♻️ GRAB SOME $IMPT WHILE YOU STILL CAN! ♻️

Visit Our Website To Get Involved!
👉 https://t.co/ZMMXFM4SMW#climatechange #blockchain #presale #investment pic.twitter.com/0IfTfl2ICB

— IMPT.io (@IMPT_token) October 13, 2022
There is some evidence that the project may be heading towards an impressive 2023 because of the activity it has been experiencing in its presale. It is currently in the first stage, with 1 IMPT token being sold for $0.018. The project will have two more presales in the near future, with the tokens being sold at $0.023 and $0.028.
SHIB and IMPT are Storming into 2023
The following year is going to be a major one for the crypto market as a whole and not just the Shiba Inu project. However, the SHIB token could potentially have a major year in terms of both price movements and technical developments. The team has a lot lined up for the project, which could set it up for a strong 2023.
Coupled with the bull run that investors are hoping for, this could result in a good boost to SHIB's price, making it the year that SHIB will really cement itself in the market. Meanwhile, there are other tokens like IMPT which are also showcasing strength in 2023, for the same reasons of having multiple technical developments and being able to bring together the crypto community.