Bitcoin enters Guinness as the first decentralized cryptocurrency
Bitcoin entered the Guinness World Records, a book that records important achievements in the world, appearing in several Guinness categories.
Bitcoin in Guinness
Joining the cryptocurrency adoption movement, Guinness World Records started to rank some important events for the cryptocurrency market and the Blockchain industry, and Bitcoin gained prominence in Guinness in some of these categories.
Among some prominent positions, Bitcoin entered Guinness as the "First Decentralized Cryptocurrency".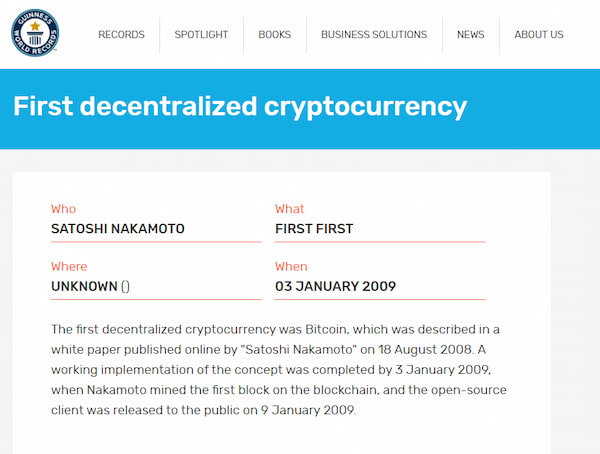 On the award page, we see the creation date of January 3, 2009, alongside its creator, Satoshi Nakamoto. Following, a detailed explanation about Bitcoin and its purpose.
Additionally, Bitcoin also appears alongside the "First Blockchain" and "Oldest Cryptocurrency" awards, all dated January 3, 2009.
Bitcoin's most recent Guinness ranking is as the most valuable cryptocurrency, with the registration taking place on March 24, 2022, with 1 BTC = $42,989.00 and a market capitalization of $816.69 billion.
It is important to note that this was not the maximum price and highest capitalization for the asset which, at the time of writing, has already been priced at $69,000 per unit with a capitalization that has exceeded trillions of dollars.
Bitcoin's entry into the Guinness World Records is certainly another milestone to be celebrated by the community and enthusiasts of the new decentralized economy that was made possible by the creation of Satoshi Nakamoto.
In addition to Bitcoin, other market-related rankings can also be found in the world's most famous record book.