Crypto Market Sees Significant Uptick as DeFi Slowly "Wakes Up"
The crypto market started the week on a positive note as Bitcoin (BTC), Ethereum (ETH) along with most of the digital tokens traded in green. Popular crypto strategist, Michael van de Poppe claimed that crypto prices are up as the decentralized finance (DeFi) is gradually "waking up".
Bulls Vs Bears
The global crypto market cap witnessed an uptick of nearly 2 per cent in the last 24 hours to stand at $869.38 billion. This seems to be a crucial level that had previously acted as support since the beginning of June and turned to resistance in November. Over the past 24 hours, the total crypto market volume jumped a whopping 20 per cent to $36.08 billion.

The battle between the bulls and the bears is intensifying after experiencing a major downturn since the collapse of FTX. Over the past year, the crypto winter has wiped out about $2 trillion of value in market capitalizations from the broader cryptocurrency market since its peak in November 2021.
Bitcoin Rebounces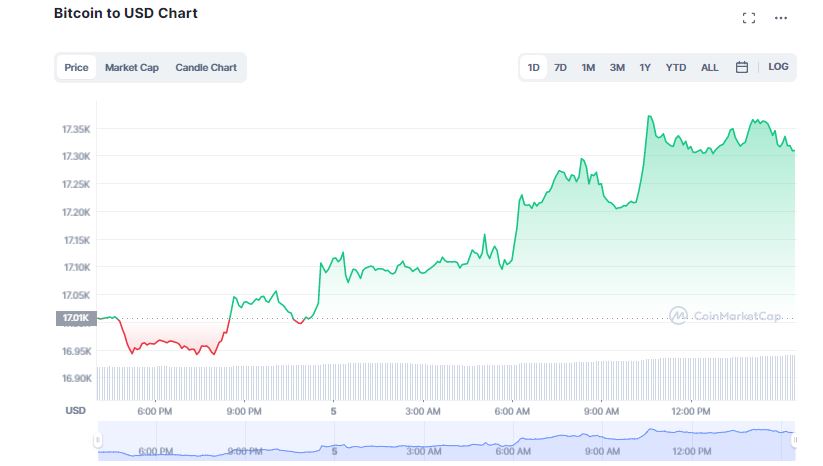 According to CoinMarketCap, Bitcoin (BTC) is up 1.82 per cent in the past 24 hours to currently trade at $17,329. Over the weekend, BTC changed hands between the $16,900 and $17,300 levels. The flagship token is now holding support at $16,000 level, where bears might become active. However, the immediate resistance for buyers is at $17,622 to reverse the downward trend.
It looks like investors are becoming more hopeful of a dovish US Federal Reserve. Hany Rashwan, CEO of 21.co, a crypto investment firm suggested that people are still putting their trust on digital assets despite an extended bear market. He pointed out that the underlying blockchain technology behind Bitcoin (BTC) and crypto remains solid in the face of uncertainity. Rashwan added,
"How are we still approaching $17,000? That says something. It's indicative that people are still using cryptos and trying to safeguard assets. Trust hasn't been shaken to the core."
Meanwhile, Jan Wustenfeld, a crypto market expert said the recent strides in the global monetary policy has "become relevant for Bitcoin." He emphasized on the widespread adoption of BTC whic is not only restricted to institutional investors. In many countries across the world, Bitcoin (BTC) is being used in everyday life. An increasing number of businesses are also beginning to accept BTC as a means of payment. Wustenfeld added,
"We have seen more widespread adoption of Bitcoin over the last years. Futures markets being introduced, institutional interest rising etc. So naturally, Bitcoin has become more connected to the traditional financial markets and is not only driven by retail investing anymore."
Despite Adversity Crypto Rises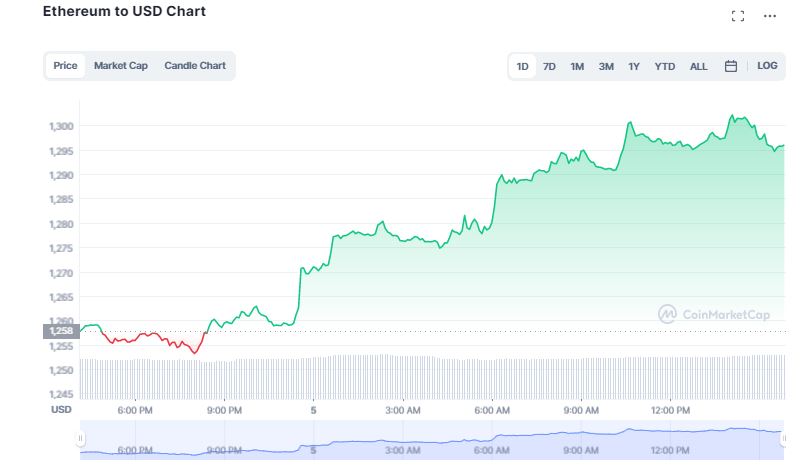 Ethereum (ETH) has also gained by over 2.90 per cent in the last 24 hours to $1,297. Ether pumped more than 10 per cent over the past seven days to march toward the $1,300 level. ETH has lost more than 70 per cent of its value since its all time high in November 2021.
Despite the plunging prices, ETH supply held by the top addresses on crypto exchanges has been on the rise since early June, as per the date from blockchain analytics firm Santiment. Last week, Santiment had tweeted that the number of 100 to 100k ETH addresses is also at a 20-month high.
Meanwhile, top altcoins too observed a substantial improvemnt in perfomance over the past day. XRP, Cardano (ADA) and Polygon (MATIC) surged in the range between 0.35 per cent and 3.85 per cent. Solana (SOL) increased more than 4 per cent to $breach the $14 mark.
Don't Stop Believin'
Slowly, but surely, some #altcoins are showing strength and especially #DeFi is waking up.

— Michaël van de Poppe (@CryptoMichNL) December 4, 2022
Acclaimed crypto analyst, Michael van de Poppe noted that the majority of the top altcoins are on a rally as the DeFi ecosystem is gradually on the rise. On December 5, he tweeted,
"Slowly, but surely, some altcoins are showing strength and especially DeFi is waking up."
Several othe crypto experts are continuing their bullish stance on cryptocurrencies. They explained that the FTX blowup should serve to strengthen other crypto companies that survive this market meltdown. John Avery, strategy and product leader for crypto, Web3 and capital markets at FIS, asserted,
"We are going to see some challenges for the foreseeable future. But we do expect improvements ultimately. This will be a catalyst. There will be growing institutional adoption."