Cardano is Still not Recovering. Will ADA be Able to Break the $0.40 Barrier?
Cardano (ADA) is among the many cryptocurrencies that are currently facing a hard time in the crypto market. The coin has lost a considerable chunk of its value and has failed to recover properly. Coupled with factors such as investors losing trust in investing in cryptos, ADA has been unable to get back up on its feet. However, there were instances where crypto showed signs of being back on track, but these instances did not last long.
Despite interest in investing being on the lower side, the total number of users using the Cardano platform has increased by approximately 15% ever since the collapse of FTX. Soon after, users shifting their assets to decentralized solutions or self-custody became a trend. Keeping this increase in mind, the total number of active users jumped to 75,800 just last month. It is worth mentioning that that is the highest number to be recorded since May. Similarly, even the total monthly transactions on the platform witnessed an increase. They grew by almost 5% to 2.32 million the previous month.
On the other hand, after the FTX fall, the total value locked on the Cardano network took a dive by almost 16% to approximately $58 million. Many people actually believe that with the launch of Cardano's new projects, the ADA token would definitely increase, and greater utility would be introduced to the network's DeFi system. Currently, things don't seem too good for Cardano (ADA).
Will Cardano (ADA) Recover?
Based on data from the previous 30 days, it is pretty much evident that Cardano is on its way to continue losing its value. However, it doesn't exactly show any signs of improvement either. Cardano (ADA) is currently trading for approximately $0.31 and has a total market cap of $10.65 billion. However, just last month, Cardano reached a high of $0.4064 but has been dethroned ever since. Since then, the token has been down by nearly 24.31%.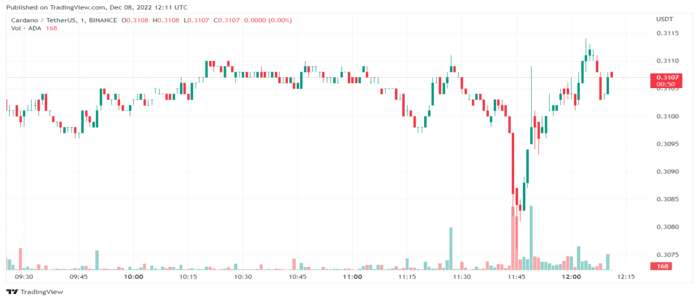 Furthermore, the price of the crypto recovering soon is a matter of conjecture. Considering the dire situation in the crypto market, it is hard to say when it will recover. However, many analysts believe that Cardano will inevitably cross the $0.40 barrier by the end of this year. If things don't ease out till then, the recovery might be shifted to earlier next year. All Cardano (ADA) holders can do is sit back and hope for the best.