Avalanche: Activity Down, But Positive Signs
Avalanche is a high TPS challenger to Ethereum and Binance in the smart contract market.
Daily active users are stable but not growing and validator growth in 2022 was essentially non-existent.
Based on certain valuation metrics, AVAX is actually not as overvalued as some peers.
Like all coins/chains in the crypto market, regulatory concerns in the US are a headwind.
Looking for a portfolio of ideas like this one? Members of BlockChain Reaction get exclusive access to our subscriber-only portfolios.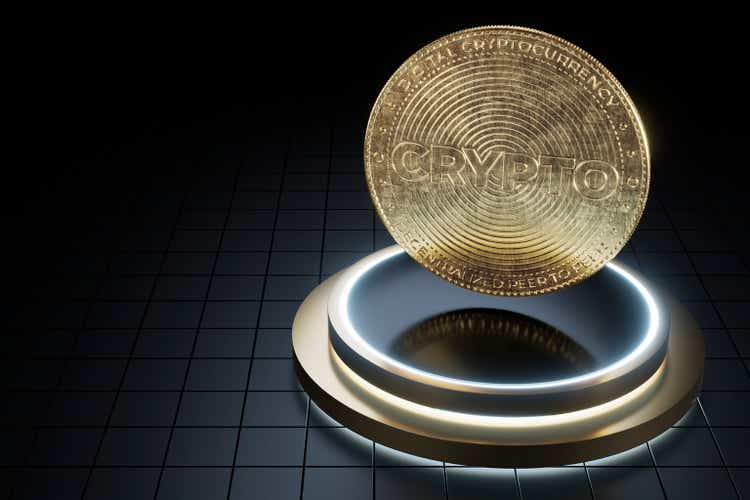 One of the top Layer 1 blockchains in crypto by market capitalization is Avalanche (AVAX-USD). With a $3.7 billion market cap, AVAX is the 18th ranked cryptocurrency by circulating supply. Like other Layer 1 smart contract blockchains, the native coin of the chain is used to pay for transaction fees on the network. In this article, we'll look at some of the on-chain activity in the Avalanche blockchain network to try to make a determination about whether or not it is a good time to buy this coin based on valuation trends.
'ETH Killer' Narrative
One of the big reasons why chains like Avalanche exist is because Ethereum (ETH-USD) has long suffered from scalability issues. I've covered the blockchain trilemma in previous Seeking Alpha articles and I'd invite you to read this one as well if you want more of an explanation about what the trilemma is. But the stripped down version is Ethereum isn't scalable on the base layer in its current form. There are essentially 3 different solutions that have come from that fundamental scalability problem:
Developer changes to Ethereum's base layer
Secondary scaling layers
Entirely different L1 ecosystems
Avalanche is one of the top examples of option 3 as it is a different blockchain ecosystem that can work along side Ethereum if we're indeed headed for a multi-chain future. The chain was launched by Ava Labs in 2019. What makes Avalanche different from Ethereum from a technical perspective is that it actually has 3 distinctly different blockchains on the network; each of which are optimized for different types of transactions. This is an interesting attempt at upgrading the efficiency of a base layer blockchain and Avalanche claims the ability to process more than 4,500 transactions per second with the potential capacity to do an infinite amount with the implementation of subnets. This is dramatically more than Ethereum.
User Activity
Over the last year, Avalanche has seen unique addresses on the blockchain grow from 1.45 million at the end of 2021 to 4.52 million at the end of 2022 – year over year growth of well over 200%. Though the address growth has been good, I want to give a sense of where activity was a year ago versus where it is currently: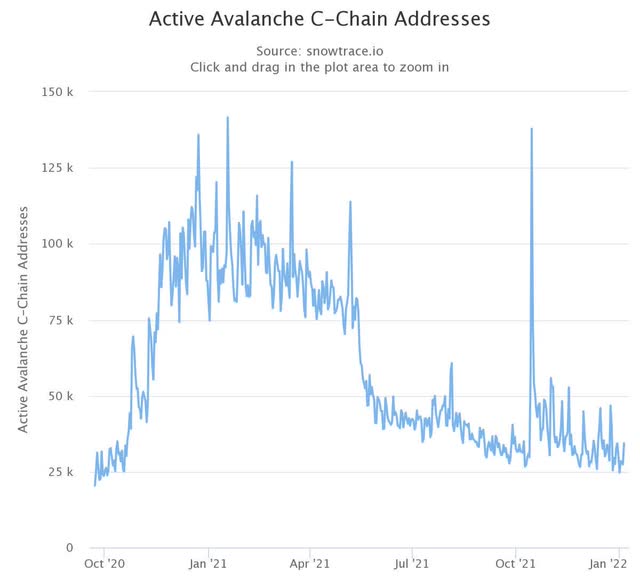 Despite the large surge in daily actives in mid-October, the overall trend in DAUs (active addresses) has been negative since the collapse of Terra (LUNC-USD). An important caveat in this data above is that it is only the C-Chain addresses.

There are active users on the subnets as well, but even when accounting for Dexalot, Swimmer, and DFK subnets, Avalanche's DAUs has still been under 50k for the majority of the last 7 months. Despite that relatively low daily active user figure compared to other Layer 1 smart contract chains, it does appear that the trend has at least somewhat stabilized since last summer.

Also somewhat stable but also boring is the lack of meaningful growth in validators on the C-chain. The C-chain had grown from 1,148 validators at the end of 2021 to over 1,600 in April. That number has since retreated back to 1,123 at the start of this year. Not exactly a great trend.
Valuation Metrics
From a valuation standpoint, DeFi metrics are often a good indication if a blockchain native asset has a fair price given the level of value locked on the network. One way to express a valuation multiple is with the market cap to TVL ratio.
| Rank | Network | Protocols | 1m Change | TVL | Stables | Mcap/TVL |
| --- | --- | --- | --- | --- | --- | --- |
| 1 | Ethereum | 628 | -1.71% | $23.67b | $84.88b | 6.38 |
| 2 | Binance | 522 | -15.76% | $4.16b | $9.2b | 10.09 |
| 3 | Tron | 14 | -6.08% | $4.1b | $33.84b | 1.21 |
| 4 | Arbitrum | 161 | -0.88% | $1.03b | $936.28m | n/a |
| 5 | Polygon | 354 | -5.07% | $1.02b | $1.72b | 7 |
| 6 | Avalanche | 280 | -12.21% | $776.88m | $1.56b | 4.73 |
| 7 | Optimism | 96 | -6.98% | $509.47m | $544.22m | 0.43 |
| 8 | Fantom | 271 | -9.74% | $423.11m | $470.05m | 1.31 |
| 9 | Cronos | 88 | -15.19% | $372.5m | $425,585 | 4 |
| 10 | Mixin | 9 | -1.45% | $262.56m | n/a | n/a |
Source: DeFi Llama, as of 1/5/23
From that vantage, Avalanche actually doesn't look too bad compared to Ethereum and Binance (BNB-USD) which both have larger MC/TVL ratios. The higher the ratio, the more overvalued a chain's native asset potentially is. Avalanche has a higher ratio than chains like Tron (TRX-USD) or Fantom (FTM-USD) but lower than Ethereum and Binance Smart Chain. One thing to keep in mind is low MC/TVL doesn't necessarily mean a coin is cheap by itself. It could also be an indication of a one-dimensionchain that lacks a diverse set of activities. Another valuation metric to consider is price to sales.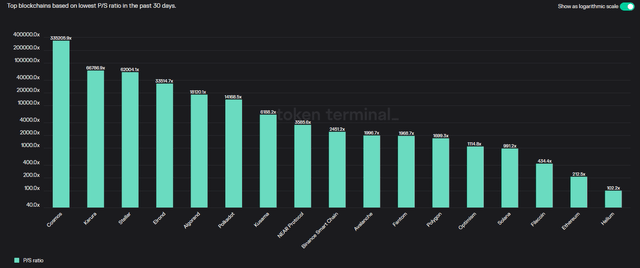 This expresses the market capitalization of a network's token divided by the annualized revenue on the blockchain. Avalanche's multiple of just under 2k is far from the lowest but also superior compared to a couple other chains that have larger market caps. To be clear though, none of these blockchains appear to be heading in the right direction from a P/S valuation trend perspective: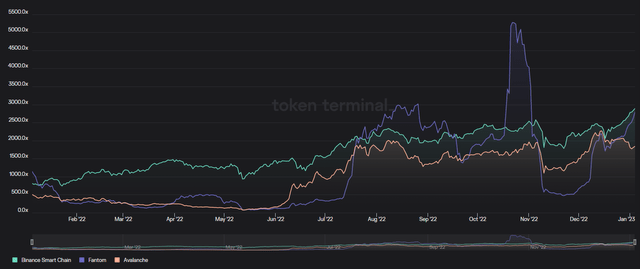 You can see in the chart above when assessing the full year trend, these chains are largely becoming more expensive rather than cheaper judging by the P/S ratio. This is largely attributable to coin prices that haven't fallen as much as network activity has.
Risks
Valuation and user growth stagnation are clear risks. But these aren't risks that are exclusive to just Avalanche. Additionally, like all native assets on a public blockchain network, AVAX has risks on the regulatory front. We've seen the current SEC write language implying staked blockchain-based assets are potentially securities under United States jurisdiction because of the geographic location of nodes or validators. Over 40% of Avalanche's validators are in the United States though Germany is a somewhat close second with 27%.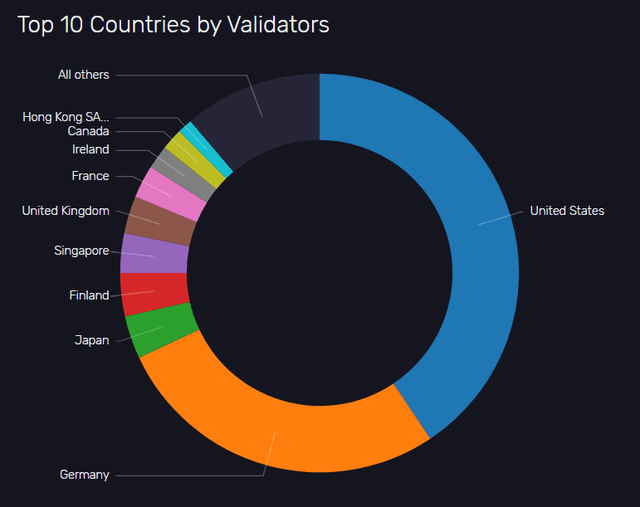 Which might be an additional risk with 67% of a chain's validation coming from just two countries. If either country decides to take a regulatory course that would be detrimental to staking, the network could be significantly damaged by loss of viable validators. This is absolutely not a risk that is exclusive to Avalanche, but it is a risk to consider given the push for crypto regulations following the FTX collapse (FTT-USD).
Summary
I think those who have followed my work over the last year or so know where I stand on a chain like Ethereum. While I've been keenly aware of the scalability problems and have entertained the idea of competing layer 1 chains like Avalanche, Solana (SOL-USD), and several others in the past, my thinking now is Ethereum will probably be the smart contract winner as scalability problems will be solved through some combination of L2 chains and future adaptations to the base layer.
That said, I do think competing Layer 1 chains will exist. I just don't imagine the native coins of the networks will ever command the market cap of something like ETH. Avalanche could certainly be a network that survives as the chain construction is interesting. Beyond that, DAUs are low but stable and Avalanche is still a top 10 blockchain by gross NFT sales despite lacking what I think most would view as a 'blue chip' NFT project. Though I do not currently have any exposure to AVAX, it is a token that I've previously owned a very small portion of and I would entertain going long AVAX again at some point in the future if the network activity warranted such a move.