BTC Price Analysis: Bitcoin price sees bulls taking baby steps toward $19,000
Bitcoin price sees bulls triggering a sentiment turnaround at the start of the new year.
BTC continues to rally in baby steps as equities are currently absorbing most of the disposable cash.
If this rally continues and US inflation on Thursday sees another decline, expect BTC at $19,000 by the end of the week.
Bitcoin (BTC) price is already up over 4% for the year as bulls re-emerge on the scene after a long hiatus. Bitcoin is not showing such violent spikes as seen in its little cousin Cardano because of the broad and mainstream correlation with other asset classes in financial markets. With heavy bond buying and a US dollar that does not seem to weaken or strengthen in one direction, traders are careful to place their money in just one asset or asset class.
Bitcoin price to rally 10% as the steepness of the rally is set to occur
Bitcoin price is already performing way better than most parts of 2022 as it can print several winning streaks with often a small and limited loss for one trading day. This shows that bulls have taken over the driving seat as the belief is growing that a Goldilocks scenario is on its way. With several economic indicators and data worsening, this is helping risk assets like equities and cryptocurrencies to rally higher. 
BTC will need to be watched closely on Thursday as US inflation numbers are set to come out. The belief is that the number will be lower than the previous one and should support bulls in their trade. Lower inflation overall means the US Federal Reserve could start slowing or even cutting rates, which would trigger a massive rally that could go on for weeks or months in 2023. Bitcoin price is primed to hit $19,000 on the back of lower inflation and print 10% of gains in the process by the end of this week.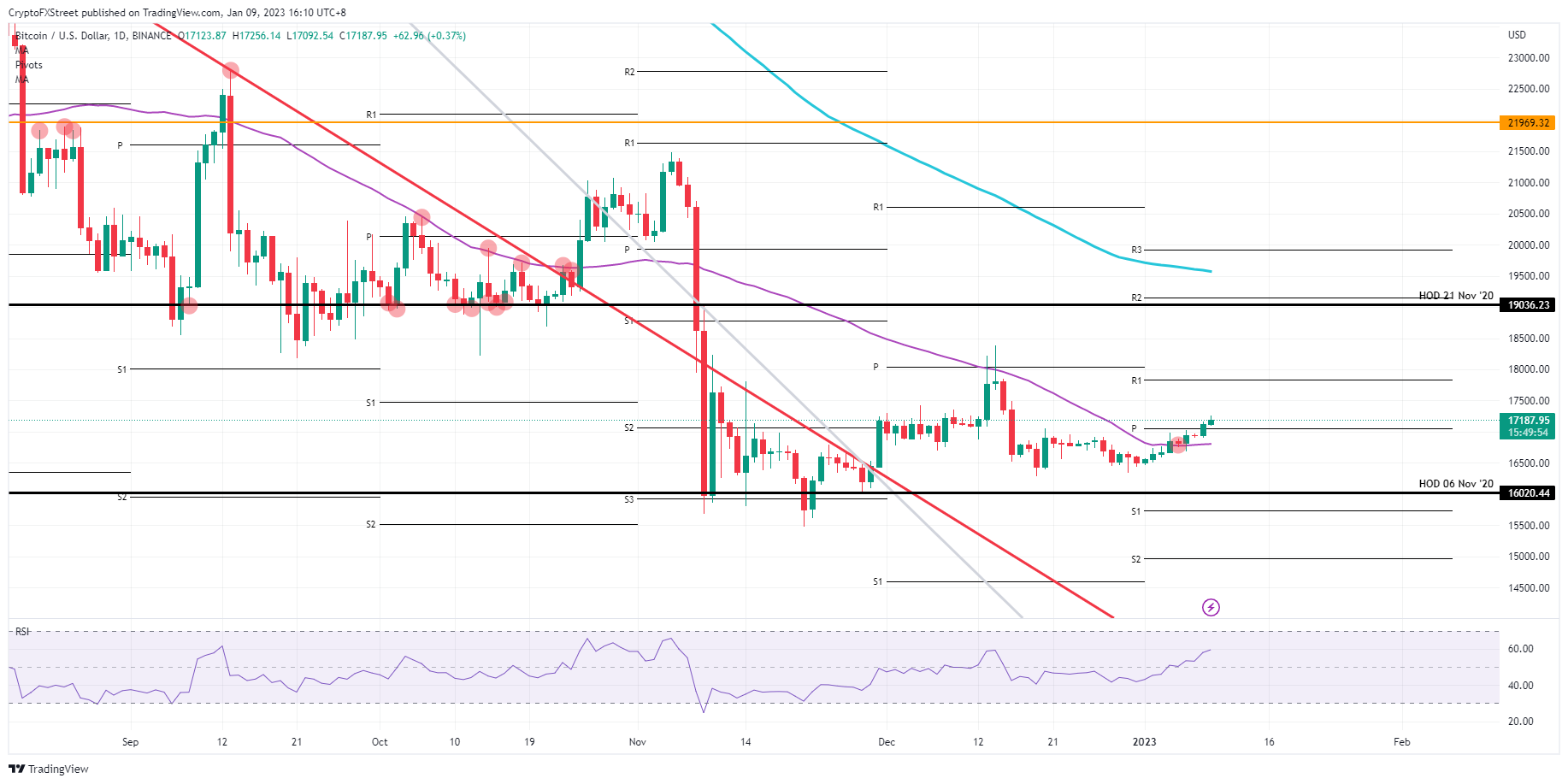 BTC/USD daily chart
Risk to the downside comes with a warning that we had issues several times already in 2022, which is the buy-the-rumor-sell-the-fact type of event. With inflation at 7.1% currently, market consensus is looking for 6.5% to be reported on Thursday, with the lowest end at 6.3%. This means that if BTC wants to rally higher, the actual print needs to be even lower than 6.3%, as anything else will see this rally collapse under profit-taking and Bitcoin price being brought back to $16,500.