Cryptocurrency exchange Bithumb faces special tax investigation by South Korean regulators
Bithumb has been in the crosshair of The South Korean National Tax Agency since 2018.
Reports suggest that the "special tax investigation" will also look into tax evasion by the apparent owner of Bithumb, Kang Jong Hyun.
The crypto market has recovered nearly $60 billion in losses in the last ten days bringing the market cap to $814 billion.
Bithumb is among the topmost cryptocurrency exchanges in the world conducting, observing higher net flows than Crypto.com. While on the one hand, the exchange is growing in terms of transaction volume, on the other hand, the exchange is noting more investigations at the hands of South Korean regulatory authorities.
Bithumb faces South Korean regulators
Bithumb, based out of South Korea, is currently facing an investigation by the country's National Tax Service. The regulatory authority is heading a "special tax investigation," which included conducting a raid at the exchange's headquarters in the capital city of Seoul. Per local reports, the investigation being conducted against Bithumb is unlike regular tax inspections due to previous instances.
Back in 2018, the National Tax Service conducted another special investigation against Bithumb Korea and estimated the income tax to be 80 billion won ($64.39 million). This time around, the regulatory authority is set to examine the domestic and foreign transactions of Bithumb Korea, Bithumb Holdings and other related entities to verify if there has been an instance of tax evasion.
The agency is also speculated to conduct an investigation against Kang Jong Hyun. Hyun has been speculated to be the owner of Bithumb, who is said to be the biggest stakeholder in the company.
Crypto market in recovery
Attempts at recovery for the last two months have failed as the FTX collapse-induced contagion brought the crypto market's value below $750 billion. Some recovery noted in the month of December 2022 was invalidated soon after.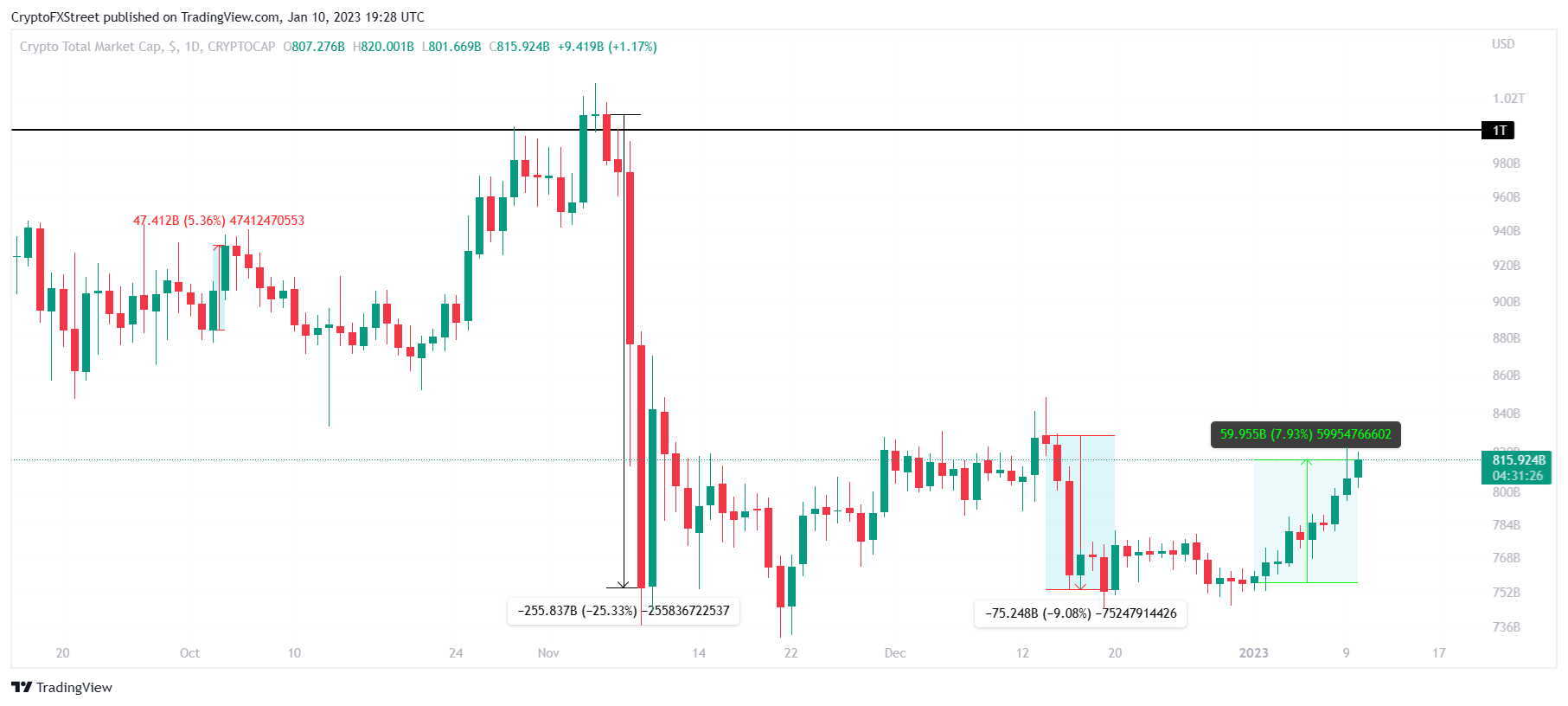 Total crypto market capitalization
However, the crypto market is doing seemingly better in the new year, as the total value of all cryptocurrencies reached $815 billion on Tuesday. Rising by nearly 8%, the crypto market capitalization has grown by almost $60 billion. This bullish momentum is necessary for the crypto market to initiate its rally toward $1 trillion eventually.