FTX lawyers uncover "more than $5 billion" in assets, claims Alameda created a shortfall in value
FTX bankruptcy lawyer stated that the $5 billion had been found in the form of cash, liquid cryptocurrency and liquid investment securities.
Alameda spent FTX customers' money on planes, parties and political donations, according to the bankruptcy lawyer.
FTT price has benefitted from the bullish momentum of the last ten days to mark a 60% rally.
FTX saga took a surprising turn on Wednesday after the cryptocurrency exchange's bankruptcy lawyer Landis Rath & Cobb attorney Adam Landis revealed the discovery of billions of dollars worth of assets. Additionally, Landis made claims about the use of money borrowed by FTX's sister company Alameda Research.
FTX recovers $5 billion
FTX bankruptcy lawyer Adam Landis, during a court hearing in Delaware on Wednesday, claimed that the crypto exchange had recovered more than $5 billion in various forms of assets. According to Landis, this money has been located as cash, liquid cryptocurrency and liquid investment securities. However, speaking about the same, Landis added,
"[It] just does not ascribe any value to holdings of dozens of illiquid cryptocurrency tokens, where our holdings are so large relative to the total supply that our positions cannot be sold without substantially affecting the market for the token."
The amount recovered is significantly higher than claims made by FTX last month, which was around $1 billion. However, Landis also stated that the total amount it owes to its customers is yet to be verified. The attorney noted,
"The amount of the shortfall is not yet clear. It will depend on the size of the claims pool and our recovery efforts. But every week, we come closer to completing the work necessary to estimate recoveries for the purposes of a plan of reorganization,"
Landis also talked about the backdoor policy FTX had in place for its sister company Alameda Research to utilize its customers' funds. According to him, Alameda had a credit line of almost $65 billion from the exchange, which was wasted by the firm. Landis stated,
"We know what Alameda did with the money. It bought planes, houses, threw parties, made political donations. It made personal loans to its founders. It sponsored the FTX Arena in Miami, a Formula One team, the League of Legends, Coachella and many other businesses, events and personalities."
This led to a shortfall in value, as per Adam Landis, creating difficulties in repaying the customers of the bankrupt exchange.
FTT price skyrockets
FTT price enjoyed the bullish momentum gained by the crypto market over the last couple of days as the token shot up by almost 60%. Trading at $1.317, the altcoin rose from an all-time low of $0.834 to register a 58.51% increase.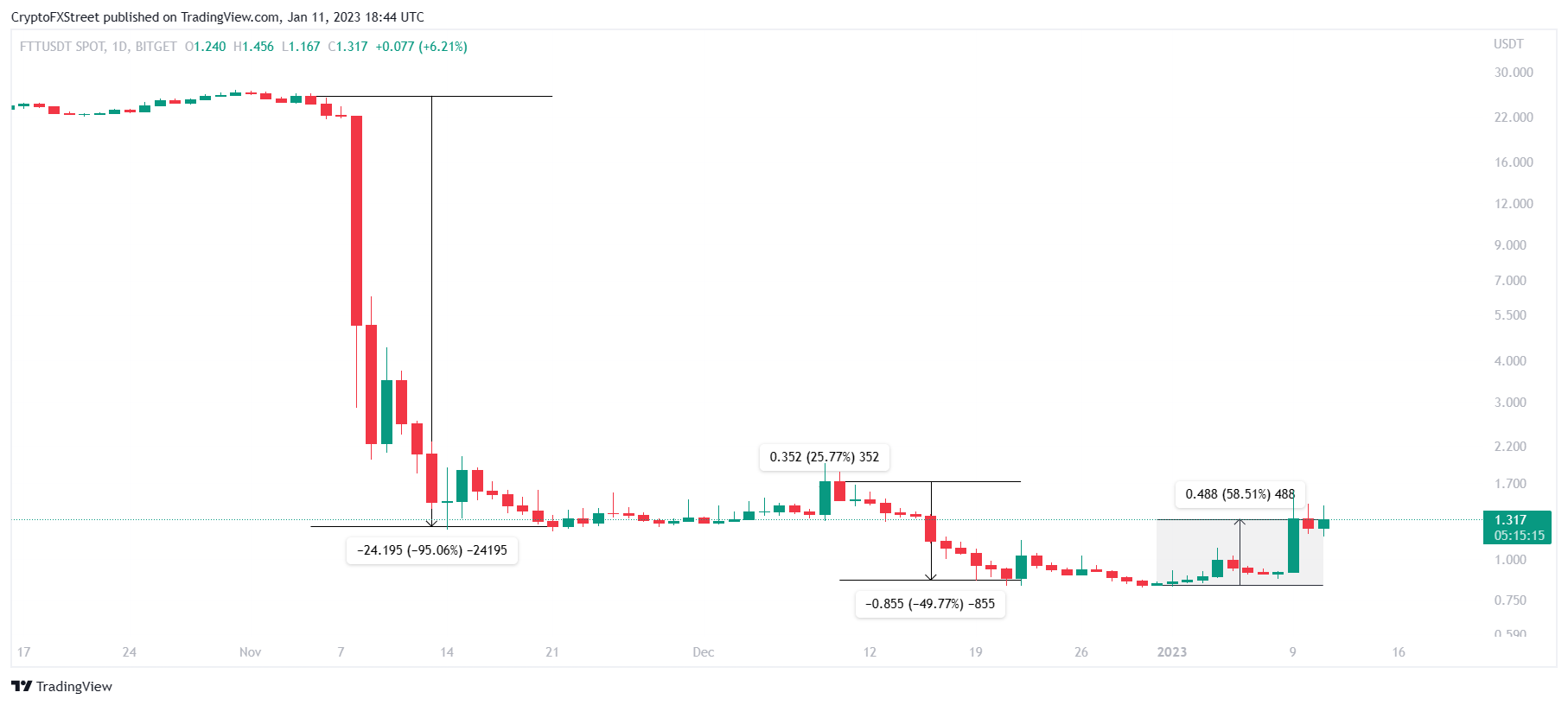 FTT/USD 1-day chart
Although the fluctuation in FTT price is mainly dependent on FTX bankruptcy proceedings, it is still following the broader market cues. Thus, if fear in investors dissipates, FTT, along with the crypto market, might be able to benefit from it.
Source