Cardano Price Forecast: ADA rally is dead and buried as central bankers scream for Armageddon
Cardano price tanks as central bankers return to the markets with harsh warnings.
ADA sees bulls booking profit and quickly heading for the exit.
With crucial support nearby and sell-side offerings exploding, the risk of a quick 10% dip lower looks granted.
Cardano (ADA) price is set to tank over 10% as pressure mounts on a crucial support level that is key to keeping this rally going. Lower highs are generated for a fifth day in a row, revealing a massive squeeze to the downside. Overnight headlines on the bankruptcy of crypto broker Genesis are only working as a catalyst for the fire that started burning after central bankers soured the party mood that global markets were having in the first two weeks of the year.
Cardano price set to break below $0.32 crucial level
Cardano price is not enjoying the week thus far and is set to close out this week with a loss. Not only were the daily gains snapped over the previous weekend, but two major headwinds were added this week that are unlikely to evaporate overnight or after the weekend. The first major issue is that central bankers got unleashed after awakening from their hibernation and did not like what they saw on the quote boards in all asset classes. 
ADA thus had only one direction to go: down. Central bankers have been screaming bloody murder that markets were wrong-footed. Markets should consider more hikes, declines in price action and increasing unemployment as all central banks, in a joint effort, want to bring inflation back to 2%, whatever it takes, whatever the cost. Translated to Cardano price, this means that $0.32 is set to break, seeing the mounting pressure of those lower highs in a squeeze to the downside, and $0.297 is the first level of support with the low of January 27, 2021 and the 55-day Simple Moving Average (SMA) present to catch the price action.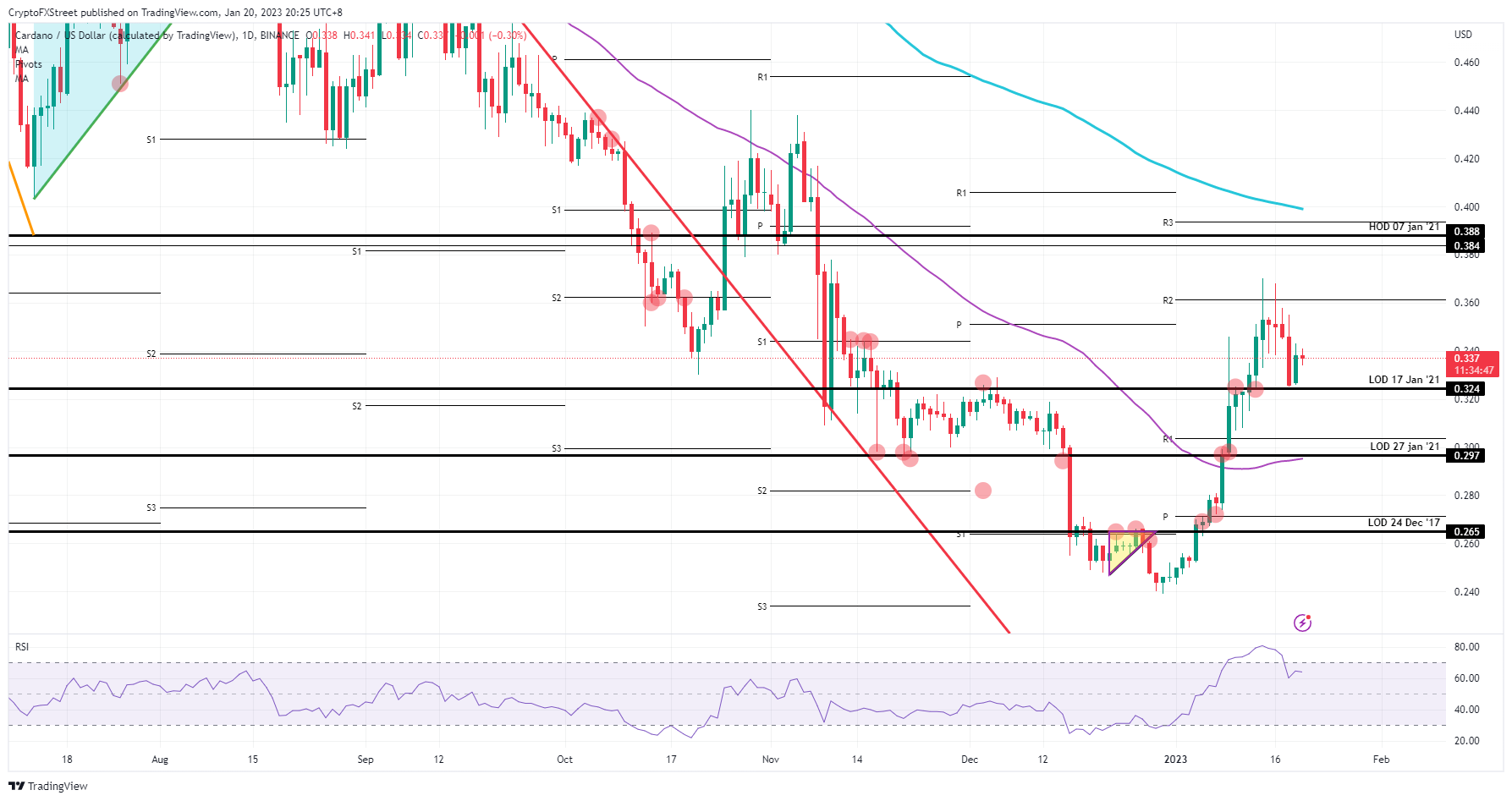 ADA/USD daily chart
An upside surprise could only come out of the data corner. Should several data points point to a further slowdown and decline in inflation for the US, Europe or the UK, that would mean good news as central bankers are nearing their pivot level. Expect the Goldilocks scenario to be back on the table soon enough if that is the case and the rally to continue after first breaking above $0.37. With the high of 2023 broken to the upside, the rally can extend toward $0.388 with 15% gains.