Solana DEX Mango Markets exploiter charged by SEC for $116 million theft after being sued by CFTC
Solana DEX Mango Market's token MNGO was manipulated by exploiter Avraham Eisenberg.
SEC charged Eisenberg with violating anti-fraud and market manipulation laws, seeking civil penalties.
Solana price noted a 13% increase in the last 24 hours, trading at $23.71.
Solana-based decentralized exchange (DEX) Mango Markets fell victim to one of the biggest thefts on the network ever in October 2022. The perpetrator Avraham Eisenberg who was soon caught by the authorities and slapped with a lawsuit by CFTC, is now facing criminal charges at the hands of the SEC as well.
SEC takes on Eisenberg
The Securities and Exchange Commission (SEC), on January 20, filed charges against Avraham Eisenberg for orchestrating an attack on a crypto asset trading platform. At the time of writing, Eisenberg was detained in Puerto Rico, waiting to arrive in New York.
According to the SEC, Eisenberg purposely purchased the Mango Markets' native token, MNGO and artificially inflated its price. Eisenberg then used his MNGO to borrow and withdraw nearly $116 million from the Mango Markets in the form of multiple cryptocurrencies, draining the platform of all assets. The Chief of the Crypto Assets and Cyber Unit, David Hirsch, noted,
"As we allege, Eisenberg engaged in a manipulative and deceptive scheme to artificially inflate the price of the MNGO token…As our action shows, the SEC remains committed to rooting out market manipulation, regardless of the type of security involved.
Consequently, the SEC charged Eisenberg with anti-fraud and market manipulation provisions of the securities laws violation. The commission intends to seek civil penalties along with other rulings through the complaint.
Apart from the SEC, the Department of Justice and the CFTC have also been involved with the case. While the Justice Department arrested the perpetrator last year, the CFTC is pursuing a lawsuit against Eisenberg at the moment. The Commodity Futures Trading Commission (CFTC)  sued the exploiter earlier this month with manipulation charges.
Solana price is back in the green
Solana price noted an uptick in the last 24 hours as the value of the cryptocurrency increased by 13.67%. The price of the Ethereum killed touched $23.70, nearing the critical resistance level at $28.28.
If Solana price manages to breach this critical resistance, a rise toward $32.06 is on the cards. Reclaiming these key levels is crucial for SOL, as only then would the altcoin manage to recover its previous losses.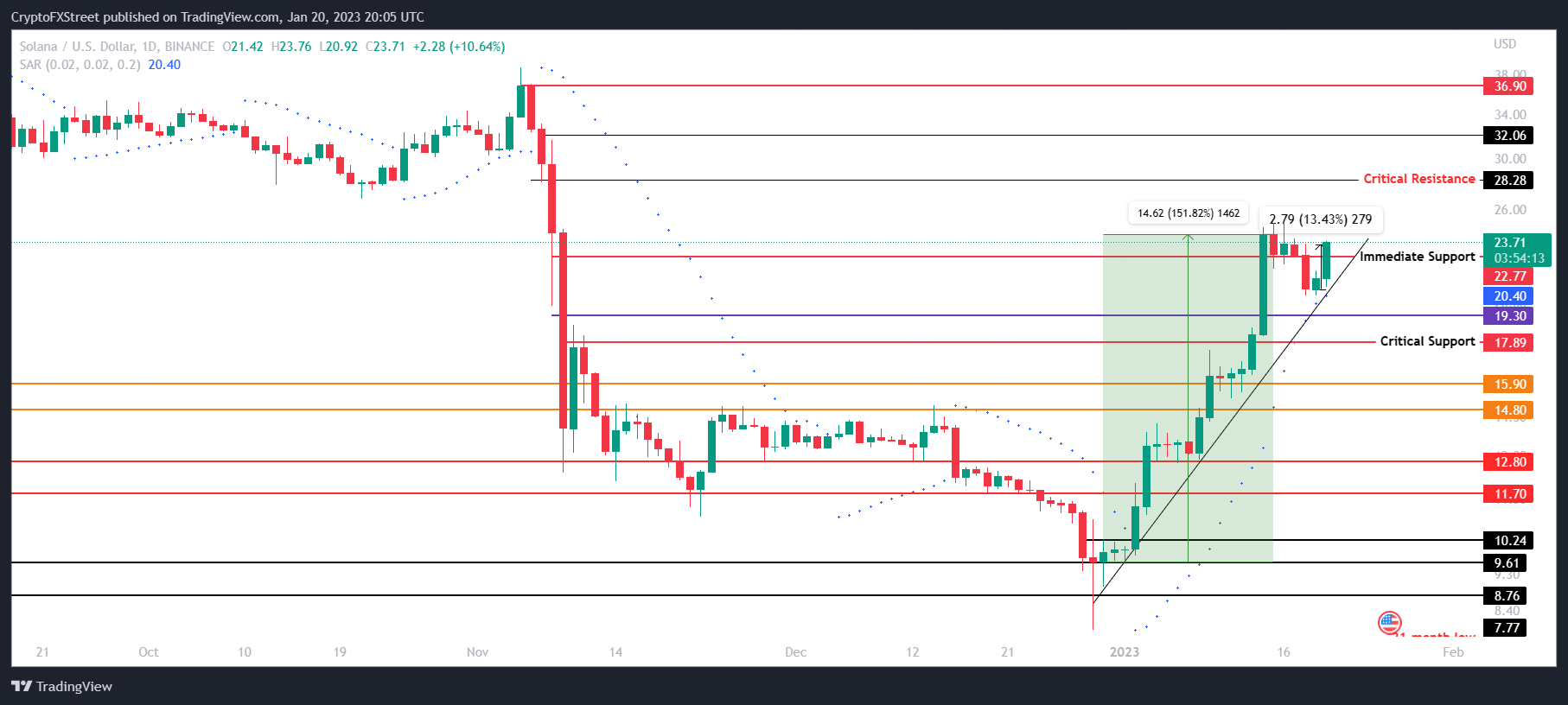 SOL/USD 1-day chart
However, in the event of a price decline, if the immediate support at $22.77 is lost, Solana price would slip to $19.30 and lower toward the critical support at $17.89. Should SOL lose this support as well, the bullish thesis would be invalidated, leaving the asset vulnerable to further decline.