Three reasons why crypto market is primed for a selloff
Bitcoin's 30-day MVRV has hit early 2021 bull market levels, causing many investors to have unrealized profits.
On-chain metrics reveal that miners are selling, adding headwinds to the ongoing rally.
US banks cutting ties with crypto exchanges combined with other developments starting to pile-up.
Bitcoin price has been one of the critical reasons for this recent uptrend in the crypto market. As the rally continues to push some altcoins to hit new highs, investors need to be careful about a sudden market selloff.
Here are three vital signs that point to a U-turn
Unrealized profits go rampant
The Market Value to Realized Value (MVRV) indicator shows that many cryptocurrencies are overextended. This on-chain metric is used to determine the average profit/loss of investors that purchased an asset over the past month.
The amount of unrealized profit is directly proportional to the magnitude of the rally. For Bitcoin, the 30-day MVRV has spiked to 27%, denoting that the average profit of all addresses that purchased BTC in the past month.
For ETH, this number peaked at 19.6%, but in the last 24 hours, many investors have already booked profits, resulting in a selloff in Ethereum price from $1,621 to $1,524. In reaction to this, the 30-day MVRV shows that the average profit of all addresses that purchased ETH in the past month has dropped from 19.6% to 7.53%.

BTC, ETH 30-day MVRV
Bitcoin miners remain pragmatic
Bitcoin miners have continued to sell into the rally, which is seen clearly in the Miners' Position Index (MPI). This indicator is calculated by taking the ratio of the number of miners that are sending their mined coins to exchanges compared to the number of miners that are sending them to other addresses.
A high MPI value indicates that a larger percentage of miners are sending their coins to exchanges, which is generally considered as a bearish signal, indicating that miners are selling their crypto holdings.
The MPI spiked to 3.96 on January 14, when Bitcoin price hit $20,957 and continues to spike, suggesting that miners are not getting in over their heads and are sending their mined BTC to exchange wallets. This move from miners adds headwind to the ongoing rally, leading to a consolidation that could result in a selloff.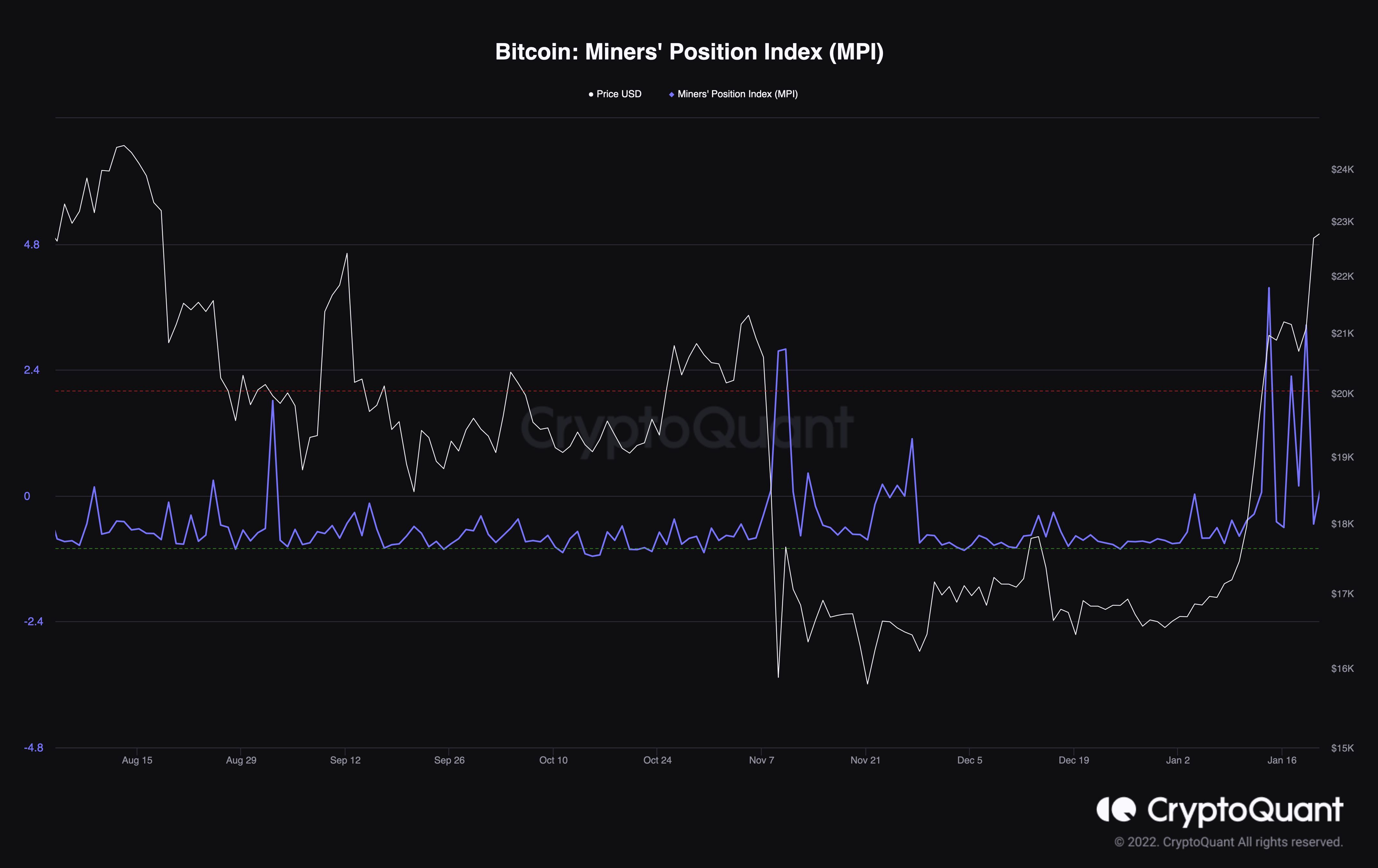 BTC MPI
Icing on the cake: "Bad" news piling up
Regulators are clamping down on all things crypto after a serious of unfortunate events in 2021, including major players like Terra, FTX, Three Arrows Capital (3AC) etc. Additionally, the sticky situation that Grayscale and its parent company Digital Currency Group (DCG), have found themselves is also weighing on the markets.
This sudden but unexpected rally is just that. While profitable as it may have been so far, investors need to be cautious of a sudden U-turn triggered by market events. One recent report is Signature Bank limiting its crypto partners and its users' minimum buy-in amount to $100,000. 
The latest reports indicate that the regulators have seized Sam Bankman-Fried's $50 million in an obscure Farmington State Bank in rural Washington.