CARDANO (ADA) NEW STABLECOIN "DJED" REACHES $10M TVL IN JUST 24 HOURS
Cardano based over-collateralized algorithmic stablecoin, "Djed" managed to amass a whopping $10 million in total value of assets locked (TVL) in just 24 hours, since launch. Meanwhile, Cardano (ADA) price jumped 3% as decentralized finance (DeFi) activity on Cardano recorded a sharp uptick.
Following a barbaric previous year, Cardano (ADA) has witnessed a sudden upsurge sice the onset of the New Year. On January 10 on-chain analytics platform Santiment reported a surge in ADA trading volumes as well as an increase in new address holders on the Cardano network. Furthermore, Cardano decentralized applications saw a substantial rise in the number of unique accounts indicating an increase both in Cardano adoption and DeFi activity on the Proof-of-Stake (PoS) blockchain.
📈 #Cardano has now jumped an impressive +30% since December 30th. Since the start of the rally, 28 new addresses have popped up on the network that hold 1M or more $ADA. Trading volume has hit a 2-month high, including increasing large whale transactions. https://t.co/6Zli0Q9IcI pic.twitter.com/GgEVOzXOF8

— Santiment (@santimentfeed) January 9, 2023
A number of market experts also believe the underlying fundamentals of the network along with a considerable increase in the stablecoins, NFTs, and DeFi activities will boost the overall Cardano ecosystem. On January31, Cardano's new algorithmic stablecoin Djed, was deployed on the Mainnet. Djed is is pegged to the United States dollar and backed by ADA. It also uses the Shen (SHEN) token as its reserve coin.
Djed is LIVE!!!https://t.co/a9CWJtT4z4

Visit https://t.co/p7eV0jd400$DJED $SHEN $COTI @InputOutputHK @Cardano@Cardano_CF pic.twitter.com/9W7au8imrr

— COTI (@COTInetwork) January 31, 2023
Djed is LIVE!!!https://t.co/a9CWJtT4z4

Visit https://t.co/p7eV0jd400$DJED $SHEN $COTI @InputOutputHK @Cardano@Cardano_CF pic.twitter.com/9W7au8imrr

— COTI (@COTInetwork) January 31, 2023
Now tracking @DjedStablecoin on @Cardano

Cardano's native overcollateralized stablecoin, developed by IOG and powered by COTI. $DJED is backed by $ADA and uses $SHEN as a reserve coin pic.twitter.com/oldHL31wJc

— DefiLlama.com (@DefiLlama) February 1, 2023
The Djed stablecoin has been jointly developed by Cardano (ADA) maker Input Output Global (IOG) and Coti, a layer 1 blockchain. As per experts, the new stablecoin will simplify transactions for users to swap native Cardano (ADA) tokens on DEXs with minimal fees. It has a circulating supply of 1.7 million, while its reserve token, SHEN's supply, is at 20.8 million.
Previously, IO Global chief executive, Charles Hoskinson, had shared the Djed stablecoin could be a "game-changer" in the crypto space, and will cater the needs of an entirely new audience. In a statement, Shahaf Bar-Geffen, CEO at COTI said,
"Recent market events have proven again that we need a safe haven from volatility, and Djed will serve as this safe haven in the Cardano network."
ADA RISES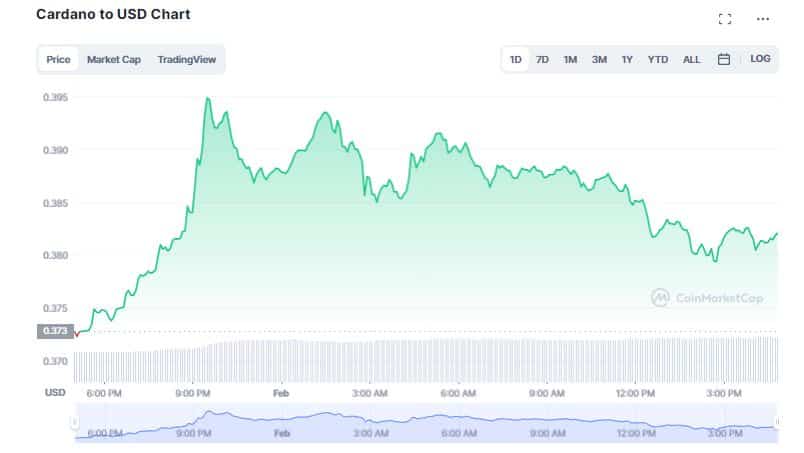 Following the development, Cardano (ADA) prices also jumped nearly 3% in the past day. According to CoinMarketCap, ADA is up 2.41% in the last 24 hours to trade at $0.38. The altcoin gained more than 7% over the past seven days as the crypto market reclaimed the bullish trend once again.
As per data from DeFillama, Cardano's DeFi activity has also benefited from Djed's launch. The total value of assets locked within the ecosystem rose by 22% to $91.4 million in the last 24 hours. Recently, Cardano Daily had published a report stating DApps like Genius Yield have seen a massive 2810% growth in unique accounts in just over 5 days.