SushiSwap price rises by 8% following social coordination launch; AAVE, MKR next?
SushiSwap, along with multiple other leading DeFi protocols, including dYdX and MakerDAO, initiated a "one to one" experiment.
The social coordination experiment is to democratize access to DeFi and create a transparent marketplace.
AAVE price is observing a bearish divergence on the RSI, which could be indicating declines incoming.
SushiSwap price noted a sharp rise during the intra-day trading hours, which was followed by a special announcement by the leaders of the Decentralised Finance (DeFi) space. The announcement marked the first of its kind partnership among such a vast number of competitive protocols.
DeFi protocols join hands
Although the DeFi space is usually considered to move in tandem with the rest of the cryptocurrency market, it managed to achieve something other digital assets have not. In an attempt to make DeFi more accessible to users, top decentralized applications came together to begin an experiment. 
The one-on-one social coordination experiment noted the likes of SushiSwap, AAVE, Lido DAO and many other protocols partnering up with other protocols.
Wu Blockchain reported the protocols signing up to be dYdX and AAVE, MakerDao and Element, Opyn and StakeDAO, Lido and Bebop, 1inch and KyberSwap, SushiSwap and Aura Finance, etc.
The purpose of the experiment, as stated by these applications, is to democratize access to the decentralized finance space. At the same time, it is also an effort to make DeFi a "self-sovereign, trustless and transparent" marketplace.
An experiment in social coordination with @AaveAave pic.twitter.com/i4Ehg3tBLU

— dYdX (@dYdX) February 6, 2023
With nearly $48.84 billion locked in the DeFi market, the opportunity for growth is immense, and coordination among top protocols will promote higher participation from users. Consequently, this will boost the usage and capital flow in the space, in return benefiting the protocols.
Did AAVE price react similarly?
While the SushiSwap price registered a spike, the price came back down to mark a 3.11% uptick on Monday. Trading at $1.48, SUSHI could be seen struggling to close above the immediate resistance at $1.47. A successful breach of the resistance level would highlight a bullish narrative for the altcoin.
However, in the case of AAVE, the situation seems to be rather different. The Relative Strength Index (RSI) can be seen forming lower highs while the candlesticks are forming higher highs. This indicates the formation of a bearish divergence.
This means that going forward, there is a fair chance that AAVE price might observe some decline in price. As it is, the altcoin has not managed to close above its immediate resistance at $88 while trading at $86.5.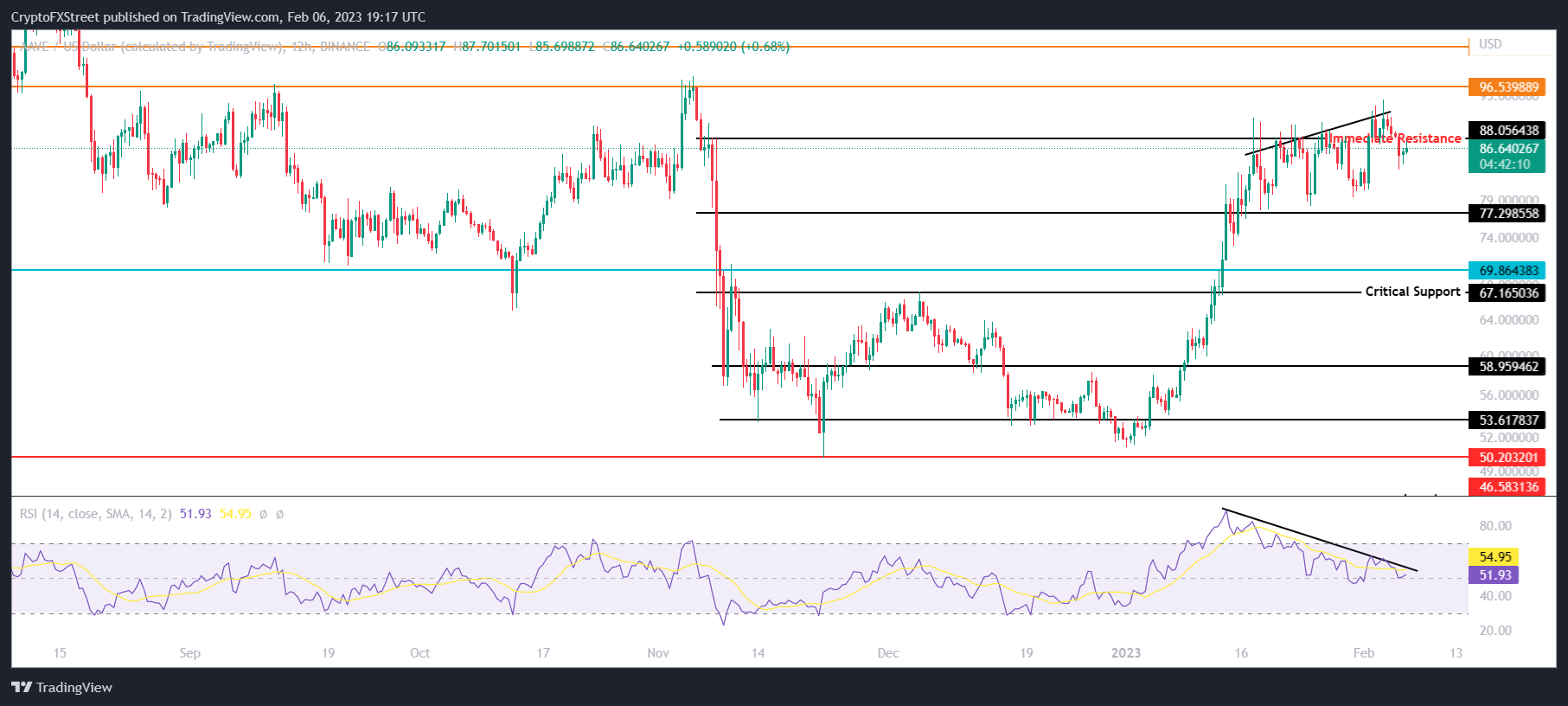 AAVE/USD 12-hour chart
Declining further would bring the price down to $77, but falling through this support level would leave AAVE price with only one shot to bounce off at $69. Invalidating that level and closing below the critical support at $67 would mark a 21% decline in price, bringing the altcoin to December highs.