The end approaches for Shiba Inu price, 20% crash in sight for SHIB holders
Shiba Inu bounce pared back as tail risks emerge
Shiba Inu price bounced higher after a brief break below the monthly R1.
SHIB price action is still trading in overbought territory.
Expect a negative close for the week, as the list of tail risks for Shiba Inu only grow from here.
Shiba Inu (SHIB) price tanks near 2% at the US opening bell as futures in several asset classes are paring back their gains booked on the back of the Tuesday speech from US Federal Reserve Chair Jerome Powell. As the dust settled over that speech, the key takeaway was not that dovish at all. Biden poured oil on the geopolitical fire by calling out China during his State Of The Union speech. Meanwhile, crude oil futures prices are ramping up again, which could mean a rise in inflation instead of the expected drop.
Shiba Inu price could be back to $0.00001100 quicker than traders think
Shiba Inu price experienced a bounce off the monthly R1 resistance level as traders were overfocused on the deflationary part of the speech from Fed Chair Jerome Powell. Markets used it to justify their push higher in EURUSD, equities, gold and bond prices. Unfortunately, many of those gains have been pared back on Wednesday.
SHIB is no different from those other assets and is set to drop back to the monthly R1 level near $0.00001383. Once that level breaks, the green ascending trend line comes under pressure with a possible break to the downside. Seeing the rise in the current number of tail risks this month, SHIB looks nearly sure to be trading at $0.00001100 with the monthly pivot and the 200-day Simple Moving Average as support.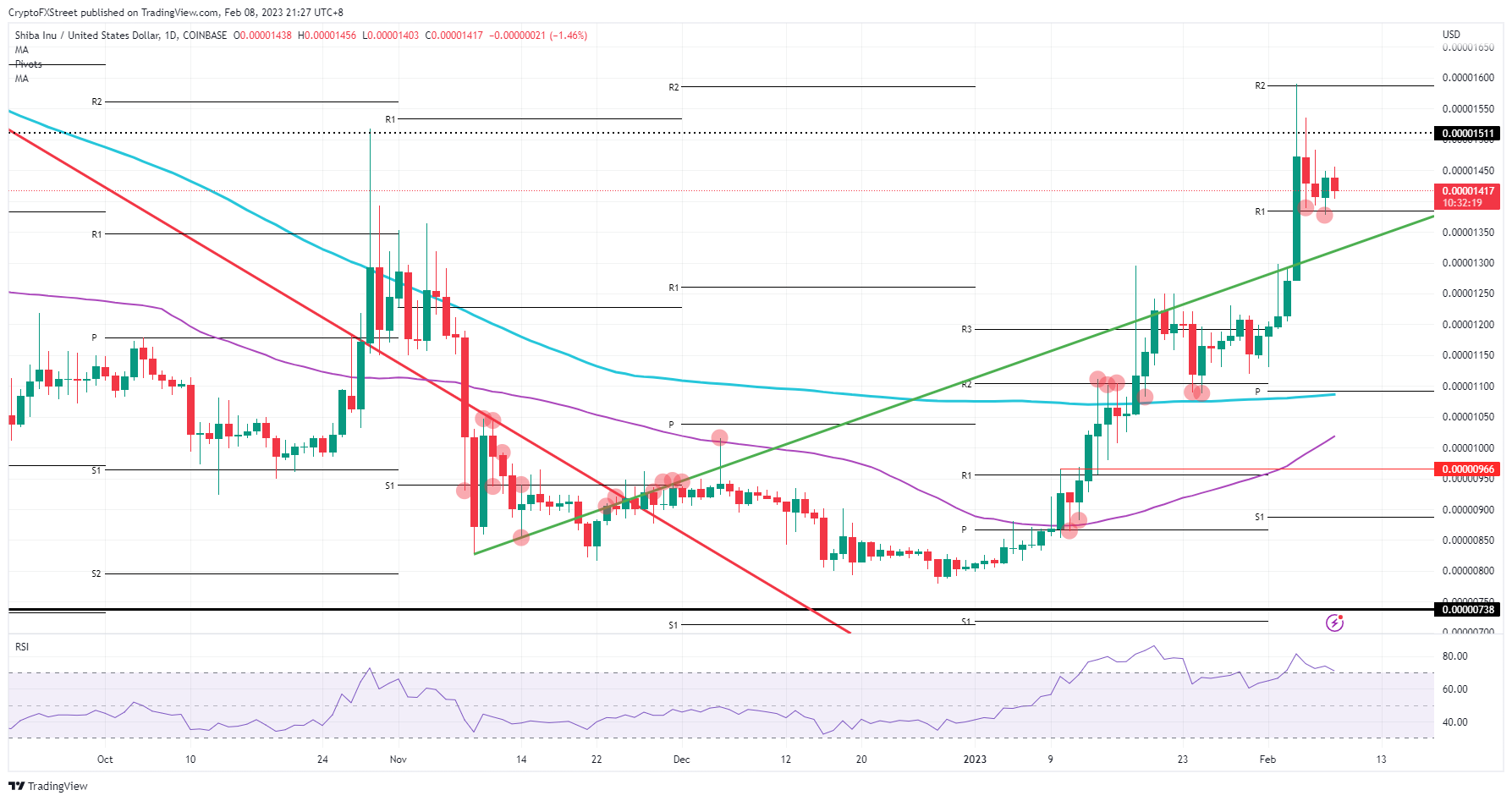 SHIBUSD daily chart
It is not uncommon for a cryptocurrency to trade for days or even longer in an overbought status on the Relative Strength Index (RSI). Here some technical rules apply, so it could well be that there will be another technical bounce. Currently, the RSI is set to dip back below that overbought threshold. Expect interest from bulls wishing to get back in and jack up the price action toward that R2 resistance level for a double top at $0.00001589.