Tron DAO establishes $100 million AI fund following ChatGPT and Google Bard hype
Tron DAO Artificial Intelligence Development Fund will focus on creating an AI payment platform, among other services.
Earlier this week, Google announced the launch of "Bard", a competitor to ChatGPT, resulting in a rally for AI cryptocurrencies.
Tron also noted a 90.7% YoY increase in daily active accounts despite Terra LUNA and FTX collapse.
Tron had observed an increase in user base and capital over the last year following the launch of its stablecoin USDD at the time when Terra's stablecoin collapsed. Now the blockchain is following its own footsteps to usher into the Artificial Intelligence (AI) space with its new fund.
Tron launches new Artificial Intelligence fund
Tron DAO (Decentralised Autonomous Organization), in a press release on Wednesday, announced its $100 million Artificial Intelligence fund. The new fund will be focused on four key areas of AI, namely AI Service Payment Platform, AI Infused Oracles, AI Informed Investment Management Services, and AI Generated Content.
Among these, the AI service payment platform could note high integration within the crypto space as Tron will be developing around decentralized commerce. This includes Smart contract creation and deployment, Payment layer protocols, AI payment gateway and Currency settlement.
Tron's decision to engage with the artificial intelligence space came after the recent AI storm that was kicked up by ChatGPT. The AI chatbot noted interest from all around the world and all sectors, including crypto.
This resulted in AI-powered cryptocurrencies to note a sudden increase in value. Tokens such as SingularityNET – AGIX observed a 170% increase in trading price as the cryptocurrency jumped from $0.17 to $0.47 in less than a week.
This was followed by Google also capitalizing on the AI hype and launching ChatGPT's competitor Bard. The new conversational AI service will focus on generating detailed responses to simple queries.
Tron notes growth in Q4 2022
While 2022 was one of the most bearish years in recent crypto history, Tron managed to make some growth in its network usage. The Messari report highlighting the state of Tron in Q4 2022 noted a 90.7% increase in daily active accounts.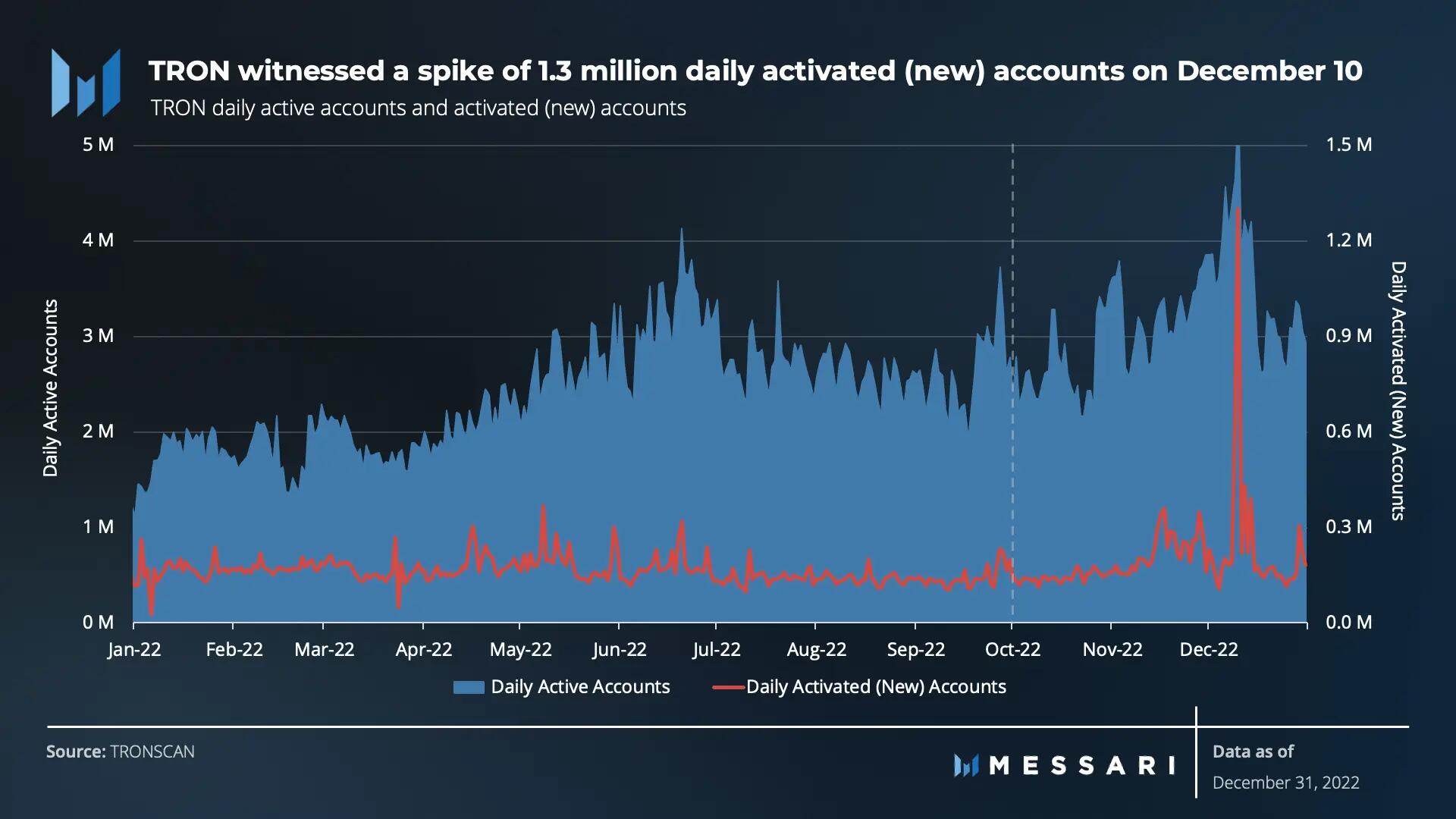 Tron daily active accounts growth
Following the FTX collapse, daily activated accounts began rising, and towards mid-December, nearly 1.3 million new accounts were added in a single day, doubling the average of 637,000 from a few days ago. This led to year-on-year growth of 34.4% for new accounts.