How will Fed's soft landing plans affect Cardano price?
Cardano price filmy dipped in the red after the second attack from Russia started on Friday.
ADA traders will need to do a lot of reading as plenty of Fed comments have hit the wire this week.
Expect a continuing decline as the tail risks just outweigh the upward benefits at the moment.
Cardano (ADA) price is af a firm risk of continuing its slide since last week, as February will be a very difficult month for ADA bulls to close in the green. Comparing the first two months of January, it becomes clear that the rally in January was completely underbuilt in the idea that a goldilocks scenario would be on the table, with not one central bank meeting to push against that idea firmly. That happened in February with all the big central banks pushing higher rates and issuing similar warnings as in 2022 that more needs to be done and conditions need to tighten further to choke off inflation.
Cardano price gets revalued without a goldilocks scenario outcome
Cardano price will see its price action further under pressure as, over the weekend, the dust settles over the several tail risks being added to the trading balance and shifts in favor of the bears. From a central bank perspective, both Powell and Lagarde from the Fed and the European Central Bank pushed against any optimism from the markets that a pivotal level would be nearby and cuts would be granted near the end of this year. Meanwhile, during the week, the pressure cooked in Ukraine got overheated as the next offensive began while Zelenskyy was visiting London and Brussels to ask for fighter jets as the last red line to be crossed.
ADA is thus set to continue its decline toward the 55-day Simple Moving Average near $0.327 on the weekly chart. Support from that moving average worked well in January already after bulls pushed above it and used it as a launching platform for the next phase in their rally. If the 55-day SMA does not hold, a thin support at $0.296 could do the trick.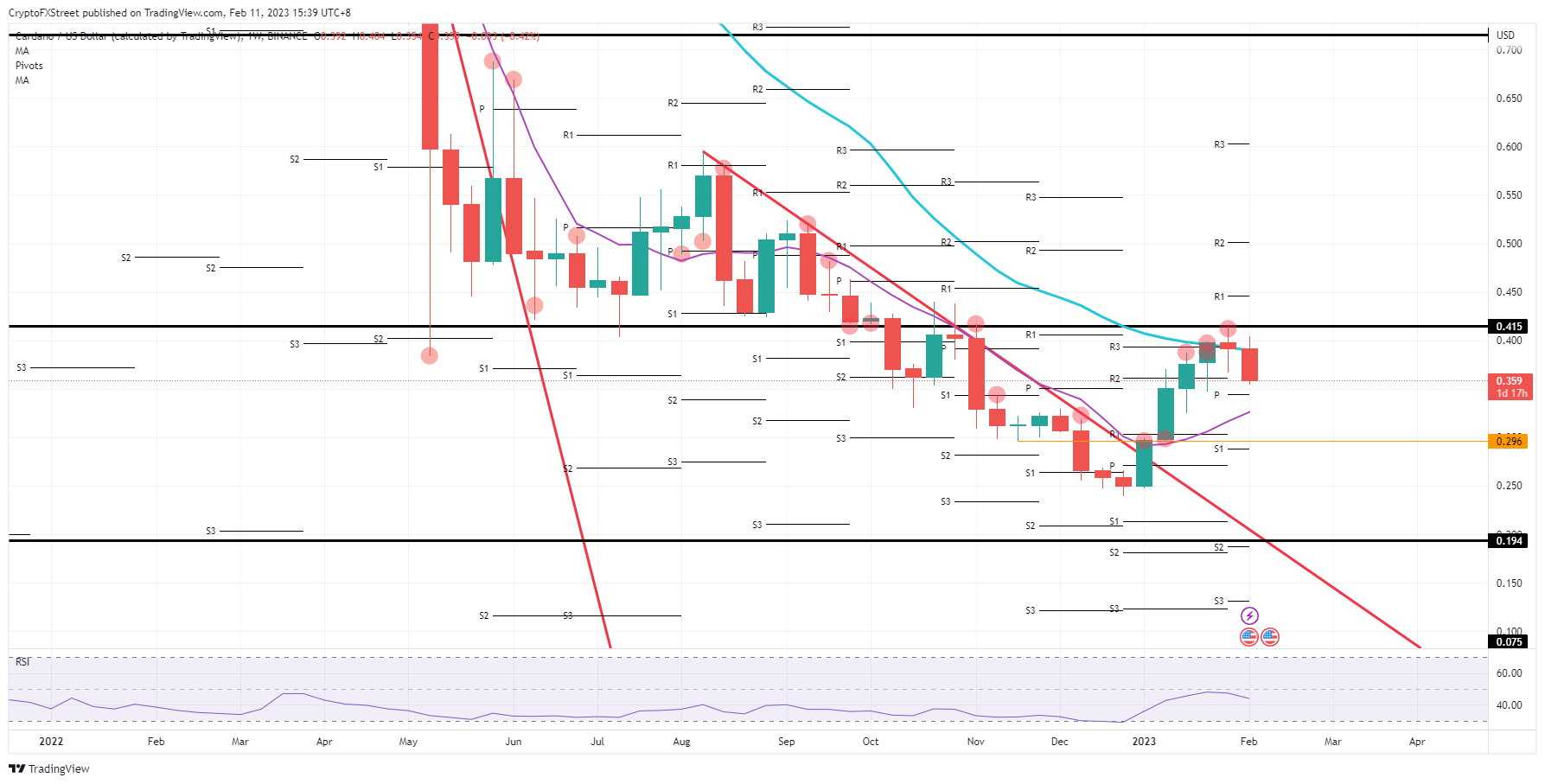 ADA/USD weekly chart
One big catalyst could still fall in line for bulls, which is the US inflation number next Tuesday. Should inflation drop further just in time, as currently, energy prices are rising again, a sigh of relief would ripple through the markets and asset classes. Expect Cardano price to quickly pair back its losses and flirt with a break above the 200-day SMA and look for $0.415 for a second test after the failed one in January.