Dogecoin price flirts with a crucial level that could refrain bulls from making another 30% loss this month
Dogecoin price tanks near 10% and is set to end its winning streak for 2023.
DOGE tanks after bulls received firm rejection last week.
Expect to see another 30% drop if this level does not hold.
Dogecoin (DOGE) price action is set to break its winning streak for 2023. where bulls were still able to snap a winning streak and eke out a win on the first week of February, that ship has sailed for this week. To make matters worse, there is not one element but a bulk load of elements that explain why Dogecoin price is losing over 10% value in just one week.
Dogecoin price facing a convoy of bearish loads
Dogecoin price was on a tear since the beginning of 2023, where the moving averages were key to build upon. The biggest to have marked up on the charts are the 55-day and the 200-day Simple Moving Average (SMA). Unfortunately, DOGE has received a firm rejection when treading near $0.1 as bears simply squashed bulls into the ground, and what followed this week is a fade too big to overcome.
DOGE could not have hit that rejection worse as the technical switch falls in line with the risk-off switch that has unfolded this week in the markets. Traders that thought the speech from Jerome Powell early this week was bad were not ready for the geopolitical tension that shot through the roof at the end of this week and over the weekend. As these elements will not fade that easily, expect to see a leg lower if the 200-day SMA can not hold support at $0.0775, with a sharp decline to $0.0566.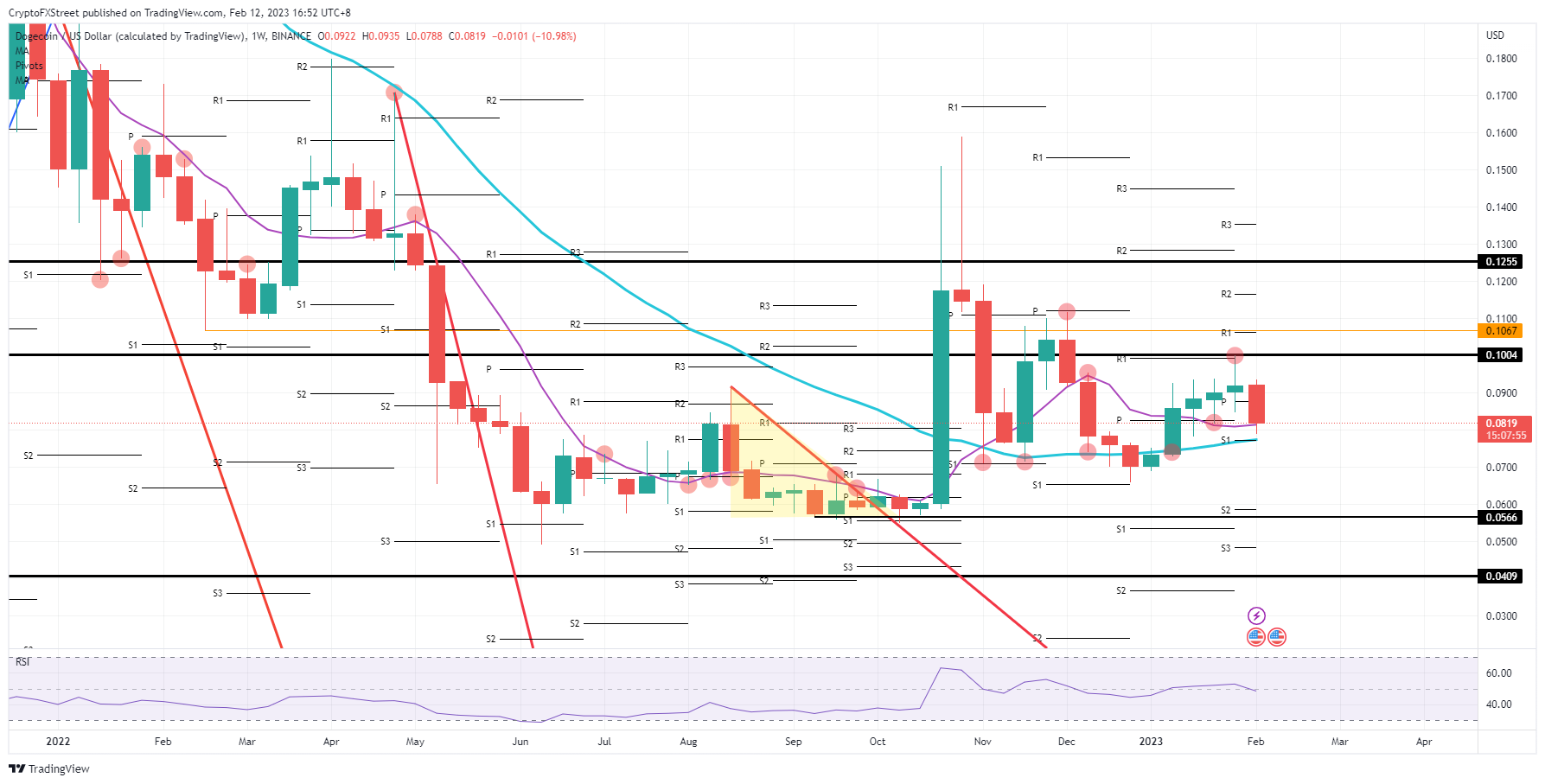 DOGE/USD weekly chart
A turnaround could come with the attacks in Ukraine diminishing over the weekend and starting to die down into next week. Markets would start easing and pricing out the risk premium. Expect a swift recovery with yet again $0.1 up for grabs, but watch out for the double top formation and rejection that could go along with it.