BITCOIN (BTC) CAN HIT $30,000 THIS QUARTER; MIKE NOVOGRATZ
As the digital currency market continues to experience high volatility, seasoned crypto investor Mike Novogratz remains confident in the future of Bitcoin, predicting a potential return to $30,000 by the end of next month. Though it's a far cry from the bullish $500,000 he once envisioned for the digital currency, it's still a considerable improvement from its current value.
FOMO AND WHAT?
Speaking at a Bank of America Corp. conference, the chief executive officer and founder of Galaxy Digital Holdings Ltd. stated that the price action, combined with the excitement of customers and growing FOMO, could see Bitcoin reaching $30,000 by the end of the quarter.
As someone who has always had high hopes for the digital currency, Novogratz admitted that he would've given both his shoes for that to be true just six weeks ago, and if it does happen, he'll be the happiest guy.
Recently, Bitcoin has been on the rise, gaining for a second day as a decrease in risk aversion helps to temper concerns about a widening crackdown by US regulators. The largest cryptocurrency by market value jumped 8.2% to $24,083, the biggest one-day gain in about a month.
At the time of writing, the coin is trading at $24,600 in most exchanges. However, more is needed to satisfy the crypto enthusiast who believes there is still room for growth.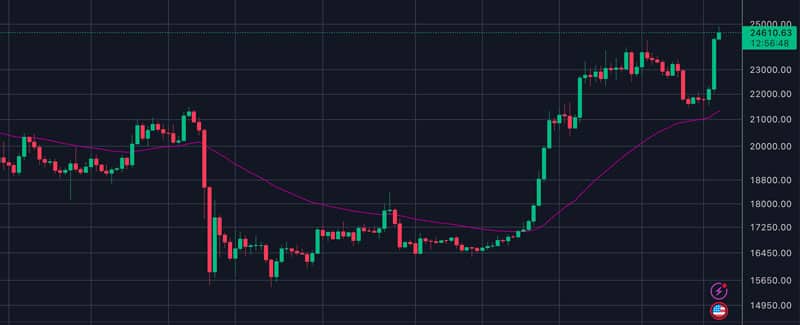 Novogratz has always been optimistic about Bitcoin, with his previous prediction that the digital currency would reach $500,000 in 2024. Although he has since dialed back on that forecast, he maintains that the benchmark will still be achieved, albeit not in five years. At the time, he blamed Federal Reserve Chair Jerome Powell's interest-rate increases, which he also cited recently.
Novogratz expressed skepticism about the possibility of a return to the old highs this year, citing Powell's interest rate policies as a significant factor.
"He's doing what he says he's going to do, and I don't see the Fed pivoting and cutting anytime soon," he said.
Despite this, many people follow the big players in the financial industry, and Novogratz's predictions could result in more buy pressure from users. This could lead to more price jumps for Bitcoin this year, and we may see a bull run even before halving.
It's clear that the future of Bitcoin remains uncertain, but the market's volatility can also be seen as a unique opportunity for investors. For those who are willing to take risks, the potential rewards could be significant for those willing to take risks.
As more people embrace cryptocurrencies, the demand for Bitcoin and other digital currencies will undoubtedly increase. Whether or not Bitcoin reaches $30,000 by the end of next month, one thing is sure: the digital currency market is here to stay, and its potential for growth remains immense.