Polkadot Price Prediction: DOT coils up for a 15% crash
Polkadot price to tank between 5% and 15% as dark clouds hangi above altcoins.
DOT traders are on edge after strange communication from Gemini amid Silvergate Capitale collapse.
In a double whammy, DOT could be seen trading below $5.
Polkadot (DOT) price action is in the crosshairs again with several other altcoins as traders are puzzled by the communication from the Crypto service Gemini. Right in the middle of the collapse of the cryptocurrency payment provider Silvergate Capital, Gemini came out with a press release that their ties with JPMorgan remain sound. Experienced traders know that where there is smoke, there is fire.
Polkadot price at risk of hitting $4.70 in a Greek tragedy
Polkadot price is set to break another leg lower as experienced traders are seeing a Greek tragedy forming in cryptocurrencies  yet again. The press release from Gemini stating that its ties with JPMorgan are still firm must have taken quite a few experienced traders back to 2010 when the Greek prime minister remained confident just days before Greece went bankrupt. Red flags must have resoundingly been activated across hedge funds and altcoin traders.
DOT trades are thus on edge and will try to price in another risk premium on the back of this news together with the Silvergate Capital collapse. A 5% decline toward $5.31 is granted and looks inevitable. Should more dark clouds form above altcoins, expect to see a slide toward the monthly S2 at $4.80.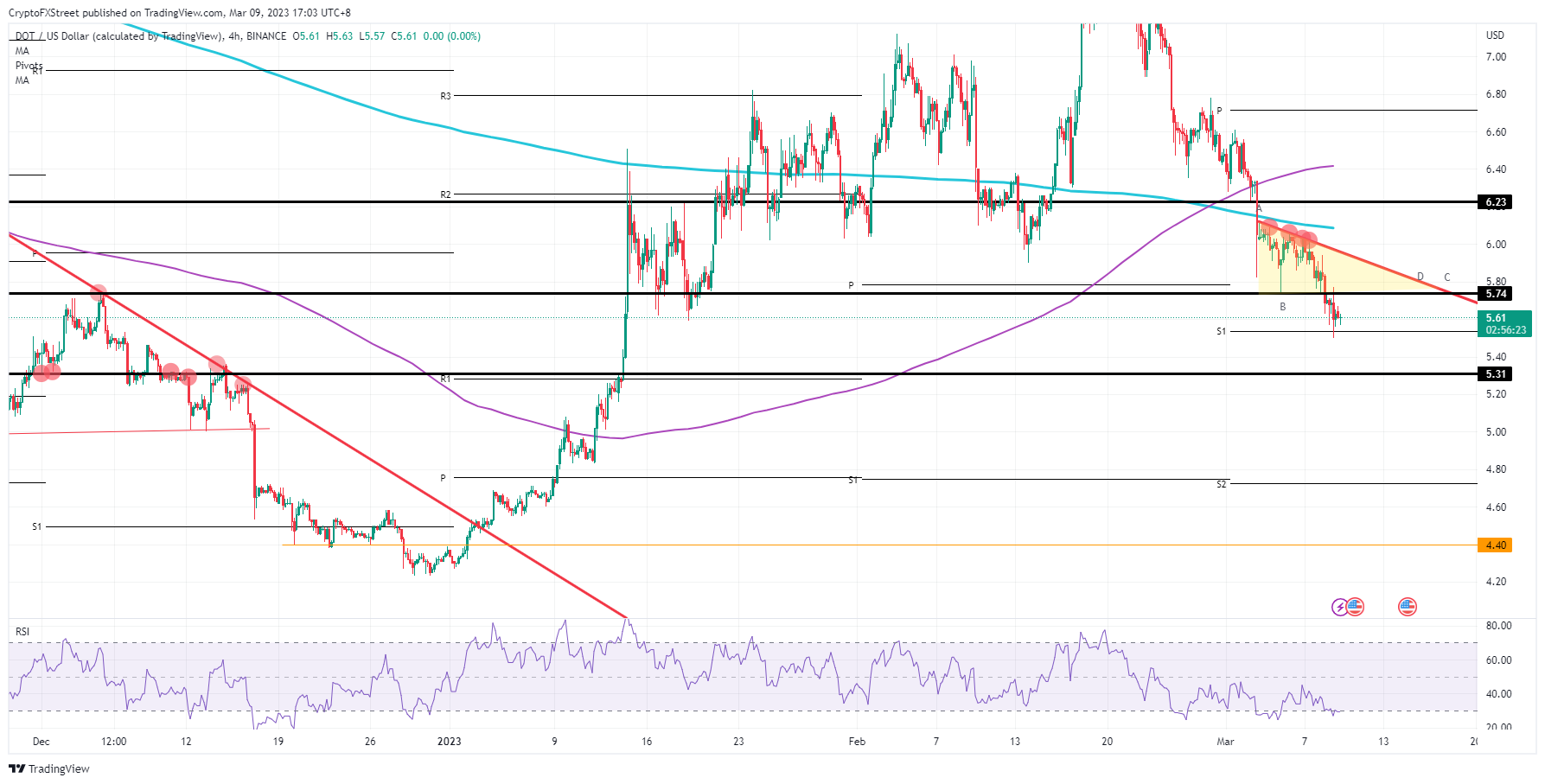 DOT/USD 4H-chart
Looking at the Relative Strength Index (RSI), a lot of risk premium has already been priced in as the RSI is already in oversold territory. This means bears do not have much space to push price action further to the downside. Expect a bounce of the monthly S1 and swing back toward $5.74 for a break back into the bearish triangle.