Binance Coin price set to tank 12% as Chinese regulators probe Binance
Binance Coin is being sent lower by investors as Chinese lawmakers come out against Binance.
Although Binance founder Changpeng "CZ" Zhao has been preaching that the KYC of Binance is stringent, multiple examples can be found that prove otherwise.
Should China regulators crack down on Binance, deposit outflow could get triggered for the platform, causing a decline in BNB.
Binance Coin (BNB) price is trading sharply lower this Friday as Chinese regulators have come out with harsh statements against Binance Coin and its KYC (Know Your Customer) rules. By law Chinese citizens are forbidden to hold crypto deposits since 2021, while experts in financial regulation have shared their concerns that Binance's KYC and anti-money laundering efforts are easily thwarted. A regulatory crackdown by China could set the scene for multiple regulatory crackdowns in other parts of the world like the US and Europe.
Binance Coin has traders price in a regulatory risk premium of 12%
Binance Coin price is already digesting the news that came out in early ASIA PAC trading. With price action already down over 2%, it has become clear that traders are on edge about what this could mean for the near term. A loss in trust in the Binance Exchange could spill over into BNB and batter the price action. A consolidation phase is being formed, and a bearish breakout looks granted.
BNB price could initially break toward $310 with the 55-day Simple Moving Average (SMA) and the monthly pivot as a double belt to provide support. Should the negative headlines out of the Chinese regulatory body pick up, expect that to be enough of a catalyst to break through the lower support. Price action will tank further and could slide below $300 toward $290 near the 200-day SMA.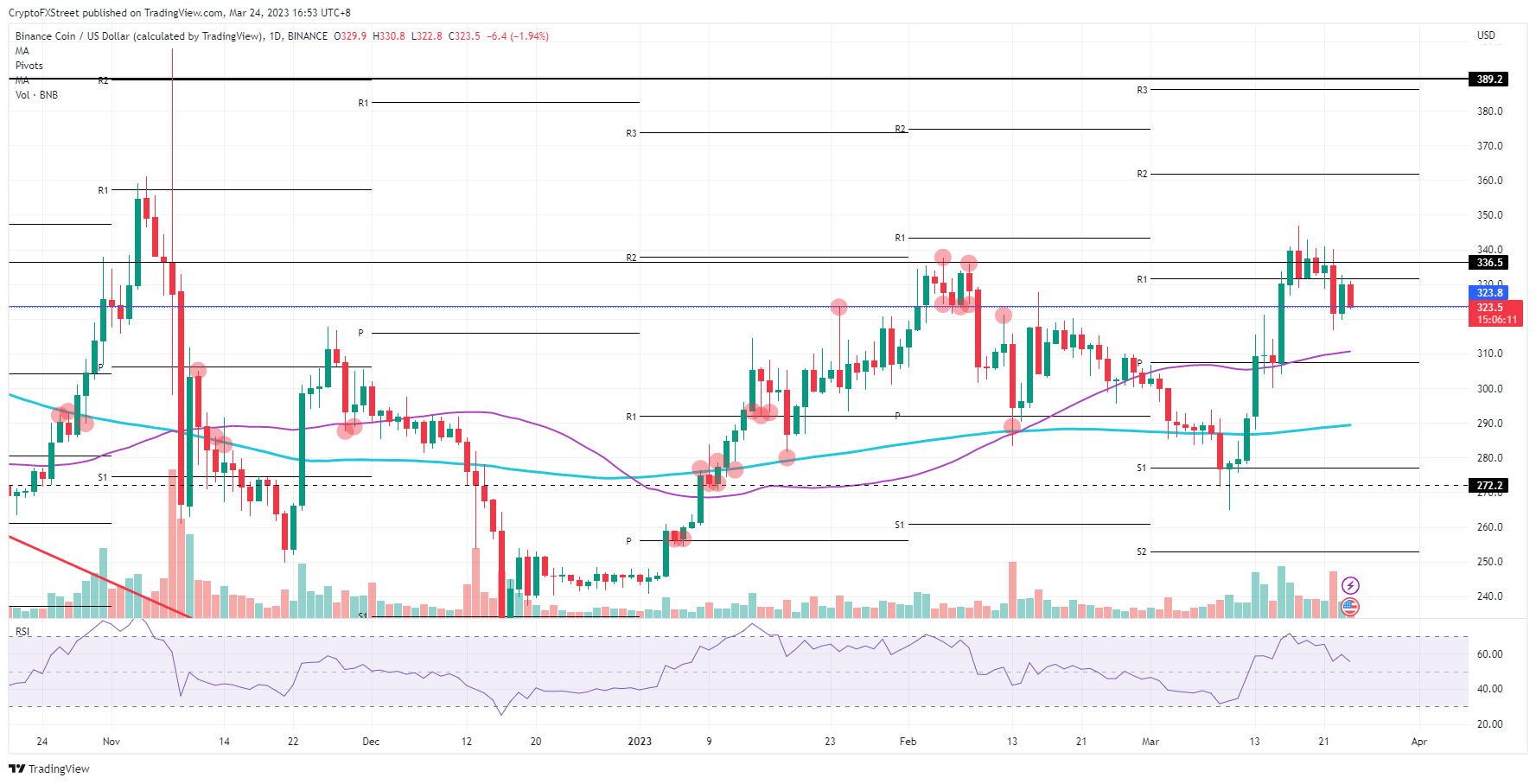 BNB/USD daily chart
The consolidation phase could point to the countermove from bulls eagerly buying the volumes investors are dumping on the back of this news. Often regulatory injunctions are moving with the speed of paint drying. Binance founder Changpeng "CZ" Zha has already expressed full cooperation, and a solution could trigger a pop higher toward $350.