XRP unlocks tokens worth $500 million as SEC vs. Ripple verdict looms
Ripple unlocked 1 billion XRP tokens worth $500 million from escrow as part of its planned monthly distribution strategy.
The unlock coincides with rising anticipation in the community awaiting the SEC vs. Ripple verdict.
XRP price hovers around $0.5060 as the altcoin struggles to sustain recent gains.
Ripple, the cross-border payment remittance giant, has unlocked a total of 1 billion XRP tokens from escrow on Thursday. This unlock is a part of the scheduled monthly distribution strategy of the XRP token.
Ripple typically sends back the unused XRP tokens to the escrow account after the initial distribution is complete. The released tokens are typically used to cater the needs of Ripple clients for On-Demand Liquidity (ODL). 
Ripple unlocks 1 billion XRP tokens on June 1
Based on data from whale wallet tracker on Twitter Whale Alert (@whale_alert), Ripple unlocked 1 billion XRP tokens in three transactions. The first two released 300 million and 200 million altcoins, respectively, while the third transaction unlocked 500 million XRP tokens from escrow. 
The unlock is a part of the firm's monthly distribution strategy, so it is likely that the development is priced in by traders. XRP price is $0.5066 at the time of writing, on Binance, according to data from TradingView.
There have been similar token unlocks on April 1 and May 1 as well, when the payment giant returned the unused XRP tokens back to the escrow account soon after. As seen in the price chart below, 1 billion XRP token unlocks in April and May initially resulted in a price decline in the asset, but there was a near-complete recovery within two weeks of the unlock. 
If history repeats, XRP price could decline from $0.5060, wiping out recent gains. If the fall materializes, the altcoin should complete its recovery by mid-June.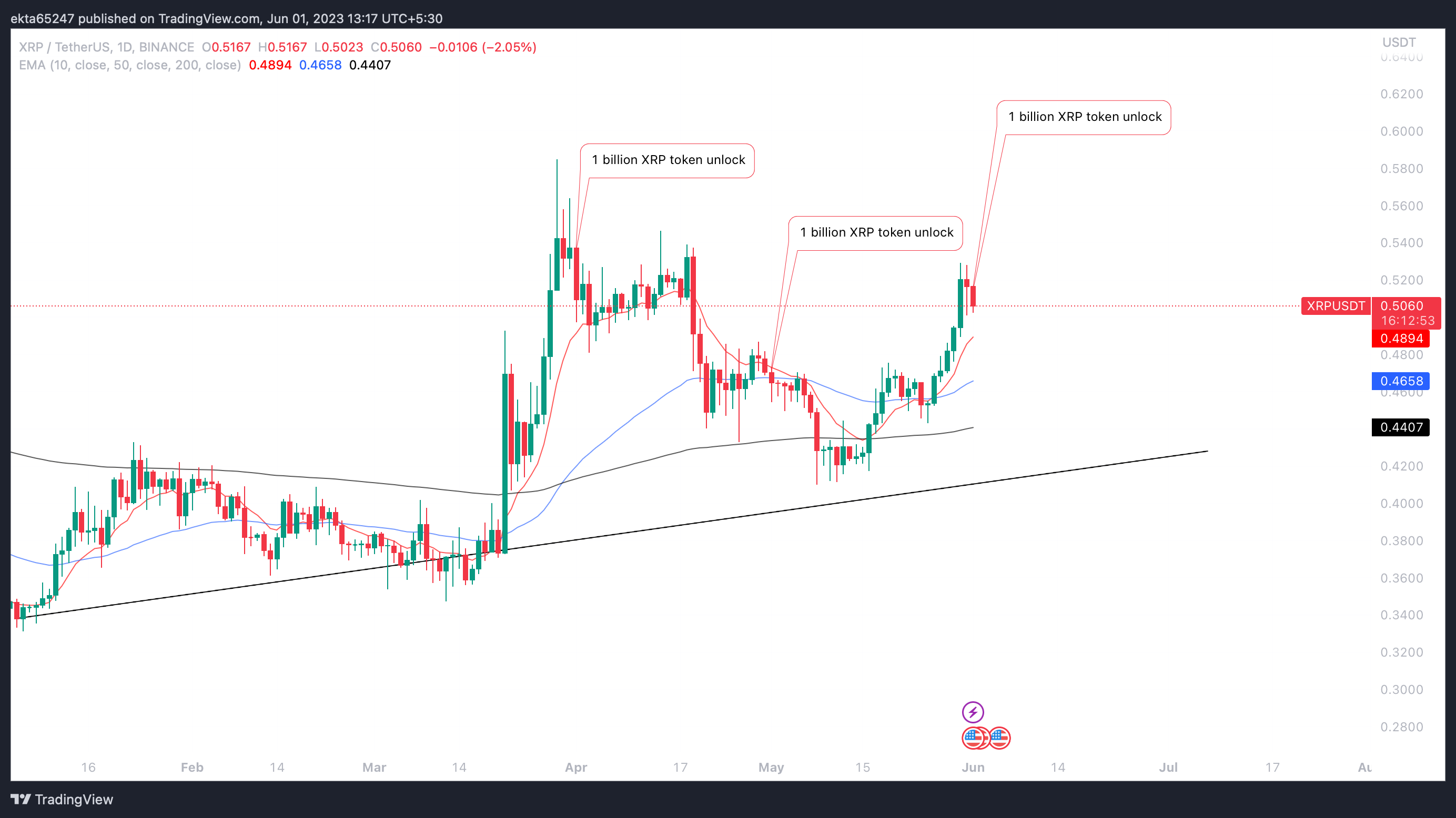 XRP/USDT one-day price chart Binance
XRP price is currently above three long-term 10, 50 and 200-day Exponential Moving Averages (EMAs)at $0.4894, $0.4658 and $0.4407, respectively. A decline below the three long-term EMAs would signal an impending correction in XRP price.
The token unlock comes at a time when the XRP community awaits a verdict in the US Security Exchange Commission (SEC) vs. Ripple lawsuit. A positive outcome for the payment giant is likely to fuel a recovery in XRP price.