Maker price reclaims $650, but investors stick to HODLing until MKR hits April highs
Maker price is up by over 5% in the last 24 hours, testing the 50-day EMA as a resistance level.
MKR holders are refraining from moving their tokens, resulting in token velocity hitting a December 2022 low.
Investors are awaiting a rally to $766, which would turn $356 million worth of MKR profitable.
Maker price is slowly climbing back up on the charts attempting to recover the losses it witnessed during the early May crash. But unlike many other altcoin investors, MKR holders seem to be potentially HODLing until a specific price point is reached by the cryptocurrency, which could act as a trigger for a decline.
Maker price is aiming a little higher
Make price breached the $650 mark earlier this week as the altcoin rose by more than 5% in the span of 24 hours to trade at $663. At the time of writing, the altcoin seemed to be testing the 50-day Exponential Moving Average (EMA) as resistance. Flipping it into support is important as it would enable a rise to $766.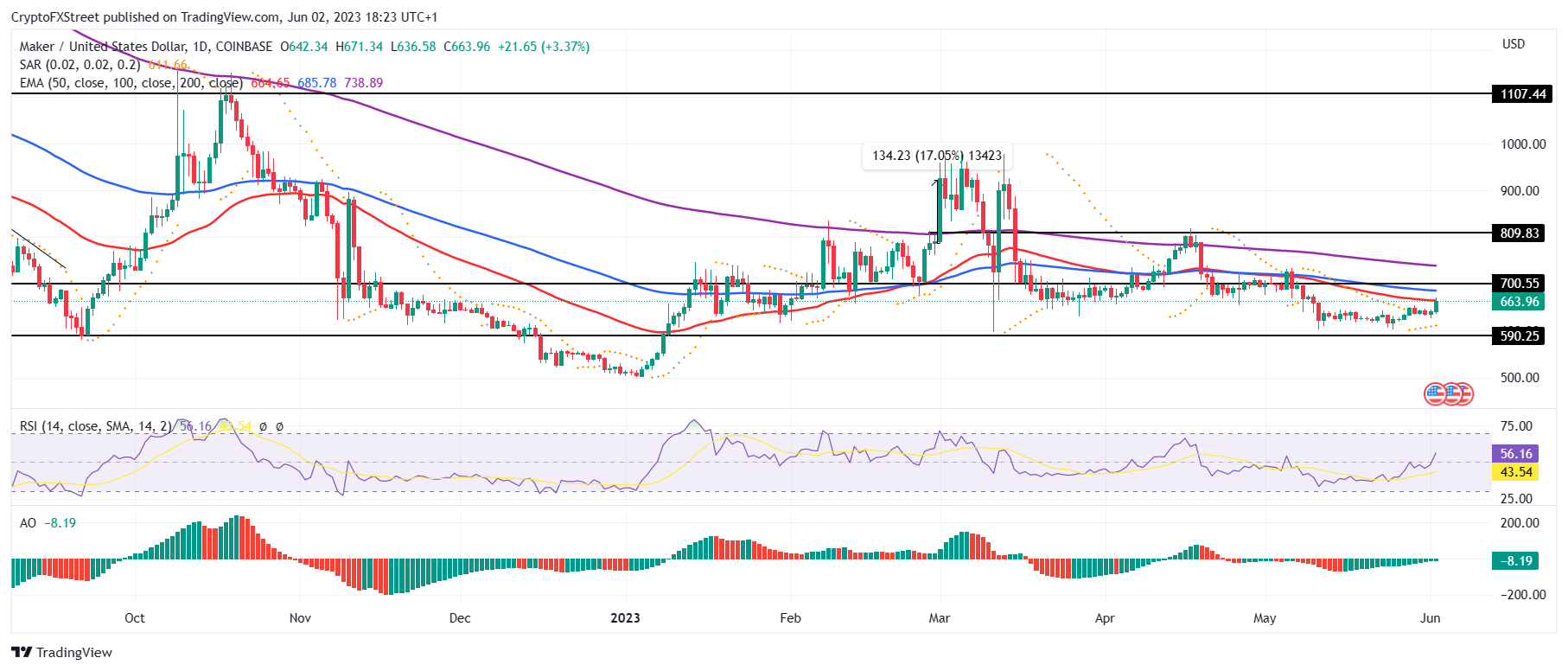 MKR/USD 1-day chart
This price point is critical for MKR if it intends to note a recovery. The reason behind this is the supply wall of more than 537,000 MKR, which stands at $766 and is worth more than $356 million. The supply would become profitable once the average price of these tokens – $766 is breached; until then, investors seem to be in the mood for just HODLing.

Maker GIOM
This is visible in their recent behavior as the investors have been refraining from moving their tokens. The token velocity, which measures the average frequency at which the coin changes addresses, has been on a decline since mid-March. It is presently at a six-month low at levels last witnessed back in December 2022.

Maker velocity
Thus, by the looks of it, MKR holders' interest lies in booking profits for now, which could potentially lead to a decline in Maker price. A rise to $766 would necessitate further bullishness, inflating the market value of the token against the realized value.
This can be measured with the Market Value to Realized Value (MVRV) ratio, which, when it crosses the 5% mark, has historically led to corrections.

Maker MVRV ratio
If a price rise leads to selling, corrections would come naturally, reinforcing the strength of the Danger Zone noted above the 5% mark. Although if the $700 level sustains as a support floor, the potential of a drastic drawdown is rather minimal.

Source