Pepe Coin loses investors' confidence as PEPE price crashes by 70% in a month
PEPE price is currently at a monthly low observing a consistent decline after peaking in early May.
The meme coin is failing to draw new investors as well, given the network growth has slowed down by 92%
Interestingly the hype still hasn't died down, as the meme coin still commands a 5% dominance on social channels.
After scaling unpredictable heights, PEPE price had a dream run throughout May, attaining a market capitalization of nearly half a billion dollars. But as was expected, the meme coin's value for investors seems to have run its course. The impact of the same can be observed on the network as well.
PEPE price dips to monthly lows
PEPE price is leading the cryptocurrencies trending downwards over the last 24 hours. The meme coin itself has crashed by more than 16% in the span of a day and is presently at monthly lows of $0.000001036. Consequently, over the period of a month, the meme coin has shed over 72% of its value after peaking at the beginning of May.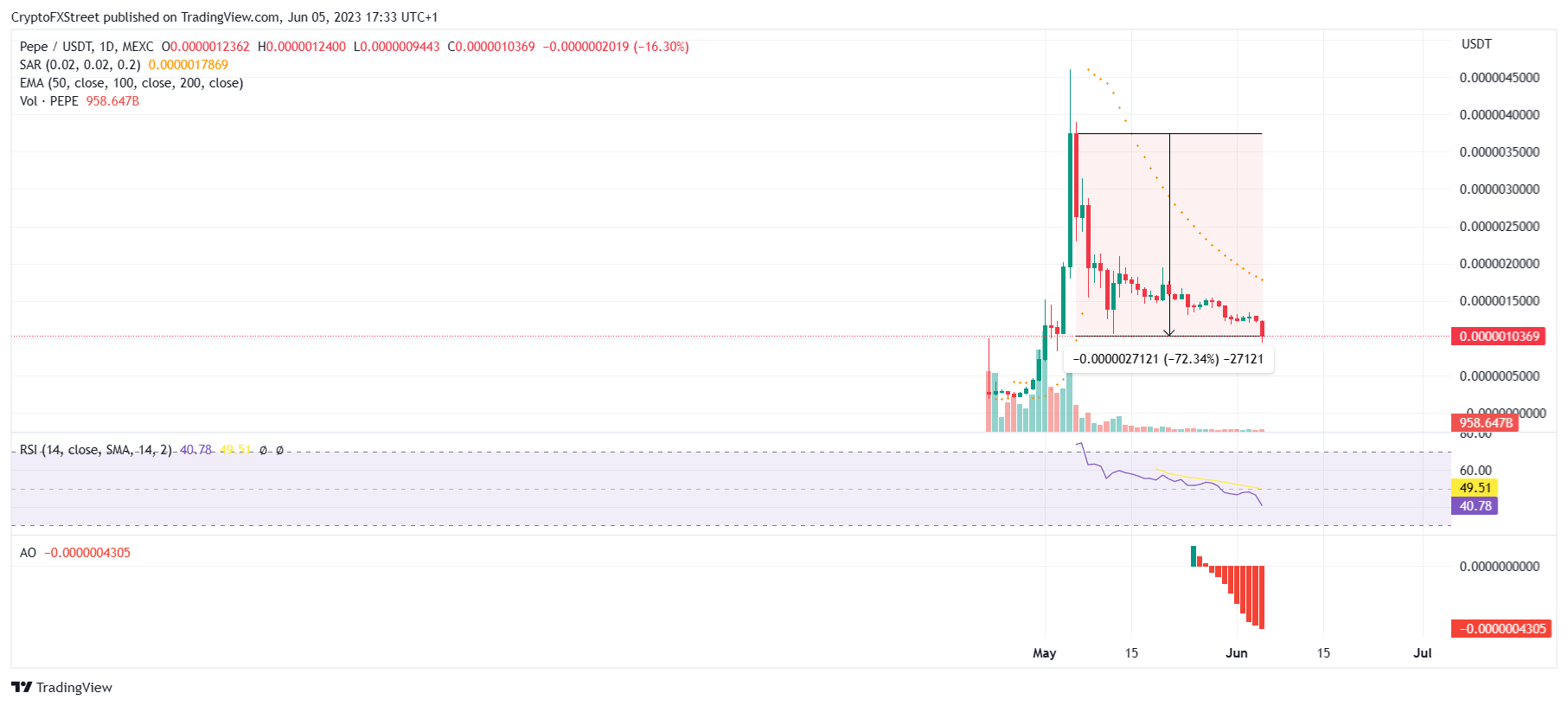 PEPE/USDT 1-day chart
The red candlestick of June 5 might implore investors now to move their supply back onto the exchanges to offset their losses. But from the looks of it, investors have already been doing so for a while.
The total PEPE supply present on the exchanges spiked soon after the meme coin hit its all-time high of $0.000004390. In the following four weeks, the supply rose by more than 72 trillion PEPE, worth approximately $82 million. This supply represents close to 20% of the entire circulating supply of the meme coin.

PEPE supply on exchanges
But beyond the investors' selling, the dwindling addition of new investors has also taken a toll. The network growth, which measures the rate at which new addresses are formed on the network, is currently down by 92%. This suggests that the cryptocurrency is losing traction in the market, which would make it difficult to induce demand for the meme coin, essential for recovery.

PEPE network growth
However, Pepe Coin price's saving grace is still with the shitcoin supporters in the market that first fuelled its fire. The cryptocurrency still has a decent domination of 5% over social channels. This means that for every 100 crypto-related inquiries, 5 of them are in the name of PEPE.
PEPE social dominance
Thus, if the meme coin's hype saves the cryptocurrency from falling to an all-time low, a recovery may not be too far away for the PEPE price.