Dogecoin price crashes by nearly 12% as loyal investors continue to offload their DOGE
Dogecoin price slipped to trade at $0.063 at one point on May 5, following Bitcoin's lead.
DOGE whales did make some moves, with their volume averaging close to $1.5 billion over the week.
The mid-term cohorts' domination over the DOGE supply declined to 42%, with short-term holders now holding 25% of the entire supply.
Dogecoin price is currently following Bitcoin's lead, bringing the meme coin down to three-month lows and testing a key support level. The cryptocurrency has been a highly influenced token for a long time now, but with DOGE's charm fading away, even some of its most faithful investors seem to be pulling back.
Dogecoin price falls back to March lows
Dogecoin price, trading at $0.066 at the time of writing, stood over 8% below yesterday's opening price as the meme coin witnessed corrections following Bitcoin price falling below $26,000. BTC, at present, is trading right around $25,750 and has brought the entire crypto market down with it, erasing nearly 4.92% or about $52 billion in the span of a day.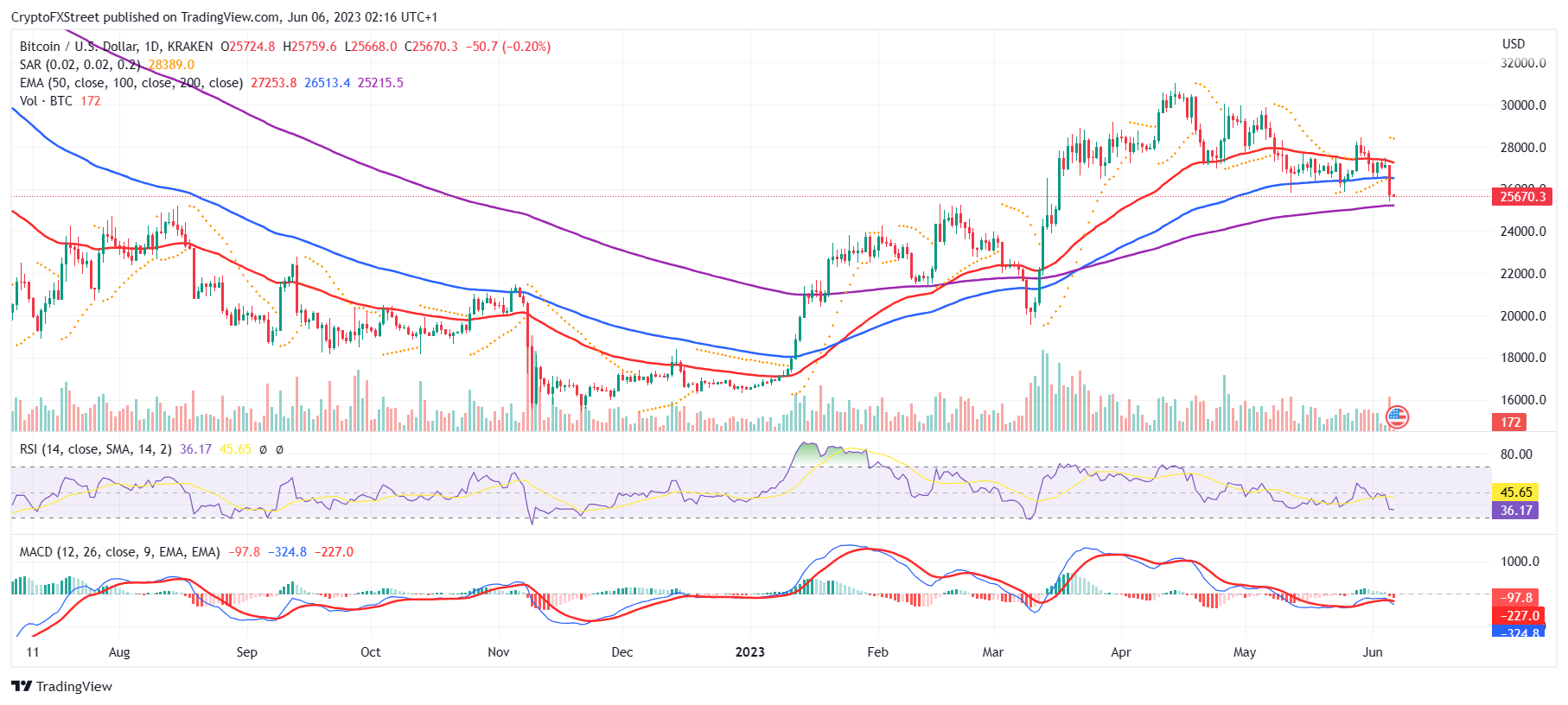 BTC/USD 1-day chart
But the bigger problem in the case of DOGE lies in the fact that it is not observing much support from its investors. Whales, which stand to be some of the most crucial cohorts for any cryptocurrency, have been making minimal moves for the last couple of weeks.
Throughout May, these whales averaged under $2 billion, and at the time of writing, the volume slipped to $1.5 billion.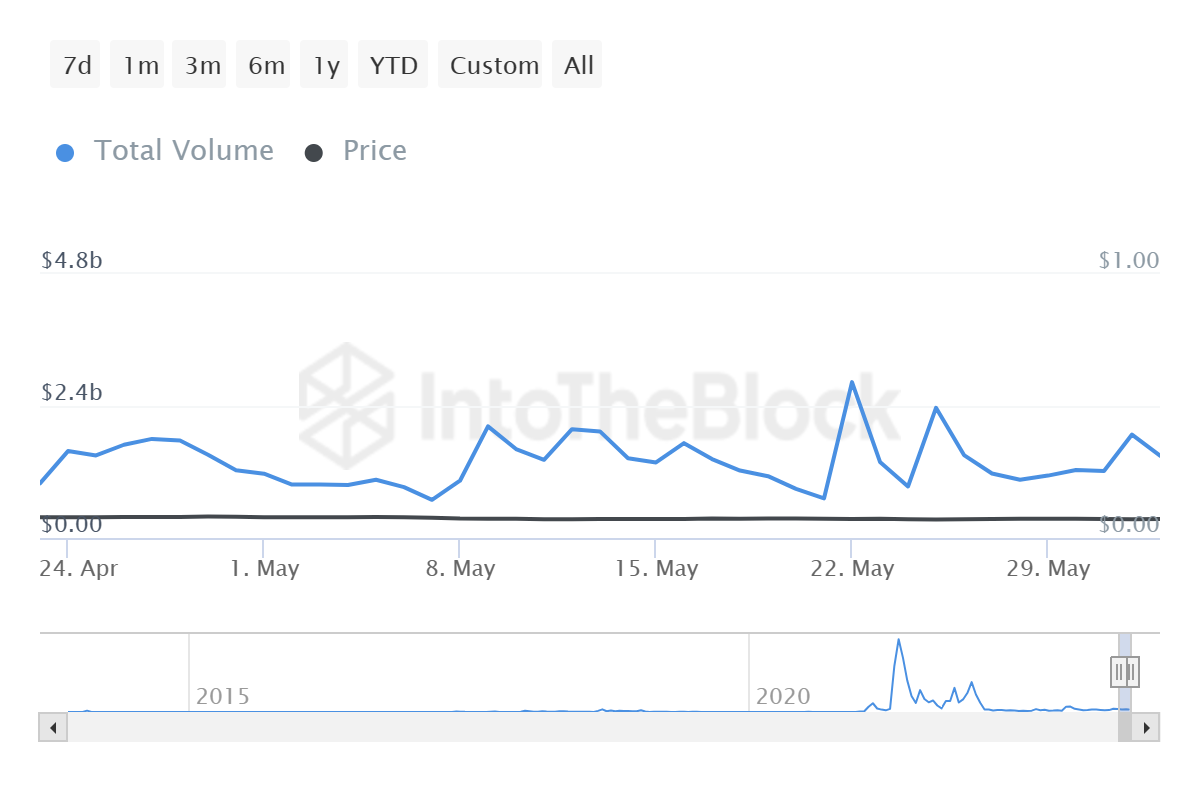 Dogecoin whale transaction volume
Furthermore, Dogecoin is losing the confidence of its investors quicker than it can hold. This is visible in the decline in holdings of mid-term holders, the cohort that has held on to its supply for more than a month but less than a year.
The change in supply can be observed in their falling domination, which has come down from 60% at the start of May to 42.85% at present. The lost supply has thus moved to the short-term holders that have been holding their DOGE for less than a month. This cohort now commands over 25% of the entire circulating supply.
Dogecoin supply distribution by time held
If their conviction persists through the crash and the meme coin recovers, it will push the supply back into the mid-term holders' category. The chances of an immediate recovery appear bleak as the altcoin recently experienced a bearish crossover on the Moving Average Convergence Divergence (MACD) indicator.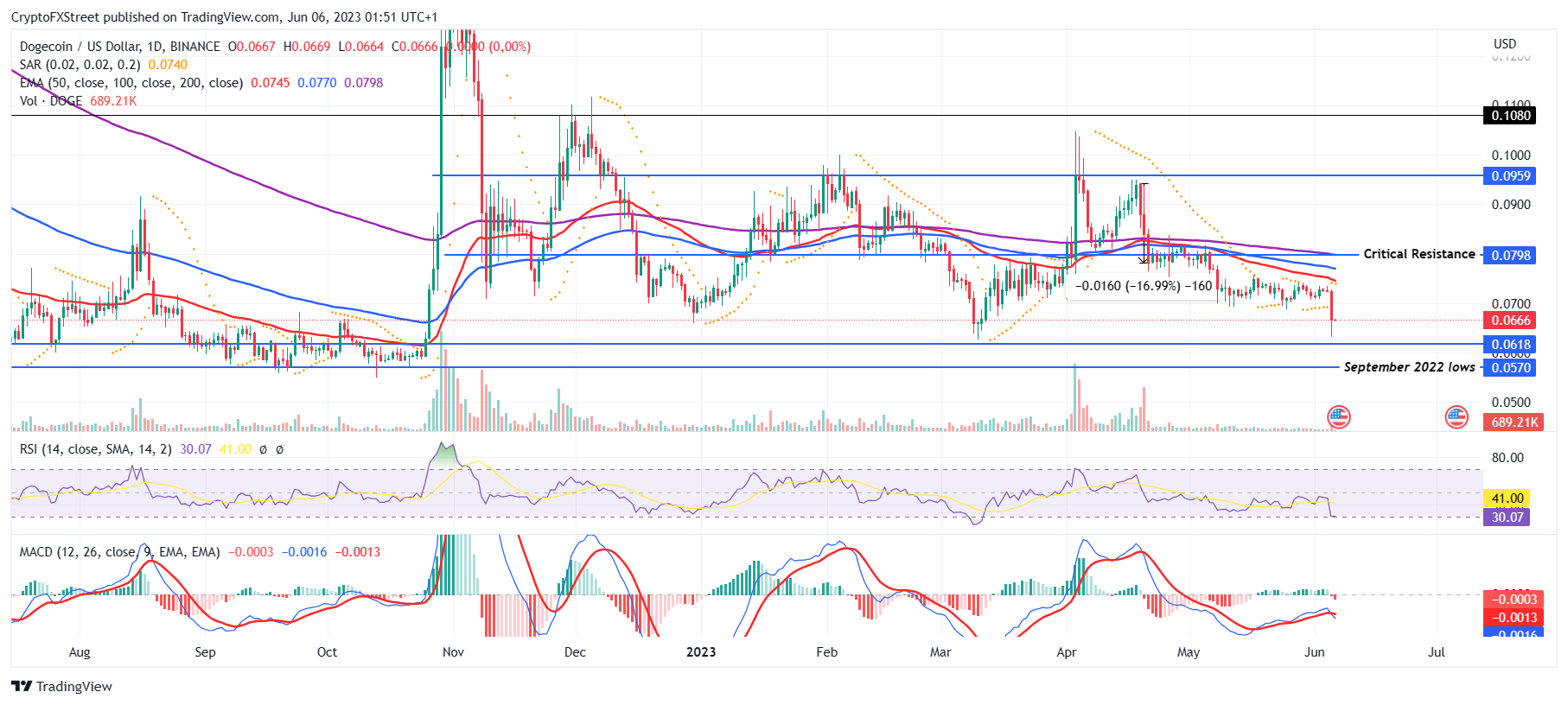 DOGE/USD 1-day chart
The Relative Strength Index (RSI) is also in the bearish zone, barely tipping into the oversold zone. The latter intensifying might trigger a recovery, but until then, Dogecoin price will be vulnerable to a fall to $0.0619.