Coinbase finds support from Third Circuit court against SEC as its stock COIN falls by 18%
Coinbase (ticker: COIN), trading at $51.61 at the close of the market, is bearing the brunt of the regulatory crackdown.
In addition to the SEC lawsuit, ten other state securities regulators, including Alabama and California, have issued a Show Cause Order against Coinbase.
Coinbase CEO Paul Grewal highlighted that SEC's lawsuit filing led to the Third Circuit issuing a short order in favor of the exchange.
Coinbase is still reeling from the bearishness of the last two days as its stock attempts to recover. But as the world's second-biggest cryptocurrency exchange bounces back, it seems to have found a way to bring the Securities and Exchange Commission (SEC) to answer some crucial questions it has been avoiding for a year now.
Third Circuit tips in Coinbase's favor
The Chief Executive Officer (CEO) of Coinbase, Paul Grewal, tweeted on June 6 that the Third Circuit issued a short order in Coinbase's mandamus action today. The court brought the order forward following the SEC's announcement of filing a lawsuit against Coinbase for violating Securities laws.
We continue to believe that the SEC could not be proceeding with litigation against our industry, like the case filed against us today, if the SEC had not already decided to deny our petition for rulemaking.

— paulgrewal.eth (@iampaulgrewal) June 7, 2023
Per the order, The SEC now has to decide whether the regulatory body has decided to deny the cryptocurrency exchange's pending petition for rulemaking. The SEC has a week to respond, and if they decide to deny it, they would also need to provide an explanation. Grewal added,
"We continue to believe that rules of the road, from legislation or rulemaking or both, must come before enforcement actions. That is why we petitioned the SEC for rulemaking nearly a year ago in the first place… If the SEC's answer to our petition for rulemaking is "no," then they are required by law to tell us, because we have the legal right to question that "no" in court. And there are serious questions to be asked. (sic)
This order came after the cryptocurrency exchange's stock COIN observed a near 20% crash despite gaining almost 10% until the market close. Valued at $51.61, the stock is recovering after hitting a five-month low and would need more than a short order to regain its losses.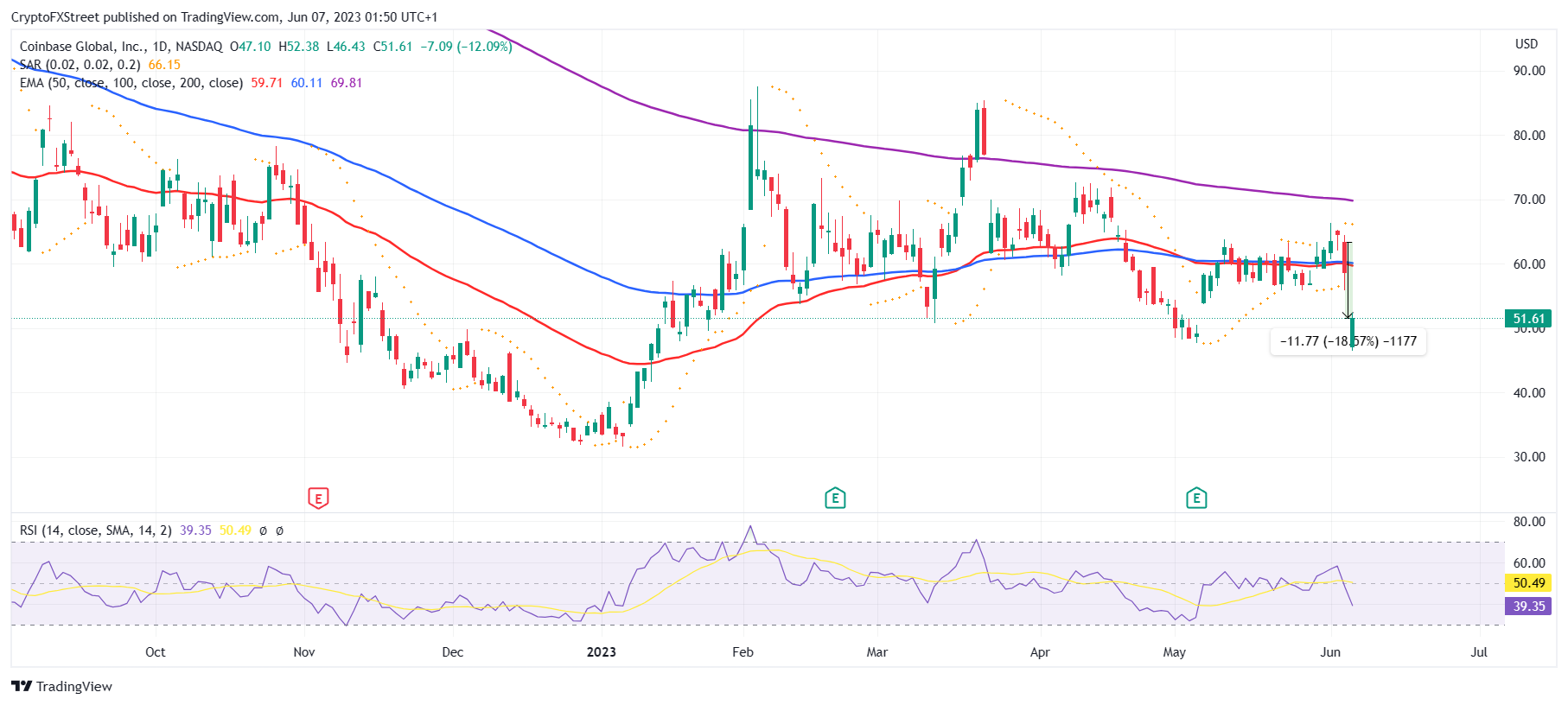 COIN 1-day chart
In the meantime, Coinbase has to endure the strings of regulatory action active against the exchange. Earlier on June 6, in addition to the SEC, ten state securities regulatory bodies also decided to go after Coinbase. Regulators from Alabama, Maryland, Illinois, Vermont, Washington, New Jersey, South Carolina, California, Wisconsin and Kentucky formed a task force.
This task force has issued a Show Cause Order giving Coinbase 28 days to state why Alabama should not proceed with a Cease and Desist against Coinbase from selling unregistered securities in the state.
A response from Coinbase in regards to this Show Order Cause is yet to be received.