MATIC price struggles to recover after $95 million transfer from whale to Binance
Polygon Network's MATIC suffered a setback from the regulatory crackdown, and price dropped nearly 10% since Monday.
A large wallet address transferred $95 million in MATIC tokens from a cold wallet to Binance, increasing the selling pressure on the asset.
The Ethereum Layer 2 scaling token's supply on crypto exchanges climbed 15.5% over the past two days.
Ethereum network's largest scaling solution, MATIC, wiped out its gains from the past week in response to the US Securities & Exchange Commission's (SEC) crackdown on the token. The SEC deemed MATIC a security in its lawsuit against both crypto exchanges Binance and Coinbase.
MATIC whales are shedding their holdings of the Layer 2 tokens and the selling pressure on Polygon's native crypto is climbing across crypto exchange platforms. This could result in further losses for MATIC holders in the short term.
MATIC supply on exchanges sees big jump after SEC's enforcement actions
The US financial regulator's enforcement actions against cryptocurrency exchanges have triggered a bloodbath in the ecosystem. In its lawsuit against Binance and Coinbase, the SEC lists Polygon's MATIC token as a security. The SEC's crackdown has intensified the selling pressure on the Ethereum Layer 2 scaling token and MATIC price declined 9.24% since Monday. 
Based on price data from CoinGecko, MATIC traded at $0.9048 on June 5. However, the SEC's lawsuits and commentary on the Ethereum scaling token pushed the price down to $0.8124, at the time of writing.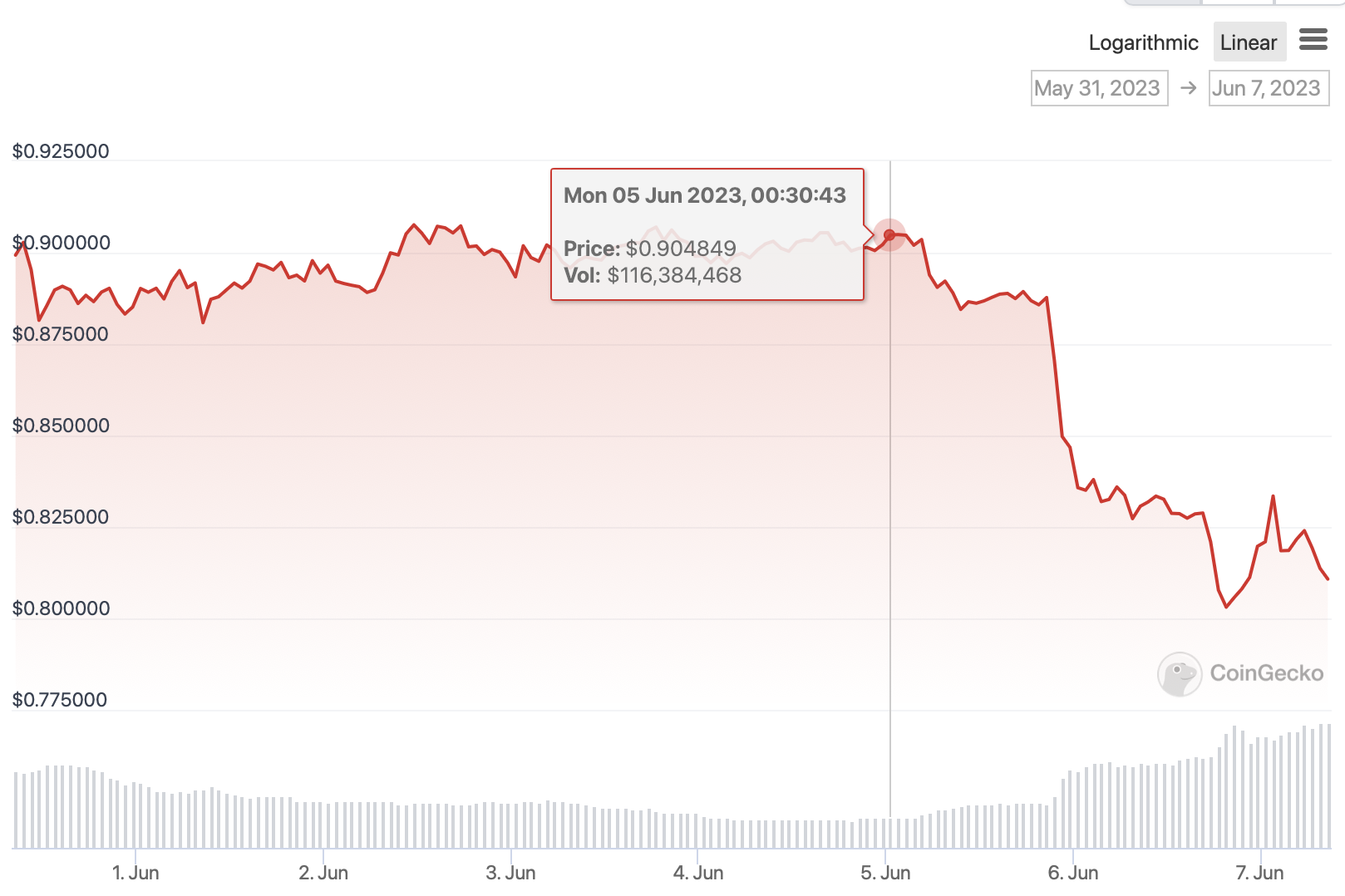 MATIC price chart from CoinGecko
Moreover, the price decline was accompanied by rising MATIC reserves across cryptocurrency trading platforms. While several Layer 2 tokens like Arbitrum (ARB), Optimism (OP) and Immutable X (IMX) enjoyed a rebound on Tuesday, MATIC hit a wall.
A whale transferred $95 million in MATIC tokens from a cold wallet to Binance's exchange platform.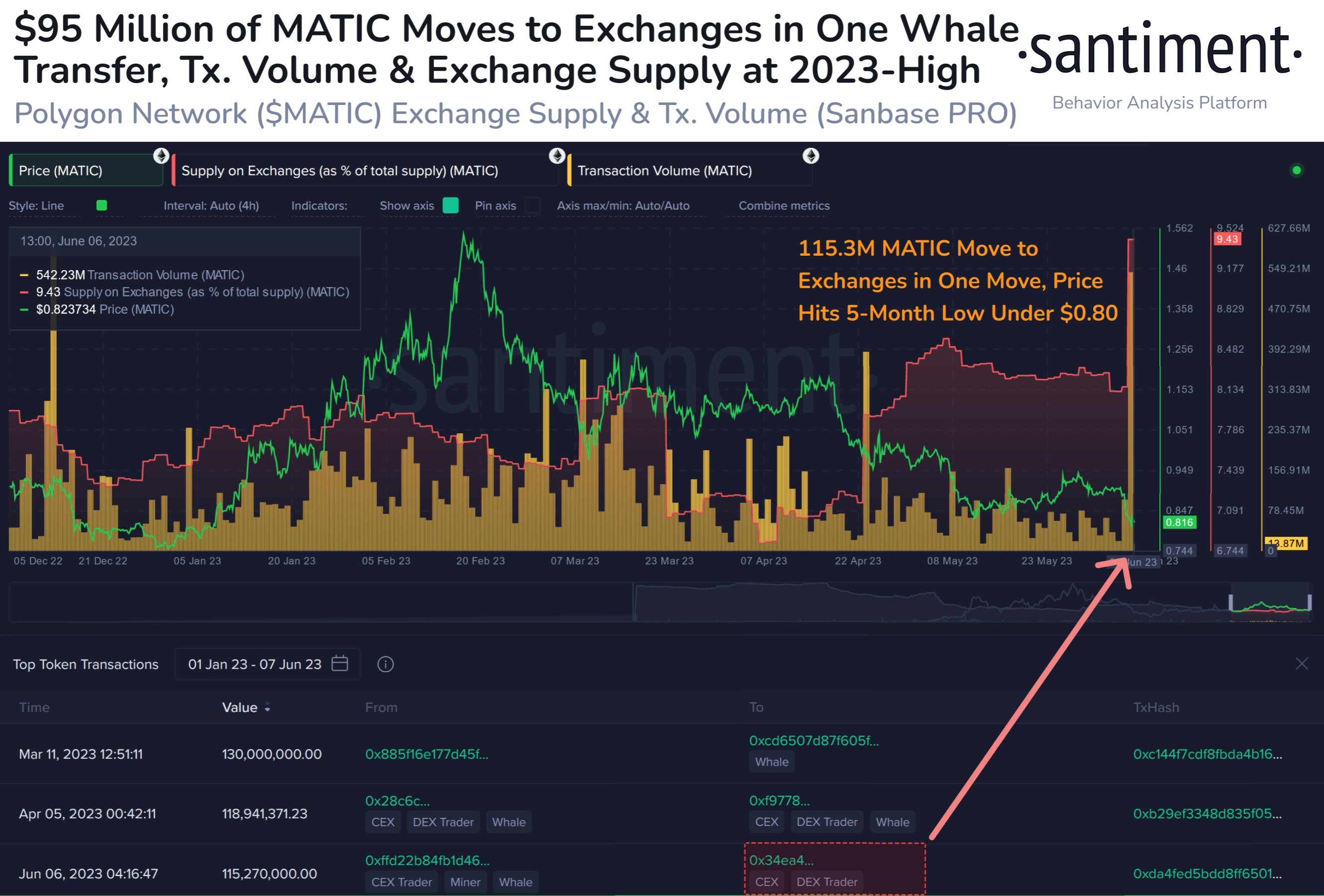 $95 million MATIC token transfer by whale
Based on data from the crypto intelligence tracker Santiment, this transfer piled on the increasing MATIC supply on exchanges, pushing it from 815.89 million on Monday to 942.77 million at the time of writing.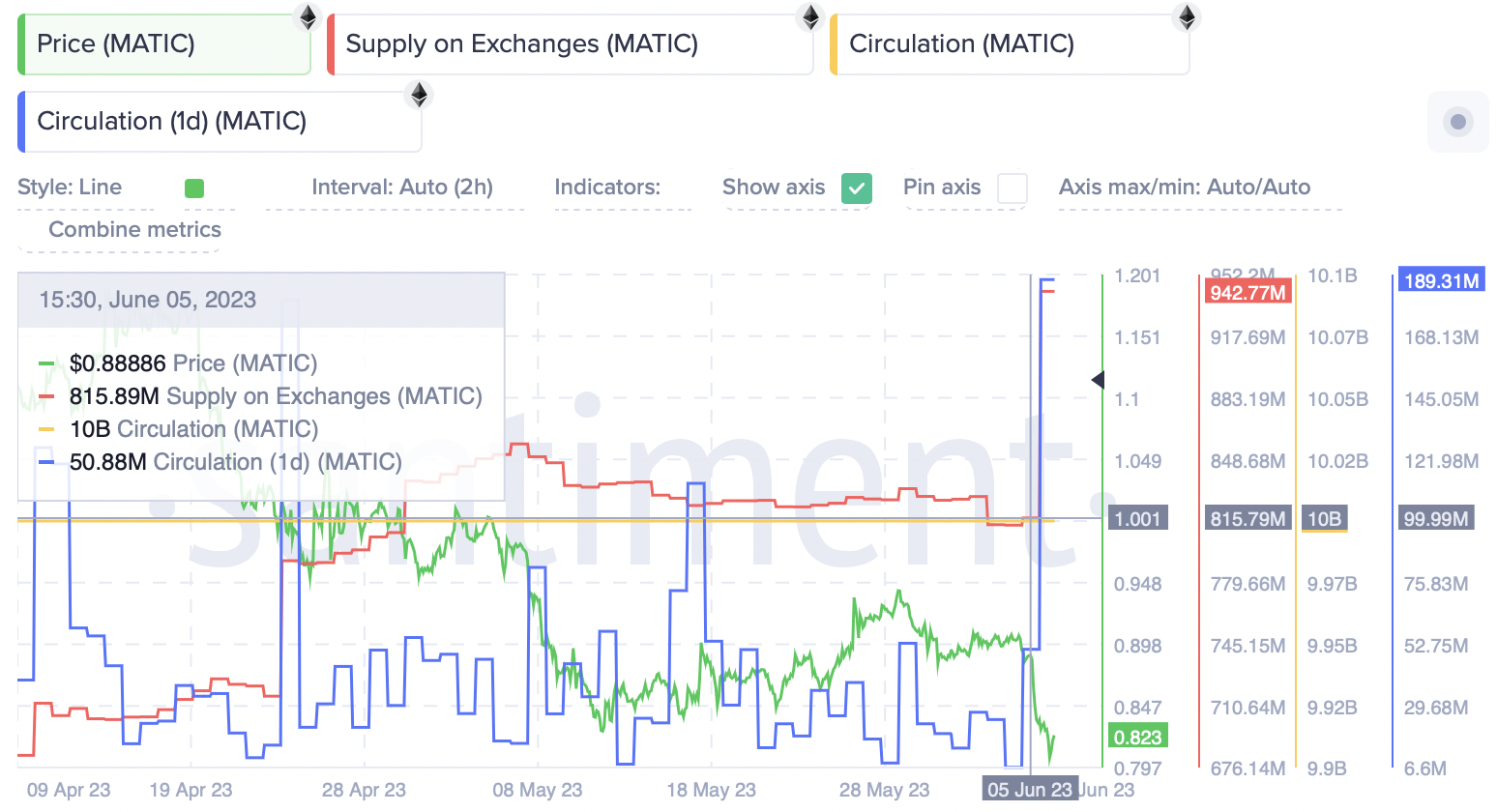 MATIC supply on exchanges
Typically, an increase in supply of the asset on exchanges and large volume transfers from whales to exchange platforms are both considered bearish signs for assets. It remains to be seen whether Polygon Network's recent partnership announcements can aid the token's recovery in the short term.
Polygon partnered with Deutsche Telekom and Credit Suisse-backed Taurus
The Polygon network made a giant leap in its adoption among technology and financial infrastructure giants with its two recent partnerships. The world's largest telecom giant, Deutsche Telekom, joined the MATIC network as a validator, joining a network of 100 validators.
FINMA-regulated giant Taurus tapped Polygon to aid tokenization of assets for its clients. These two key partnerships are likely to act as a bullish catalyst and are likely to support MATIC's recovery in the short term.