Binance cancels UK registration amidst mounting regulatory hurdles
The Financial Conduct Authority of the UK completed Binance's request to cancel Binance Markets Limited's (BML) registration with the agency.
Mounting regulatory hurdles pushed Binance out of the Netherlands and Cyprus recently, the exchange continues to battle the US SEC lawsuit.
BNB price nosedived in response to the news, dropping 3.4% to $243.40 over the weekend.
The UK's Financial Conduct Authority (FCA) deregistered Binance Markets Limited (BML) and green-flagged Binance's cancellation request for the entity. BML is a Binance subsidiary, and while its deregistration does not have a direct impact on the exchange's operations, it adds to the mounting regulatory woes of the exchange.
UK watchdog's website confirms Binance subsidiary exit
UK FCA, United Kingdom's financial regulatory body, confirmed that Binance Markets Limited is not longer authorized to undertake any regulated activity in the nation. The exchange has previously made two voluntary exits, from Cyprus and the Netherlands.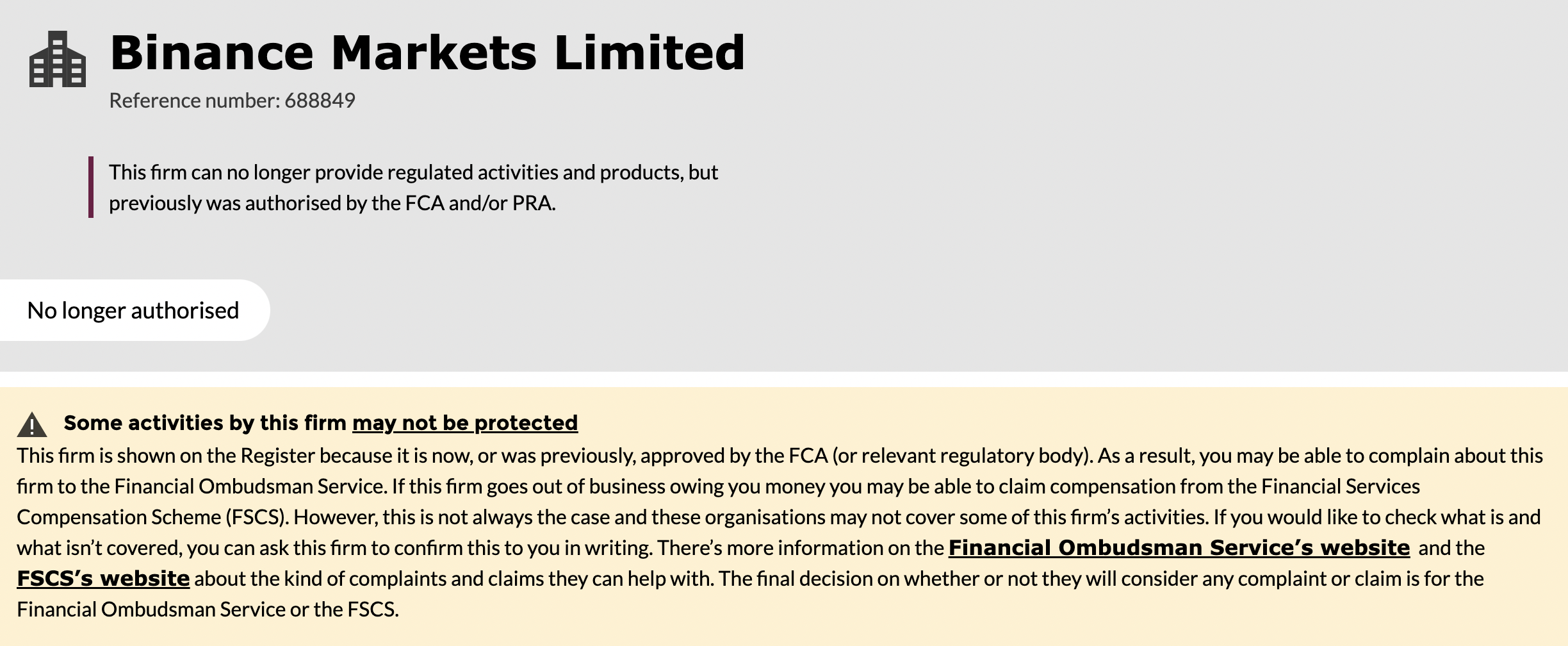 FCA webpage on Binance Markets Limited
Binance acquired the UK-based entity in 2020 with the intention of launching a regulated business in the UK. The attempt was unsuccessful, and since then, BML remained dormant. With its focus shifting towards complying with European Union's Markets in Crypto-Assets (MiCA) regulations, Binance applied for cancellation of its registration with the UK FCA, and the authority green-flagged the exchange's exit.
There is no direct impact on Binance's operations since the exchange never served UK-based customers, however, it has now pulled out of the nation amidst rising regulatory hurdles.
Binance's battle against US SEC's allegations continues
The US SEC's lawsuit against Binance alleges that the exchange engaged in an unregistered securities sale. The lawsuit outlines a list of several cryptocurrencies that the SEC has labeled as securities and accuses the exchange of violating laws by facilitating the trade of these assets.