XRP whales jump to buy the dip, scoop up nearly $170 million in tokens in a week
XRP network's large wallet investors bought the dip, accumulating 360 million tokens between June 22 and 28.
XRP price declined 6% from the June 22 open to Thursday, offering a buy-the-dip opportunity to traders.
Bullish on-chain activity coupled with whale accumulation is likely to act as a catalyst for XRP price.
Ripple network's whales capitalized on the recent opportunity to "buy the dip" and scooped up as many as 360 million XRP tokens over one week. Throughout the same period, XRP price declined consistently, from $0.5008 to $0.4724.
Large wallet investors spent $170 million accumulating XRP tokens. This fuels a bullish thesis for the altcoin's price recovery. 
Whales accumulate XRP tokens at a discount
Large wallet investors engaged in buying the dip and scooped up $170 million worth of XRP tokens. Typically, whale accumulation is considered a bullish sign for an asset.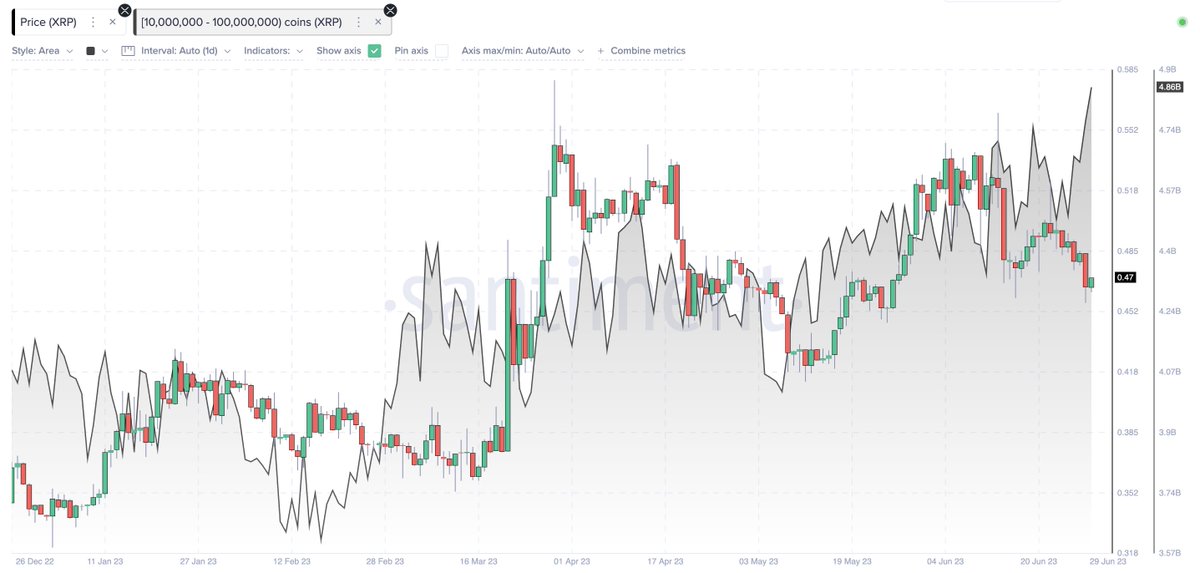 XRP accumulation by whales
Whale accumulation of XRP removes the tokens from circulation and eases selling pressure on the price. These two factors support a recovery in the altcoin's price in the short term.
As seen in the chart above, whales holding between 10 million and 100 million XRP tokens increased their XRP balances during the recent dip in the altcoin's price.
These on-chain indicators support XRP price recovery thesis
Active addresses and trade volume of XRP have sustained above average over the past two weeks, as seen in the chart below. Based on data from crypto intelligence tracker Santiment, XRP's on-chain activity is bullish, and a recovery in the asset's price is likely in the short term.

XRP price vs. trade volume vs. active addresses
A peak in activity on the XRP network has triggered a rally in the altcoin in previous instances as well. If history repeats, whale accumulation and the bullish on-chain indicators are likely to drive XRP price higher.