Hamsters, roaches or snails: Animal-themed cryptocurrencies take center stage among crypto traders
Decentralized exchanges have become the focus of animal-themed cryptocurrencies.
DEX traders have flipped thousands of dollars in profits from trading tokens like HAMS, SNAILS and ROACH on Uniswap V2 and other DeFi platforms.
The new animal-themed DeFi-focused narrative is driving massive gains for whale wallets.
Crypto traders have shifted their focus from Bitcoin to altcoins in July, with the emergence of a new narrative in DeFi. Animal-themed tokens, such as Hamsters (HAMS), Snail Race (SNAILS) and Roach (ROACH), have yielded massive gains for traders on decentralized exchanges.
A crypto analyst identified a whale wallet that made $400,000 in profit from a handful of trades in animal-themed cryptocurrencies.
Crypto traders chase animal-themed cryptocurrencies for massive gains on DEXes
Bitcoin no longer enjoys center stage among crypto market participants this summer. As seen in the alt season indicator on Blockchaincenter.net, July is an altcoin month. A new narrative has emerged across decentralized exchanges.
While Bitcoin price flirts with the $30,000 level on Binance, animal-themed cryptocurrencies like HAMS, SNAILS and ROACH have yielded massive gains for holders. Crypto analysts have identified live trading and betting website tokens like HAMS that helped at least one whale wallet profit as much as $400,000 via a handful of trades.
Some of the animal-themed token prices have nosedived over the weekend, with HAMS wiping out 62% of gains overnight. This narrative has taken center stage as trading volumes on centralized exchanges like Binance and Coinbase decline and traders turn to DEXes like Uniswap, hunting for the next opportunity to turn a profitable trade.
Bitcoin's lack of a directional bias and meme coins' dwindling volatility are a few of the catalysts pushing DEX traders toward these new cryptocurrencies. 
Profit-making opportunities or slow rug?
Websites like Hamsters.gg that engage in real-life hamster racing and betting have entertained DEX traders engaged in trading HAMS on Uniswap V2. The crypto analyst behind the Twitter handle @dealerdefi identified a whale wallet, likely an insider, who spent $5,646 to purchase 181,446 HAMS before the token's price exploded.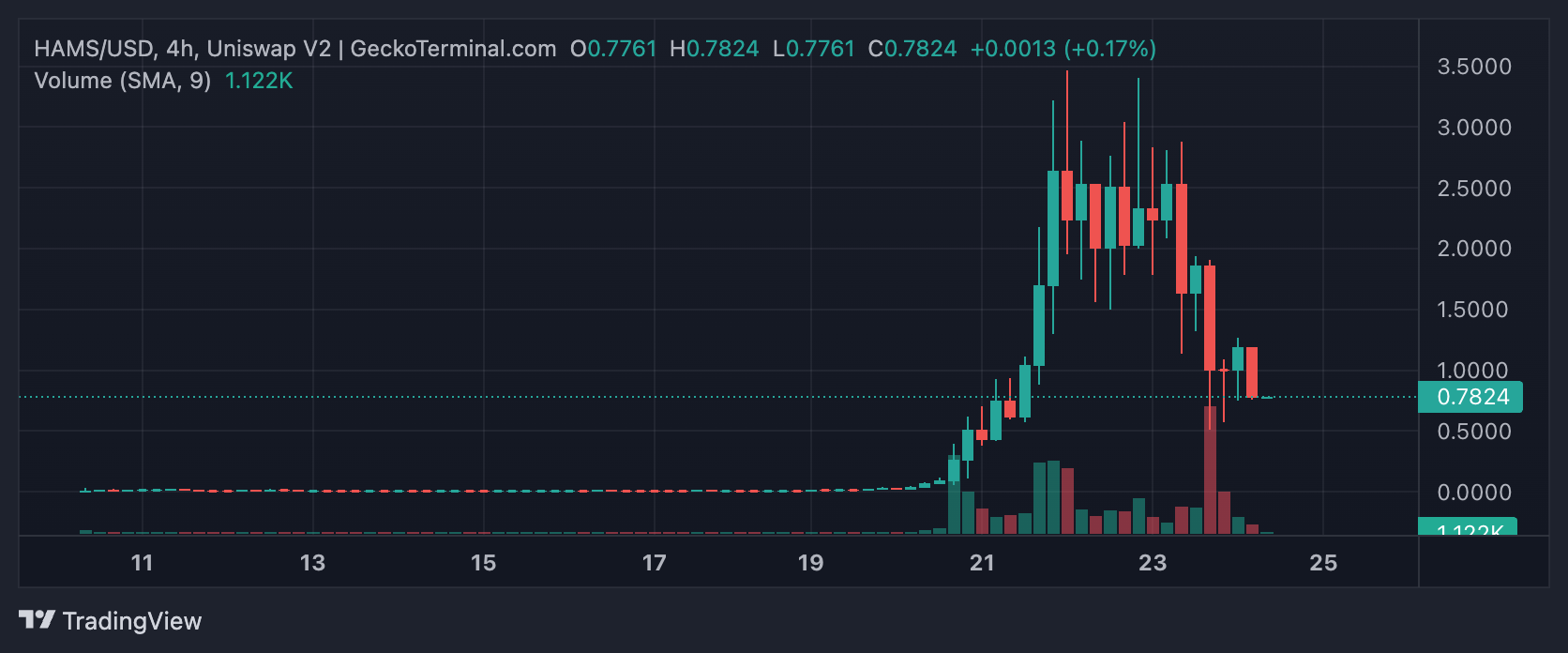 HAMS/USD price chart on Uniswap V2
The whale is sitting on unrealized profits of $459,797, and is yet to sell the tokens and close the trade.
Crypto gaming and betting site tokens have emerged with a narrative similar to animal-themed cryptocurrencies with Rollbit Coin (RLB) leading the pack. RLB price yielded upwards of 257% gains for holders over the past 30 days, however, the token is now exchanging hands 40% below its all-time high of $0.1290.
The meteoric rise and fall in RLB price is likely a testament to the emerging short-lived narratives that keep crypto traders entertained in the alt season.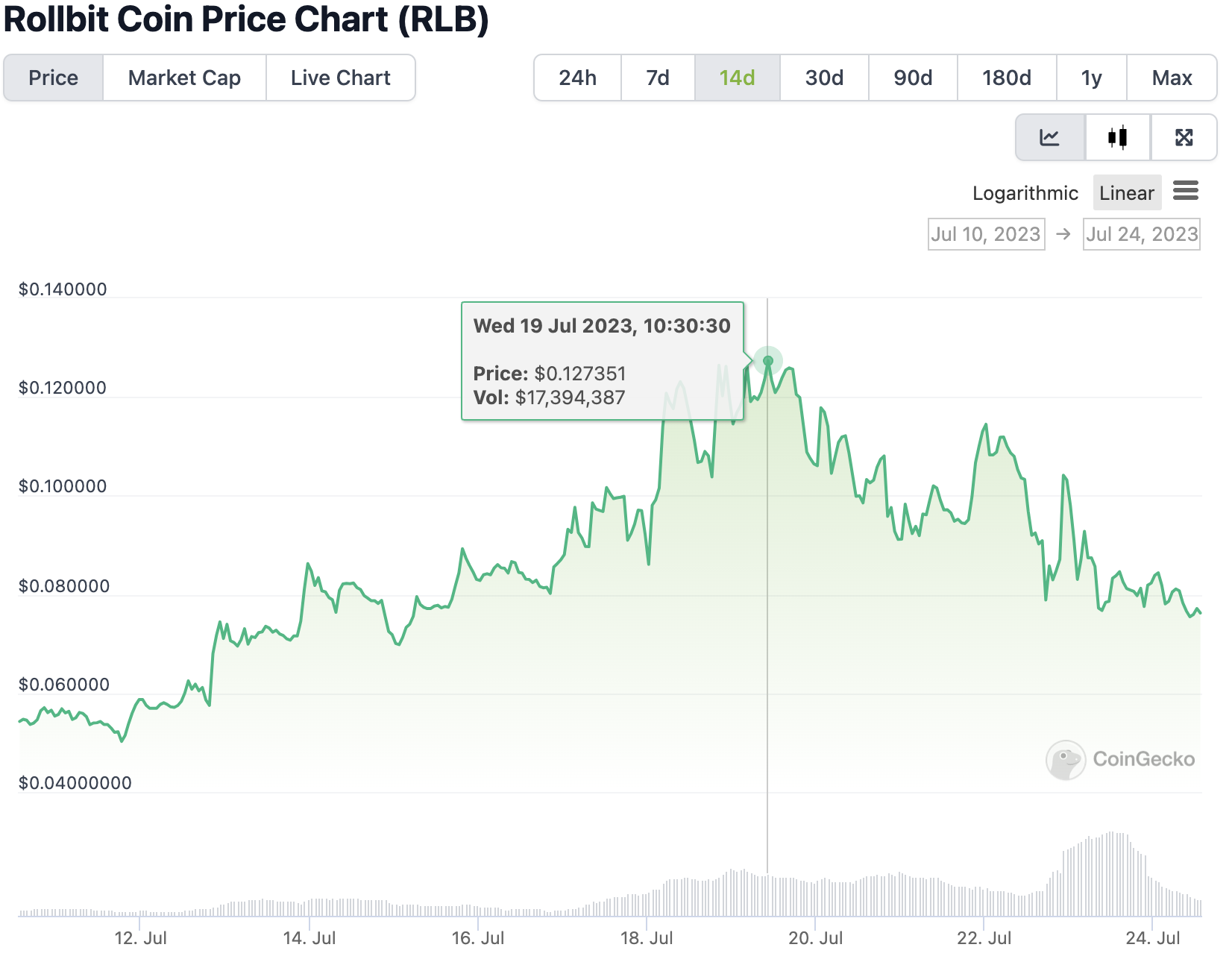 RLB price chart
Rollbit has been at the center of the crypto casino narrative throughout alt season in July, as traders leverage NFTs, kickbacks and innovative lottery games powered by the token.
A researcher at Delphi Digital behind the Twitter handle @cryptunez believes that the common denominator between the newly emerging narratives on DEXes is "revenue." As the crypto ecosystem's landscape changes for traders, projects with real revenue are taking center stage. Real World Asset tokenization (RWAs), Casino tokens, UI/UX tokens and animal-themed cryptocurrencies have one thing in common: revenue generation.
Hamsters.gg is generating revenue from the bets placed in real-life hamster races, up to $500 per race. As crypto matures, revenue generation is becoming key to projects for their long term survival.
Join our Telegram Channel https://t.me/elevenews