Dogecoin price marks a 10% rally in 24 hours as DOGE whales make a comeback
Dogecoin price hit a two-month high, breaching the $0.080 resistance level.
DOGE recovery over the past weeks has been rather slow, resulting in over 100k investors losing their patience, making room for short-term holders.
The meme coin is susceptible to a decline now as an increase in short-term holders combined with a sudden rally could lead to selling for profits.
Dogecoin price had a fairly better 24 hours than most of the altcoins in the crypto market, but for its investors, this was one of the best days in a long while. The surge in DOGE price came at a time when one of Dogecoin's biggest influencers, Elon Musk, also known as DOGEfather, accelerated the transition of Twitter to "X".
Dogecoin price rises on the back of whales
Dogecoin price shot up by nearly 11% in a single day owing to external bullish cues as well as a sudden surge in performance from a key cohort of DOGE holders – the whales. At the time of writing, the meme coin could be seen trading at $0.082, breaching above the $0.080 mark for the first time in two months.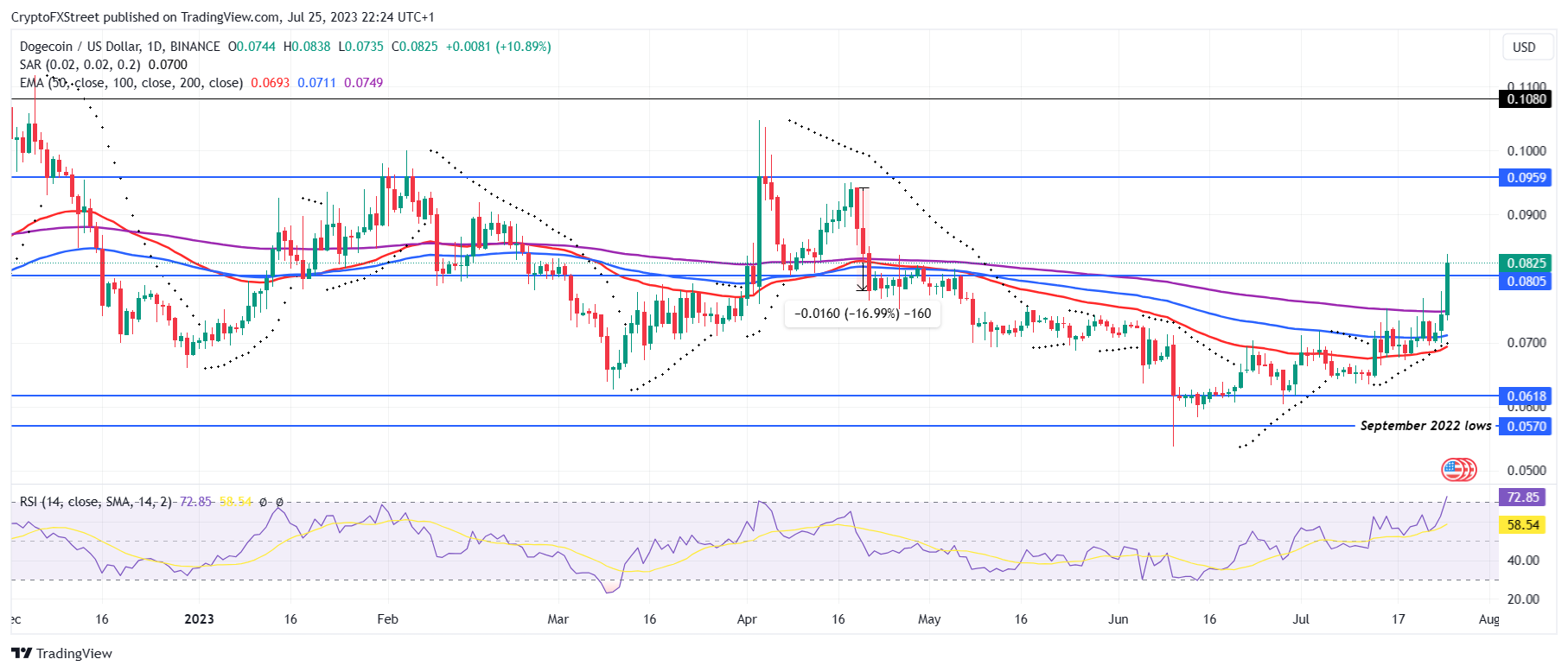 DOGE/USD 1-day chart
A chunk of credit for this does go to Elon Musk, but most of it goes to the whales whose activity spiked in the same duration. Whale addresses, i.e., addresses that hold more than 0.1% of the entire circulating supply, observed total net flows of 1.02 billion DOGE worth a rather meager $83 million.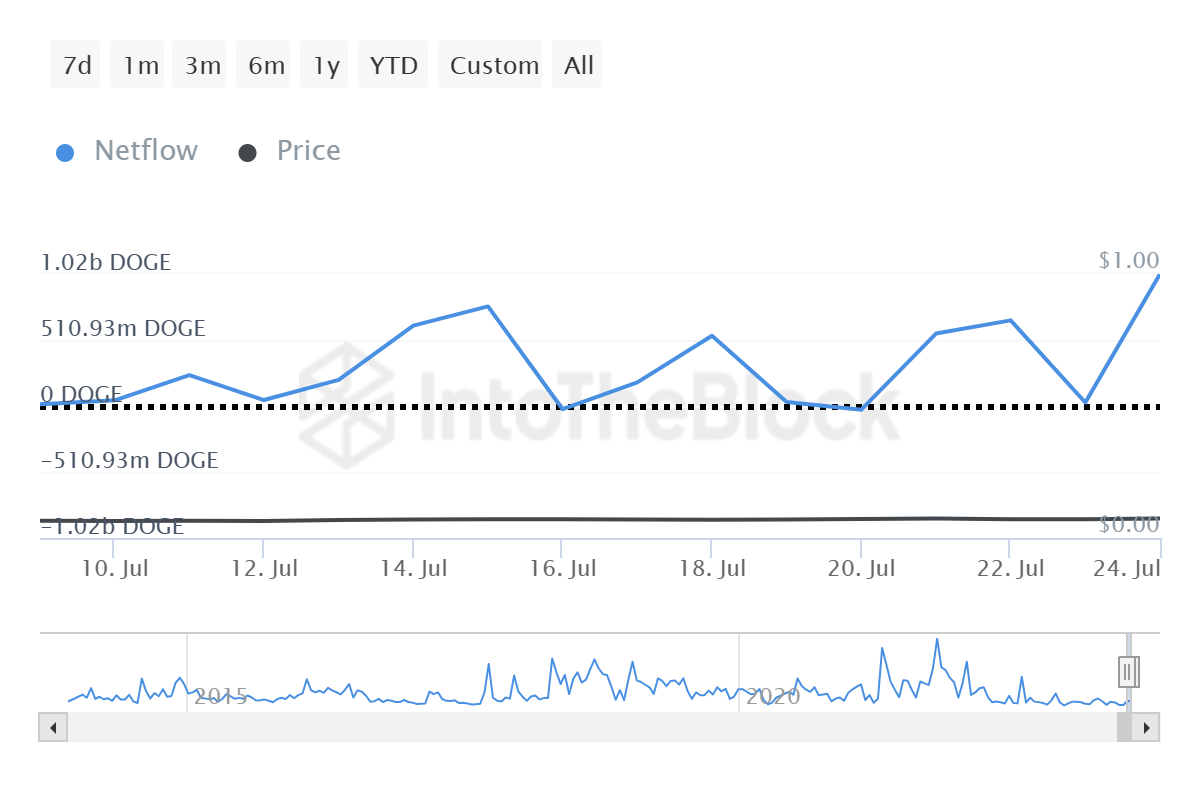 Dogecoin whale netflows
However, considering the past two months, this is rather good news as it led to the surge in Dogecoin price. From here on, it is upon the DOGE holders to ensure that the rally sustains and that they do not lose their gains.
The reason why investors play an important role now is that, over the last couple of days, the lack of recovery led to many mid-term holders (addresses holding supply for more than a month and less than a year) losing their patience. The supply that moved around led to an increase in the short-term holders' (addresses holding supply for less than a month) numbers by a solid 110k.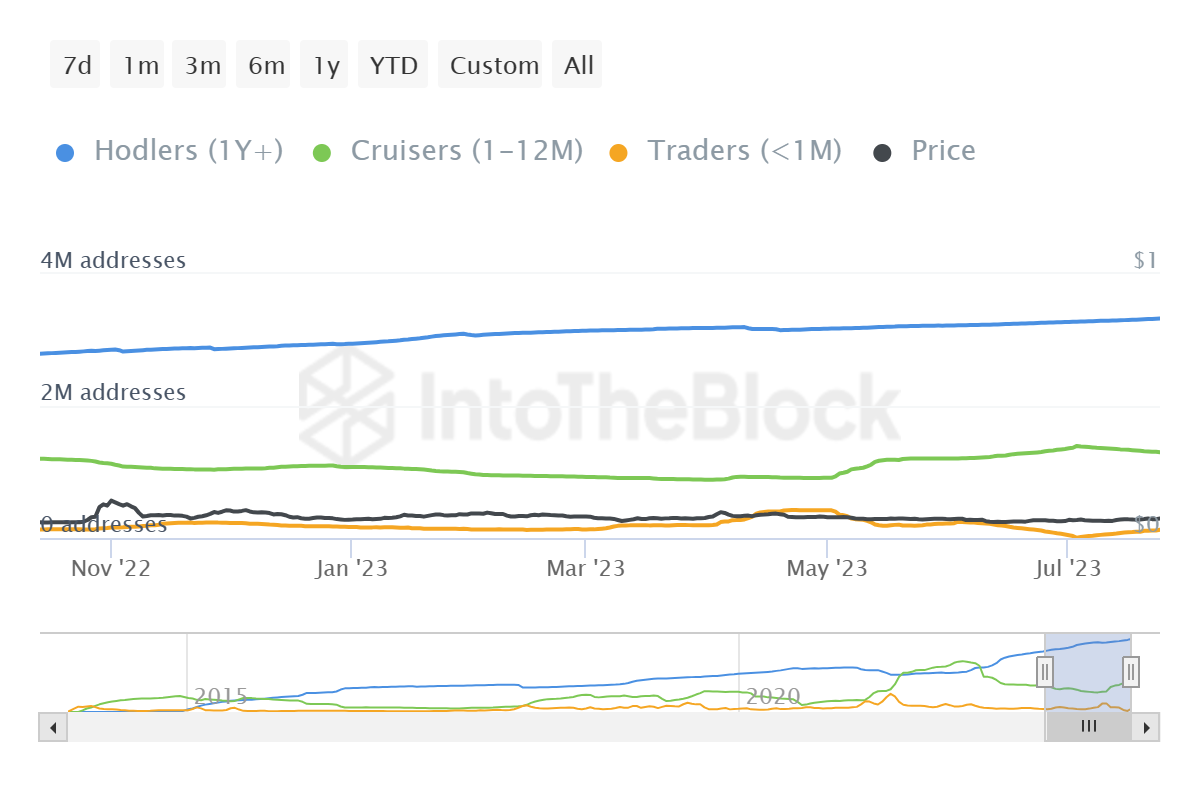 Dogecoin addresses distribution by time
Consequently, their percentage grew from 0.02% to 2.6% in the span of two weeks. These investors now pose a threat to Tuesday's 11% rally as the meme coin remains susceptible to profit-taking from short-term holders.
Any selling could lead to a decline in Dogecoin price, potentially wiping out the recent gains. This could push investors back to their earlier phases of losses which could then lead to a panic selling which would be motivated by offsetting the losses. Hence, the meme coin's investors now have another factor to consider before rising further.