Bitcoin and crypto market unphased as FOMC commits to a meeting-by-meeting approach
The Federal Reserve has committed to a meeting-by-meeting approach for future policy, whilst raising interest rates by 25 bp.
Fed Chair Jerome Powell gave mixed messaging in the press conference, though some optimism filtered through.
Despite a sell-off in the US Dollar, Bitcoin price remains in the $29,300 range, with little volatility post-FOMC.
A highly anticipated decision to raise interest rates in line with expectations and the insertion of a slither of hope in otherwise mixed messaging from the Chairman of the Federal Reserve, Jerome Powell, was not enough to raise the pulse of the moribund crypto market on Wednesday.  
Bitcoin price remained in a range it has been bobbing around in for most of the week, trading at $29,353 at the time of writing, slightly up after a minor jerk down following the Fed's July meeting announcement. 
FOMC to use meeting-by-meeting data-dependent approach
The lack of a reaction is not surprising – the FOMC's decision to raise interest rates by 0.25%, bringing the Fed Funds target rate to 5.25-5.50% was already priced in by markets, and the accompanying statement deviated little from the one in June. 
During his press conference, however, Chairman Powell gave mixed messages as well as a few positive comments that might lead investors to interpret a measure of optimism filtering through the veil of words.
Powell emphasized the Fed would be taking a meeting-by-meeting, data-dependent, approach, yet he talked positively about inflation coming down and the resilience of the job market. 
The Fed Chair said, for example, that, "It is a good thing headline inflation has come down so much," and added, "Unemployment rate at same level as lift off is real blessing."
At the same time he stressed more needed to be done to bring inflation back down to the Fed's 2% target, saying "Core inflation is still pretty elevated," and "We're going to need to hold policy at restrictive levels for some time."
Powell added that acting with a certain degree of caution was necessary, with the committee deciding to go steady, approaching the interest rate hike concern on a case-by-case approach.
Citing Powell:
We will be comfortable cutting down rates when we are comfortable cutting down rates.
According to Powell, getting back to the inflation target may require below trend growth and labor market softening. A rate hike in September was likely, but not certain because of the data dependency.
Bitcoin price shows composure as FOMC meeting notes 25% bp
Bitcoin price is in the $29,300s, with a daily rise of around 0.3%. Market activity for the flagship crypto is up, with a 10% drop in 24-hour trading volume.  edging slightly north as it continues to float above $29,300. Momentum indicators like the Relative Strength Index (RSI) and Awesome Oscillators (AO) show market activity, bolstering the 10% increase in 24-hour trading volume for BTC.
However, the flagship crypto still has investors guessing with no specific short-term directional bias. In the longterm, however, BTC remains bullish.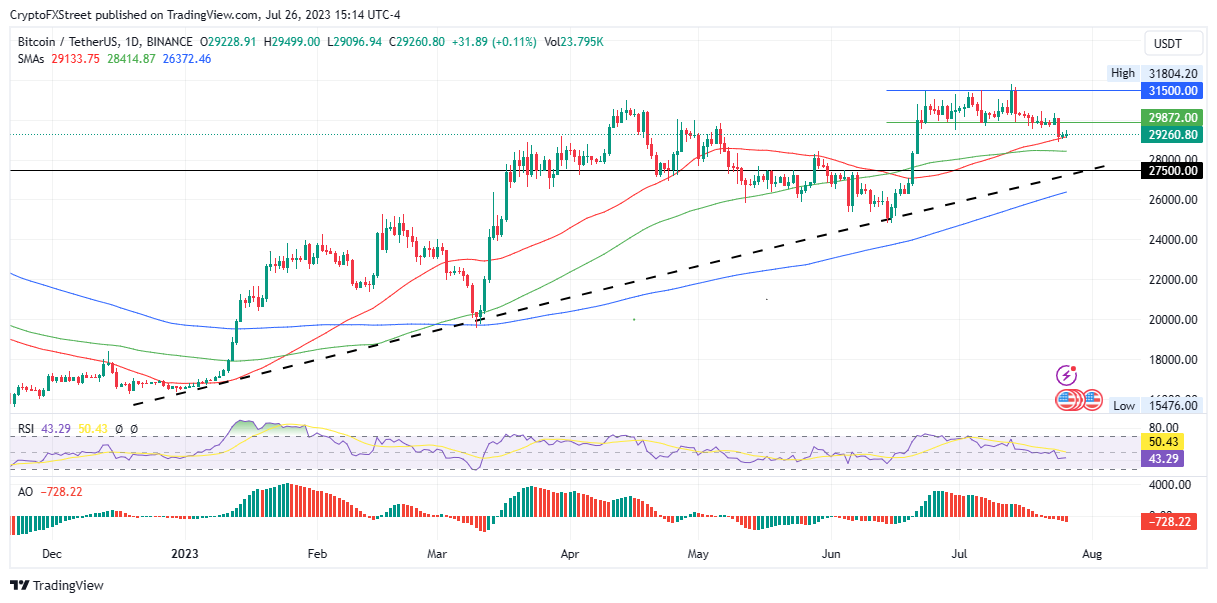 BTC/USDT 1-Day Chart
Looking ahead…
Looking ahead, the crypto market may be looking at a small amount of selling pressure on July 27, as the European Central Bank (ECB) is also expected to raise interest rates by another 25 bp, with no regard to the Eurozone technically being in a recession. Friday could also be hot, with the Japan Central Bank deliberating whether or not to raise interest rates.
Join our Telegram Channel https://t.me/elevenews