Legendary Trader Peter Brandt Says Bitcoin Will Be Top of Food Chain, Predicts Inevitable Approval of BTC ETF
Veteran trader Peter Brandt, who gained legendary status after calling the 2017 Bitcoin (BTC) collapse, predicts that the crypto king will tower over all other asset classes in the long run.
Brandt tells his 696,800 Twitter followers that he believes Bitcoin will eventually emerge from the thumb of stocks and gold, which have a history of being correlated to the price action of BTC.
The trader takes his prediction a step further and says that with enough time, Bitcoin will be the one setting the tone for other asset classes.
"BTC's correlation to other markets is a non-starter. BTC will be at the top of the food chain. That's the only thing that matters…
(It) does not really matter how BTC correlates to gold, stocks, the economy (or) whatever. What matters is how all those things correlate with Bitcoin."
Brandt also says that it is only a matter of time before US regulators approve a spot-based Bitcoin exchange-traded fund. However, he believes the approval will likely be a sell-on-news event.
He also holds the same view for the upcoming Bitcoin halving slated for April 2024.
"The inevitable OK of a BTC ETF in the U.S. will be a non-event. BTC halving will be a non-event. Markets discount in advance…
Over 48 years of speculation, I have learned again and again that markets discount events before the events are events. If anything, it could be a 'buy the rumor sell the fact.'"
Recently, the trader shared a chart suggesting that Bitcoin is currently trading in a flag after breaking out from an inverse head and shoulders reversal pattern, indicating that BTC is no longer in a downtrend.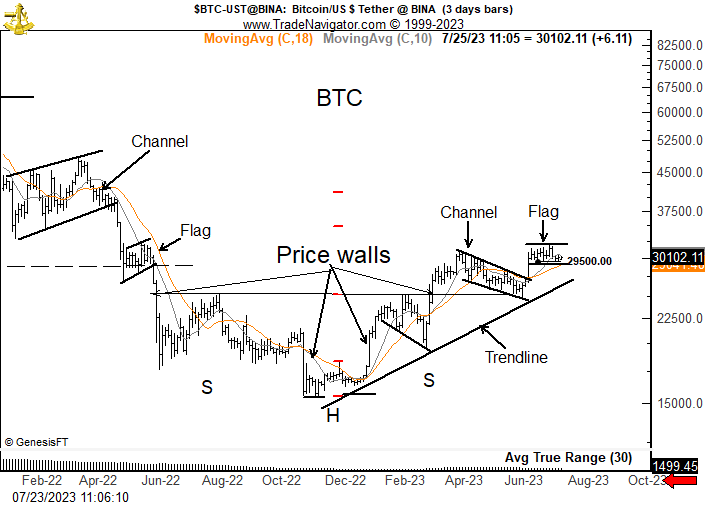 A flag is typically seen as a continuation pattern suggesting that an asset is currently consolidating prior to its next leg up.
At time of writing, Bitcoin is trading for $29,322.
Join our Telegram Channel https://t.me/elevenews