Benjamin Cowen Says One Ethereum Rival Could Crash by +50%, Updates Outlook on Bitcoin and Litecoin
Top crypto analyst Benjamin Cowen is warning that one Ethereum (ETH) rival could plummet like Cardano (ADA) did last cycle.
Cowen tells his 754,600 followers on social media platform X that Solana (SOL) is at risk of losing key support levels that could send it down to $10, a more than 50% decline from its current value.
"Good chance SOL sweeps the lows, just like ADA did last cycle."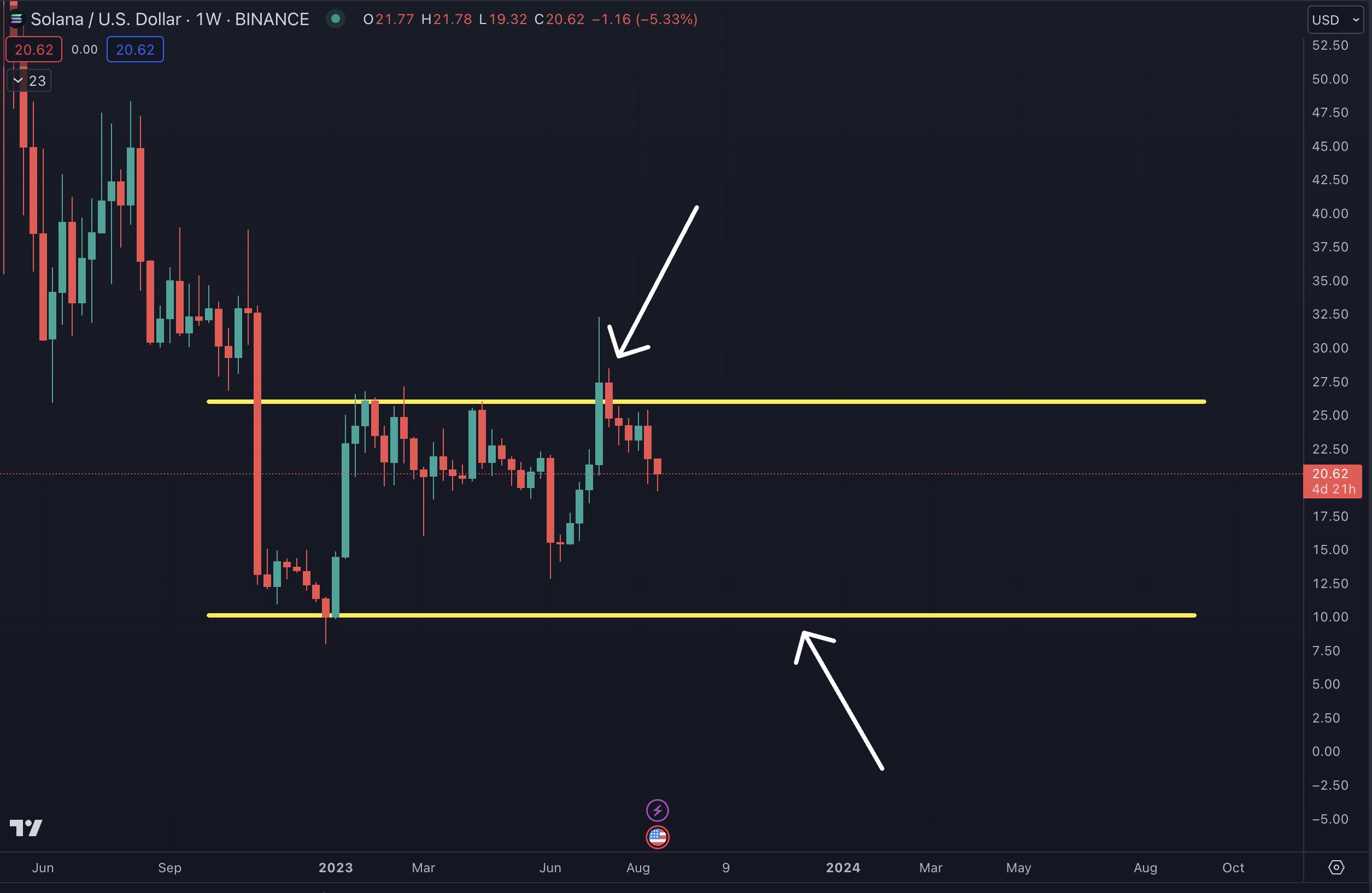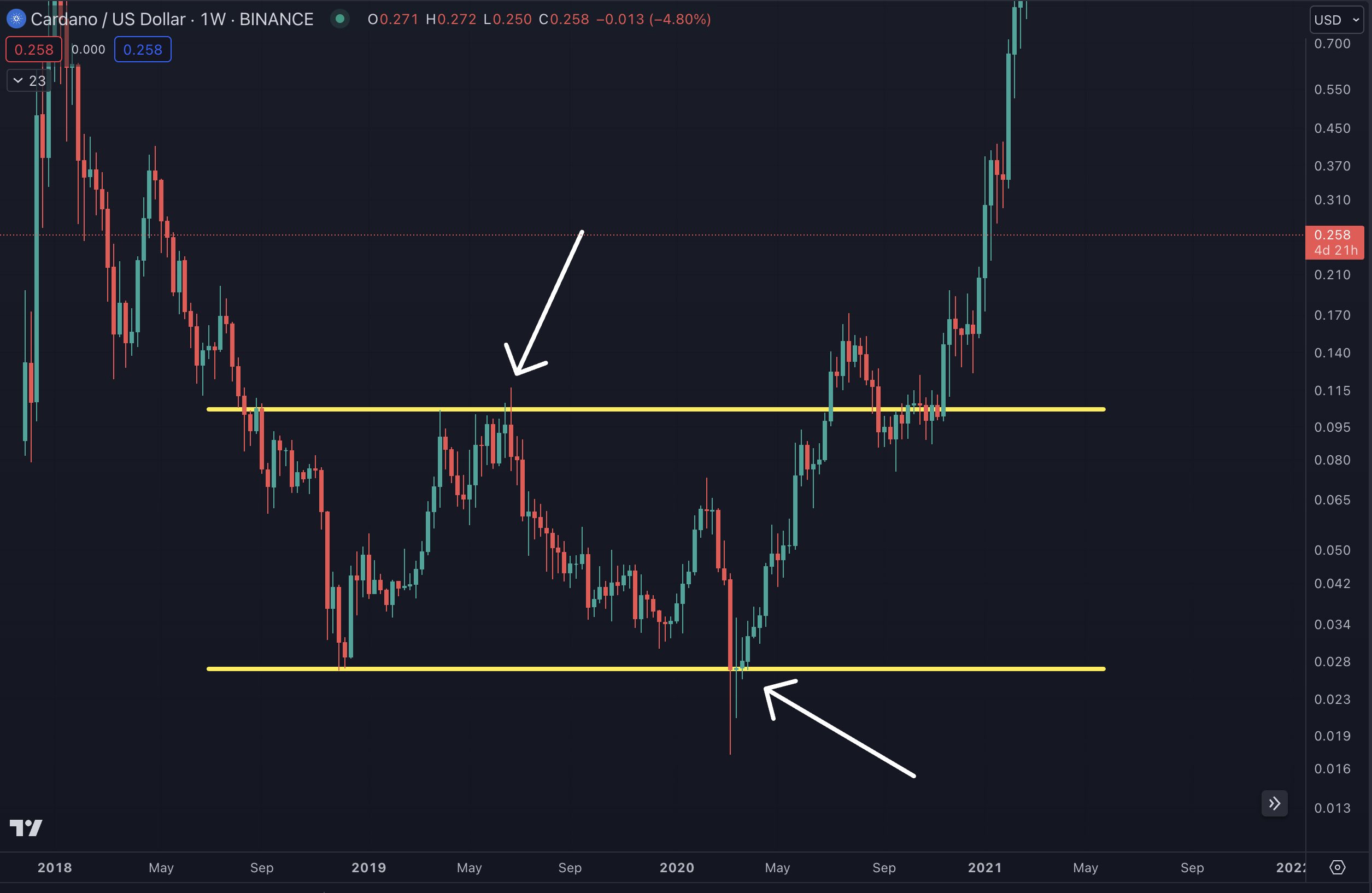 From about May 2019 to May 2020, Cardano fell from about $0.10 to $0.028, according to his chart.
Solana is trading for $21.67 at time of writing, up 5.4% in the last 24 hours.
The analyst also suggests Bitcoin (BTC) could form a double bottom pattern and return to the $13,000-$14,000 range, before a move to the upside once the Federal Reserve pivots in early 2024.
"Bitcoin: A scenario to consider.
This potential scenario is a lower low. Of course, a case could be made for a double bottom (2015) or higher low (2018-2020), but I would at least keep the 2019 high in mind ($13,000-$14,000)."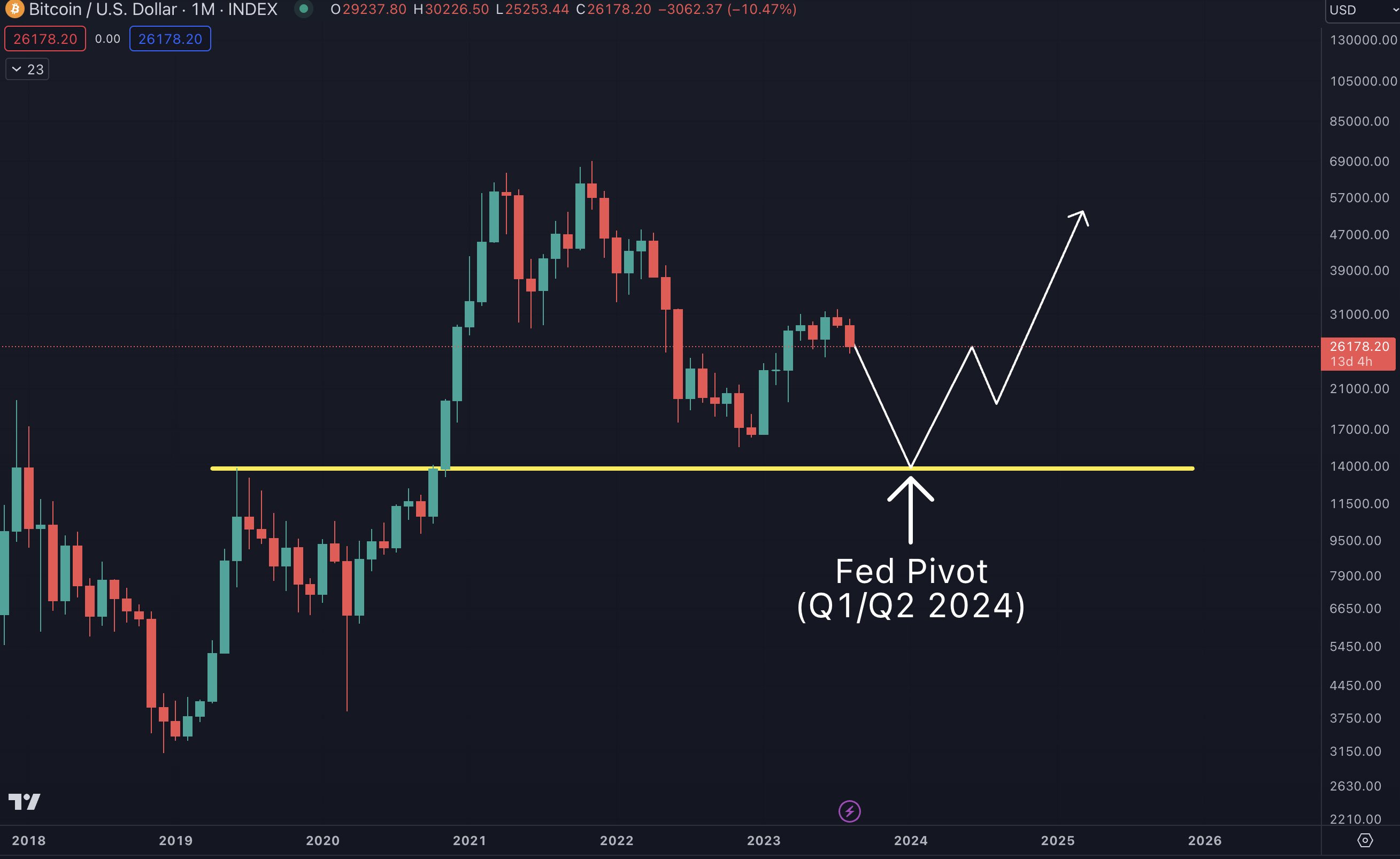 He says another possibility is that Bitcoin declines to the $16,000-$17,000 range before a move to the upside at the start of the year, reaching $24,000 heading into April.
"The post [of a double bottom] seems to have ruffled some feathers. Here is what a higher low/double bottom might look like for BTC. I think people should just prepared for various outcomes, which is why I posted the initial chart. I can assure you that I have no idea of the actual path."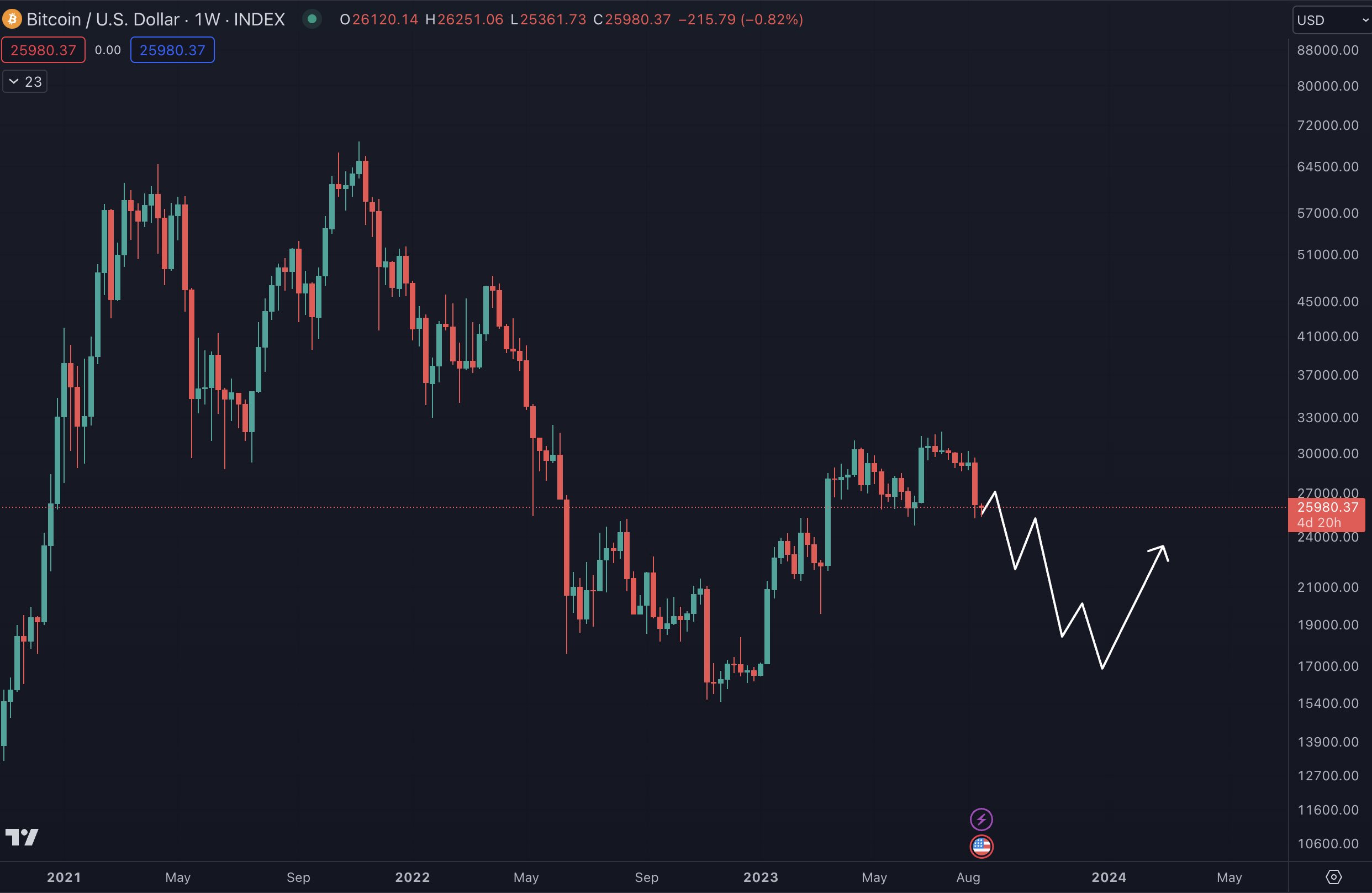 Bitcoin is trading for $26,440 at time of writing, up 1.6% in the last 24 hours.
Next up, the analyst weighs in on Litecoin (LTC).
He believes the peer-to-peer payments network will not rally until after Bitcoin's halving, which is slated in April 2024, based on historical price action. He also thinks Litecoin will underperform Bitcoin even when it does make a move to the upside.
"Remember, LTC tops out before its halving, sells off into it, and then remains weak until a few months after the BTC halving. Even then, it will likely underperform BTC."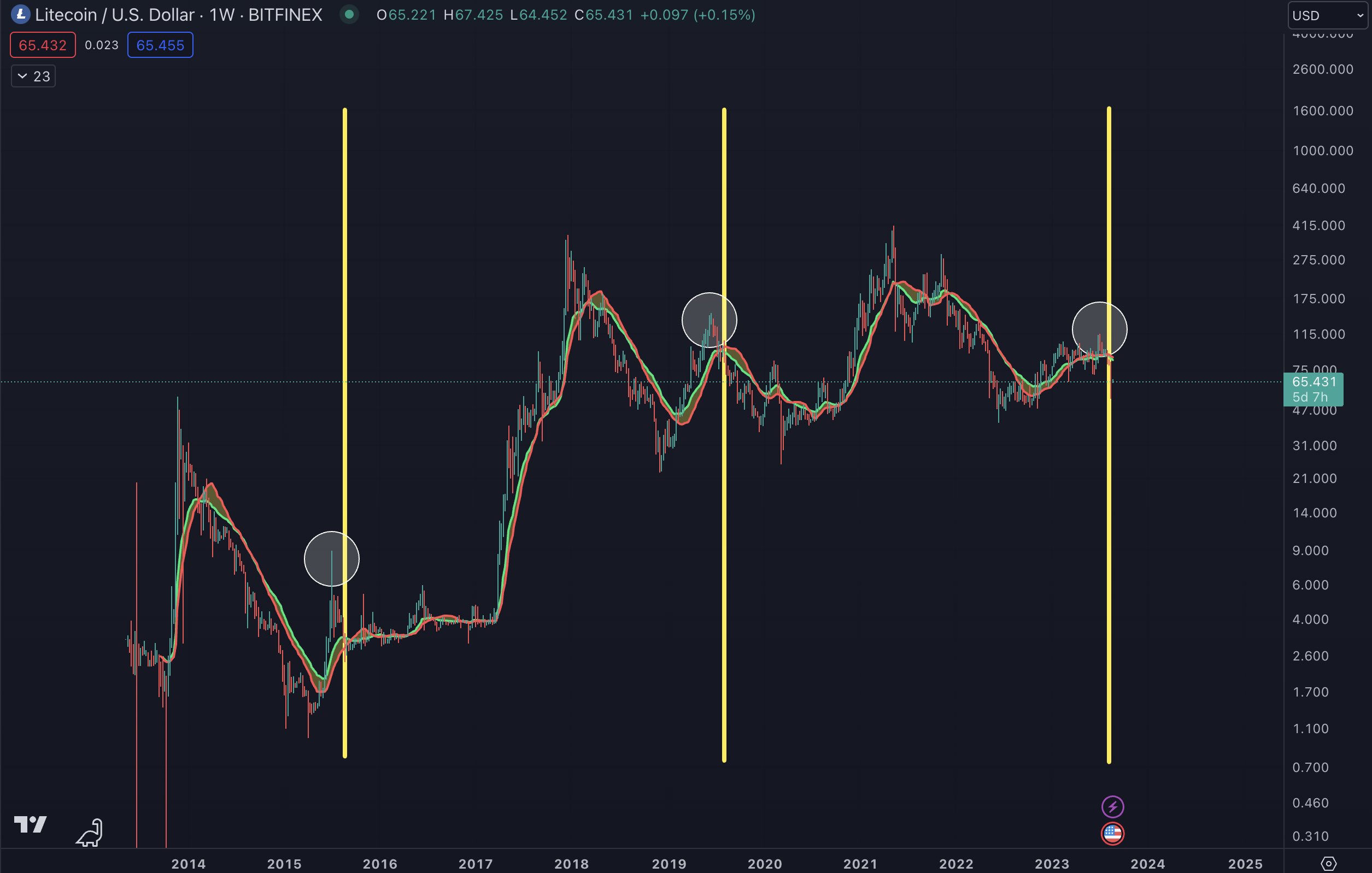 Litecoin is trading for $65.61 at time of writing, up 1.3% in the last 24 hours.
Join our Telegram Channel https://t.me/elevenews