Ethereum price outperforms Bitcoin on speculation that SEC may approve ETH futures ETF sooner
Ethereum price has acquired momentum to outperform Bitcoin price in both hourly and daily gains.
The surge comes as rumors of an ETH futures ETF approval beating a spot BTC ETF continue to grow.
The approval would be a big win for firms looking to offer the product, including ProShares, and VanEck, among others.
Ethereum (ETH) price has gained momentum, showing more strength than Bitcoin price despite BTC's influence in driving altcoins in the crypto market. The outpacing comes as more traders are betting on ETH, following growing speculation of an Ethereum Futures Exchange Traded Fund (ETF) coming ahead of a spot BTC ETF.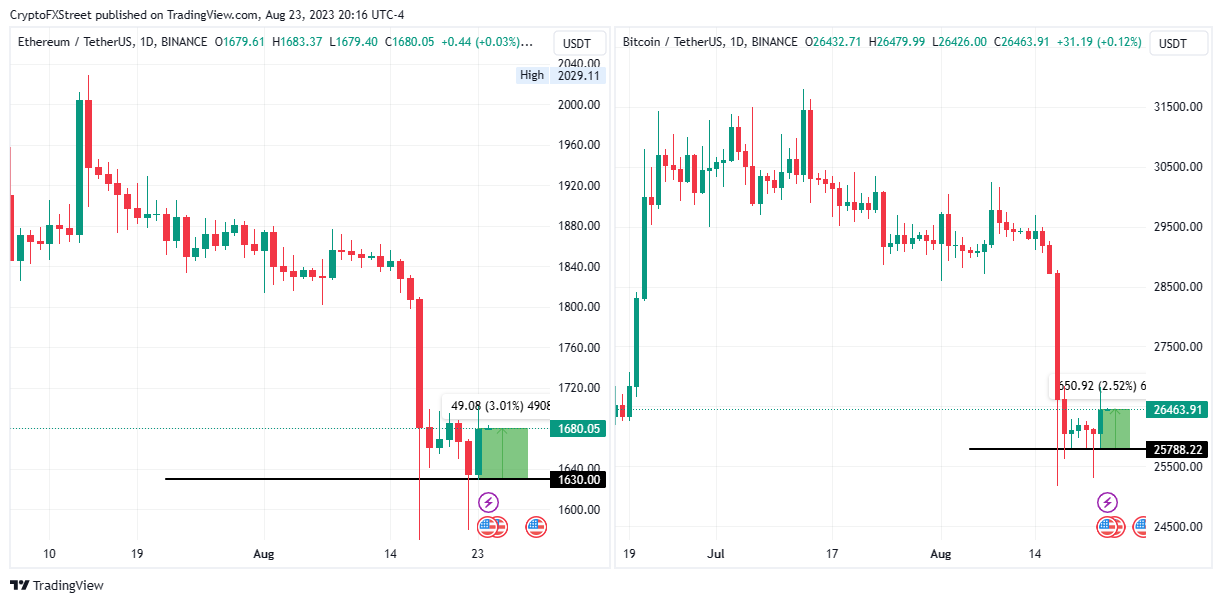 ETH/USDT 1-day chart, BTC/USDT 1-day chart
Ethereum futures ETF likely to get an approval
The ETF mania continues to hold out, although with a different candidate- ETH futures. With numerous asset managers having submitted their prospectuses, chatter indicates that the US Securities and Exchange Commission (SEC) is likely to grant approval, with experts forecasting an October decision.
The debut of a pioneering US-listed Ether strategy has seen Ethereum price outperform that of BTC.

BTC vs ETH CoinMarketCap
This anticipation has inspired multiple requests from firms looking to offer the futures-based ETF, with the likes of Volatility Shares, Bitwise, Roundhill, and ProShares taking the front-row seats among three other companies that have filed applications to launch cryptocurrency futures ETFs.
It is worth noting that the SEC is reviewing the applications. The approval would be a big win for firms looking to offer the product, including ProShares, VanEck, Roundhill, Volatility Shares, Direxion, Bitwise, and Valkyrie.
Bloomberg noted that "the endorsement of the US official is virtually certain," citing unnamed sources. According to Ron Geffner, partner at Sadis & Goldberg, "The SEC sources indicate that the government may allow several ETH futures exchange-traded funds to launch in October," adding that:
If the ETFs launch, they would be the first U.S.-listed ETFs tied to Ether, the second most valuable cryptocurrency by market cap.
An ETF specialist, Eric Balchunas, has corroborated this speculation.
This not surprising to us, we had said they would approve Ether Futures early on in race. Nice to be validated. Now what does it mean for spot? Hard to say beyond it shows that their views/policy/tolerance can change. https://t.co/JXCxNUpj2U

— Eric Balchunas (@EricBalchunas) August 17, 2023
Join our Telegram Channel https://t.me/elevenews