XRP price risks decline to $0.41, amidst developments in SEC vs. Ripple lawsuit
Ripple counsel prepares for the SEC's appeal against the ruling, with the Howey Test and former SEC official William Hinman's speech in focus.
XRP has a historic trend of closing September at a loss.
XRP price climbs above the $0.50 psychological barrier, unable to start a decisive uptrend.
XRP price has failed to break into an upward trend after struggling to get past the $0.52 hurdle. As the altcoin attempts its recovery, there are two catalysts that can drive changes in its price: The Securities & Exchange Commission (SEC) vs. Ripple lawsuit and XRP's historic trend of negative monthly returns in September.
Ripple attorneys are preparing to tackle the SEC's interlocutory appeal against Judge Torres' ruling. Pro-XRP attorney John Deaton shifted focus to former SEC official William Hinman's speech and the Howey Test's application to XRP.
Based on data from crypto price tracker Cryptorank.io, XRP has typically yielded losses for holders in September. This has been the case three out of five times since 2018. If history repeats itself, XRP price is at risk of decline this month.
Ripple counsel prepare for SEC appeal with Hinman speech and Howey Test in focus
The SEC is set to file its interlocutory appeal against the Ripple ruling issued by Judge Analisa Torres. The ruling was interpreted as a partial victory for Ripple in the SEC's lawsuit, however, the regulator is set to appeal before the case heads into trial.
Pro-XRP attorney John Deaton shared key information that could support Ripple counsel's preparedness against the SEC's appeal. Deaton commented on a "memo" written by the SEC's enforcement lawyers that was undisclosed to the public. Deaton stated that Judge Netburn found it important to note that authors of the memo did not recommend any action be taken against XRP token.
To be clear, I didn't say the memo concluded XRP is not a security. The memo was found to be privileged and not disclosed so I haven't read exactly what it says. But Judge Netburn found it important to note that the authors of the memo, who were Enforcement lawyers at the SEC,…

— John E Deaton (@JohnEDeaton1) August 27, 2023
Therefore, in June of 2018, the memo did not warrant any action to be taken, declaring XRP as a security or alleging Ripple's sale of unregistered securities. Deaton said the memo was most likely inconclusive.
XRP price historically closes September at losses
The second catalyst influencing XRP price is the likelihood of the token closing September at a loss. Between 2018 and 2022, XRP closed September at a loss three out of five times. In 2022, XRP price rallied 46.2%, against the historic trend.
With the altcoin's price struggling to begin its upward trend, it is likely that XRP closes September by yielding losses for token holders.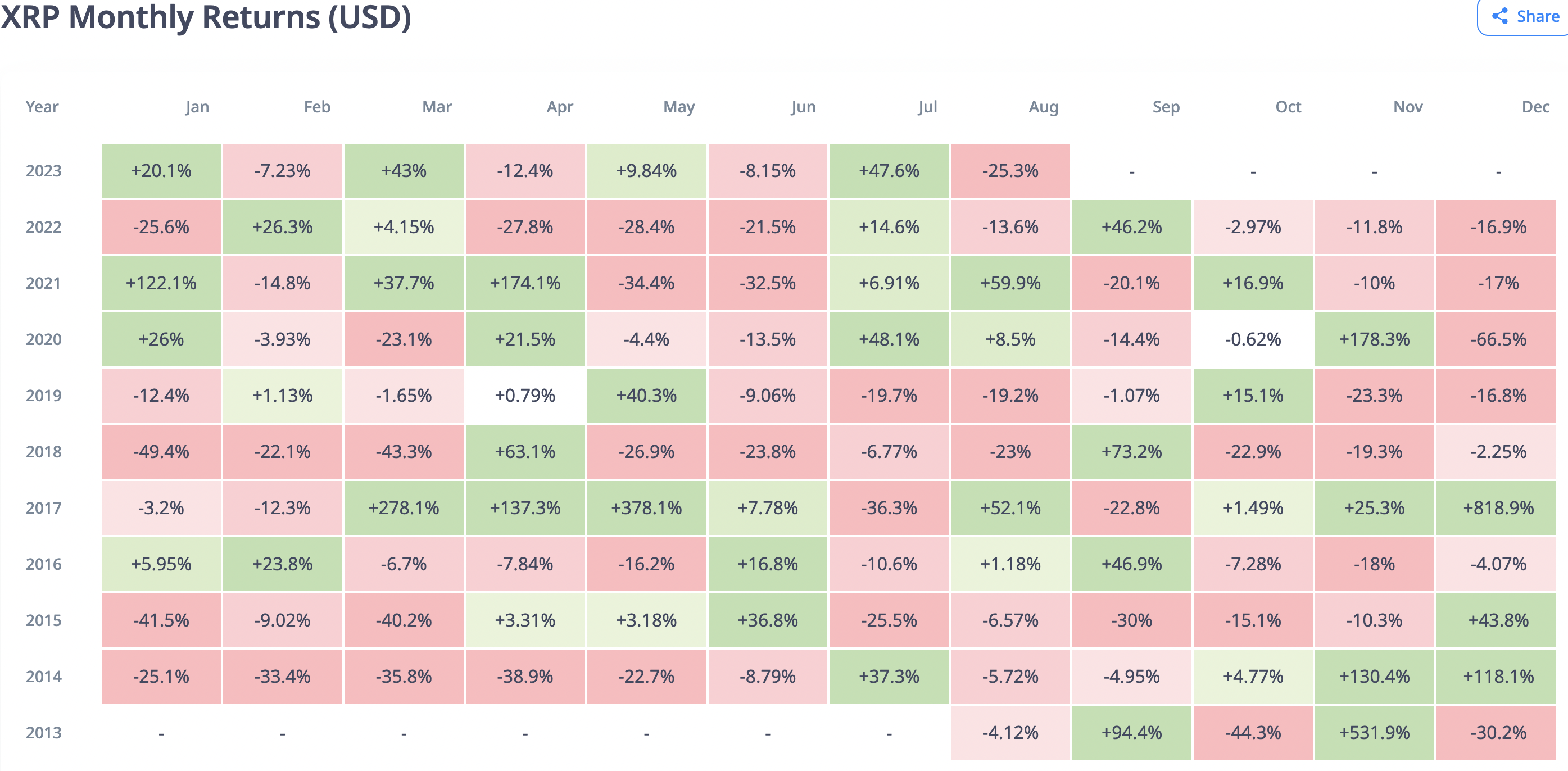 XRP Monthly Returns over the years as seen on cryptorank.io
XRP price drifts at $0.52, likely headed for decline
Lockridge Okoth, a technical analyst at FXStreet, evaluated the XRP price trend and predicted a decline in the altcoin, unless it makes a decisive break past $0.57. The analyst argues that XRP price is at a risk of a drop to the range low at $0.41, unless it reverses trend.
If XRP successfully breaks past the $0.57 level, the altcoin could tag the monthly high of $0.68.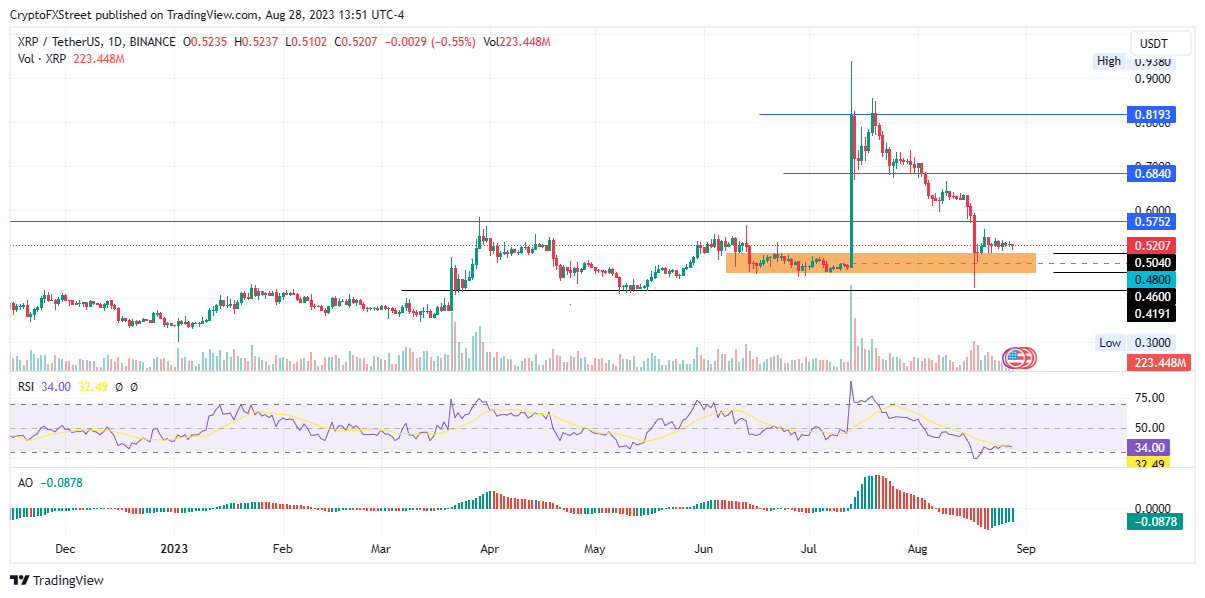 XRP/USDT one-day price chart on Binance
If selling pressure on the altcoin increases, XRP is likely to continue its downward trend and head to support below $0.41.
Join our Telegram Channel https://t.me/elevenews