Bone ShibaSwap shines among the best performers of the week
Bone ShibaSwap returns are up by 11% in the past week.
BONE has two factors contributing to its rally – Grayscale win against US SEC and X obtaining a crypto payments license.
Over the past week, BONE noted significant accumulation in more than three months as investors bought 19 million BONE.
Bone ShibaSwap saw a bullish spike after Grayscale seized a victory against the US Securities and Exchange Commission (SEC) on August 29. This development pushed many of the cryptocurrencies up, but only a few, such as BONE, have managed to stick it out throughout the past week. Despite the Fear persisting in the market, some digital assets managed to note increases, among which stood the rather unexpected meme coin Bone ShibaSwap.
Bone ShibaSwap price gain continues
Over the past seven days, Bone ShibaSwap (BONE) emerged as one of the best-performing cryptocurrencies. BONE, trading at $1.29, was up by 9% this week. The meme coin managed to note increases even though there was a slight drawdown in the last three days. Some of this decline was countered on August 29 as the meme coin observed bullishness due to Grayscale's victory against the US SEC.
Additionally, X, formerly Twitter, obtaining a crypto payments license is also why BONE is rallying.
 
BONE/USD 1-day chart
Despite the recent rally in Bitcoin and other top cryptocurrencies, the best performers of the week turned out to be mostly small-cap coins. This included the likes of Bitcoin Cash, dYdX and the meme coin, Bone ShibaSwap.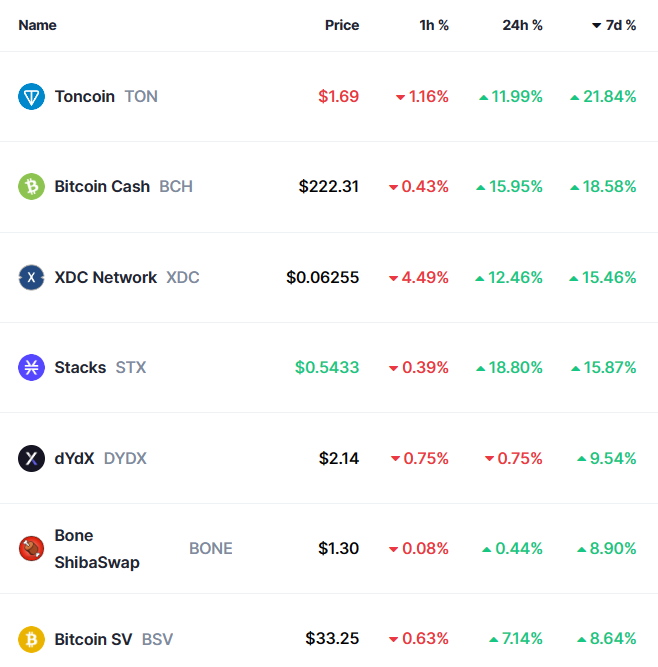 Top gainers over the past week
BONE price rise could decline
It is highly unlikely that this uptick in price will last. As investors book profits, BONE price will decline. While market participants might sell in the short term, the big picture is looking up for Bone ShibaSwap as the supply of BONE held on exchanges saw a sudden nosedive, according to data from Santiment.
The number of BONE held on centralized platforms declined by more than 4 million BONE between August 23 and August 30. The 16% drop indicates that these tokens moved out of exchanges and into cold wallets, which effectively removes the selling pressure and is considered a bullish sign.

Bone ShibaSwap supply on exchanges
Adding credence to this bullish outlook is the Supply Distribution from whale addresses holding 10 million to 100 million BONE. These investors accumulated 19.13 million BONE between August 21 and August 30, bringing their total holdings to 51.51 million. This 59% uptick indicates that long-term holders are paying attention to BONE and can be attributed to the successful relaunch of Shibarium. 


Bone ShibaSwap supply distribution
Join our Telegram Channel https://t.me/elevenews