Toncoin price rise threatens Justin Sun's TRON as the tenth biggest crypto asset, but not for long
Toncoin price noted a 13% rally along with the rest of the market on August 29, bringing the asset to $1.70.
TON's market capitalization is at $5.8 billion, only $1 billion away from dethroning Tron as the tenth biggest cryptocurrency.
Price indicators and the MVRV ratio sitting deep in the danger zone suggest this rally may not stick.
Toncoin price is riding the bullish wave thanks to Grayscale's win against the Securities and Exchange Commission (SEC) in the lawsuit on Tuesday. Along with the rest of the altcoins, TON also witnessed a sizable increase, which is now placing it in competition with Justin Sun's Tron.
Toncoin price set to overtake Tron
Toncoin price in the last 24 hours shot up from $1.52 to $1.71, noting a nearly 13% rally. This marked the highest single-day rise for the Telegram-developed cryptocurrency since the beginning of the year.
As the altcoin's value increased, its market capitalization grew as well, bringing it to $5.8 billion at the time of writing. Standing as the eleventh biggest cryptocurrency in the world, TON is looking to punch into the top ten crypto assets list. This would not be too difficult for the altcoin since the current tenth-biggest crypto token is only $1 billion bigger than TON.
This token would be Tron, created by Justin Sun, holding a market capitalization of $6.8 billion. Thus, if Toncoin investors choose not to sell for profit and instead hold on to their supply and support further increase, TON could surpass TRON rather easily.
But as mentioned above, for this to happen, the altcoin would need to find the support of its investors, who must refrain from profit-taking for a while. Any selling would trigger a drawdown and result in corrections for the asset. This could pull TON back down to $1.49, falling below which would send it to $1.16.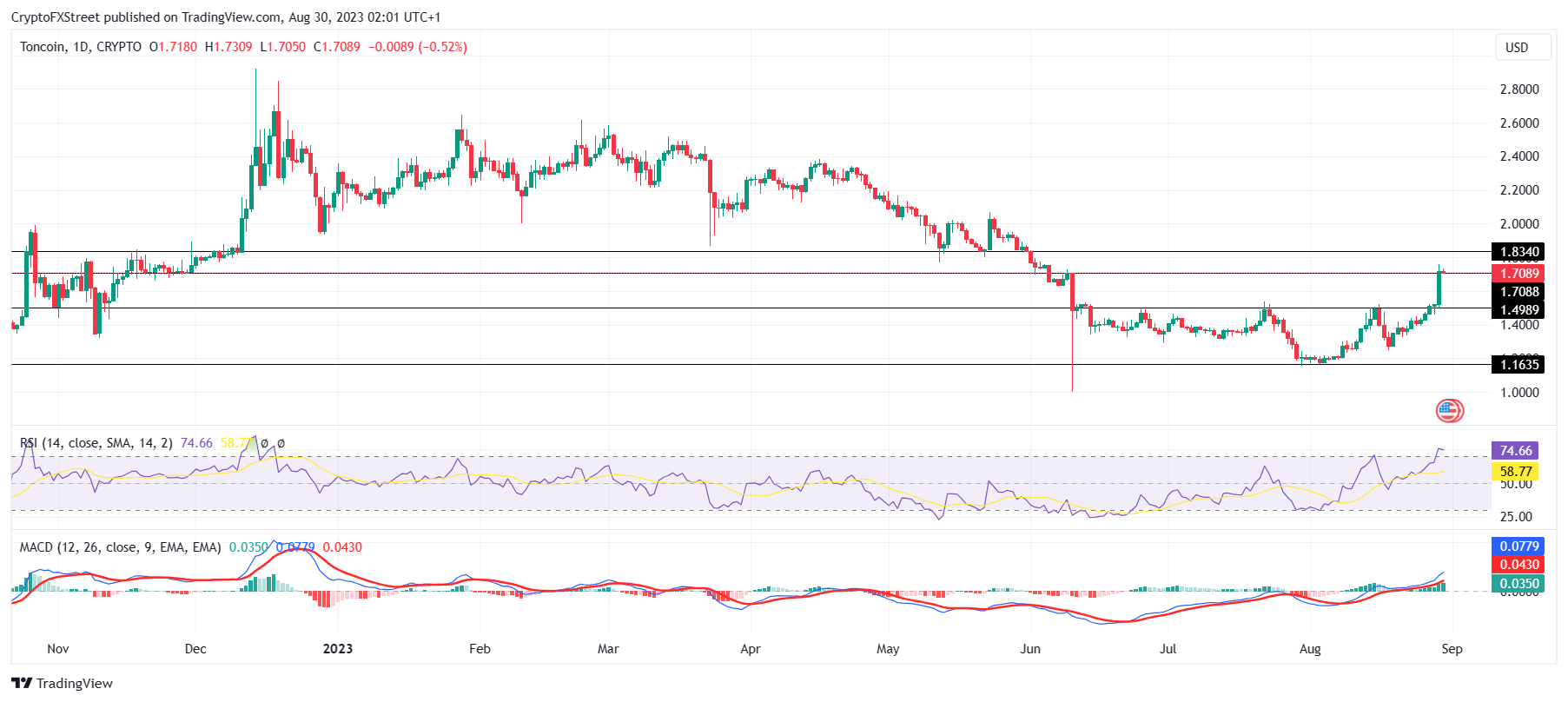 TON/USD 1-day chart
However, should it find more bullishness and sustain the rally, the Toncoin price would be looking to breach the next resistance level at $1.83. The chances of that happening are unlikely, looking at price indicators.
Toncoin might end up falling sooner than expected
The Relative Strength Index (RSI) suggests that the cryptocurrency is overbought, above the 70.0 mark. The last time TON was in this zone was back in December 2022, and the altcoin noted corrections back then too.
Furthermore, the Market Value to Realized Value (MVRV) ratio is also currently deep in the "danger zone". This metric measures the profit/losses of the investors and suggests their next potential move on the basis of their current standing. The "danger zone" here is the area beyond which investors stop accumulating and begin to sell for profits.

Toncoin MVRV ratio
Historically, this has led
Join our Telegram Channel https://t.me/elevenews