XRP Shows Two Signals Suggesting An Exhaustion of Downturn: Details
XRP is currently witnessing signals suggesting that the recent downward trendline could be facing exhaustion as the bulls swoop into the scene.
Amid the sudden bullishness observed in the market, XRP is showing signs that its extensive downturn could be coming to an end. These signals have triggered bullish speculations, leading to projections of an imminent trend reversal.
After the ruling, which mandated the U.S. SEC to reconsider Grayscale's spot-based BTC ETF application, Bitcoin (BTC) and the rest of the market staged a mild recovery. Riding on the waves, XRP leveraged the opportunity to seal a position above $0.50.
The MACD Crossover
Amid XRP's modest recovery campaign, the asset shows signs that the overall downtrend could be exhausting. One of these signs comes from the daily MACD indicator.
Notably, the MACD line (blue) finally broke above the signal line (orange) on the daily timeframe.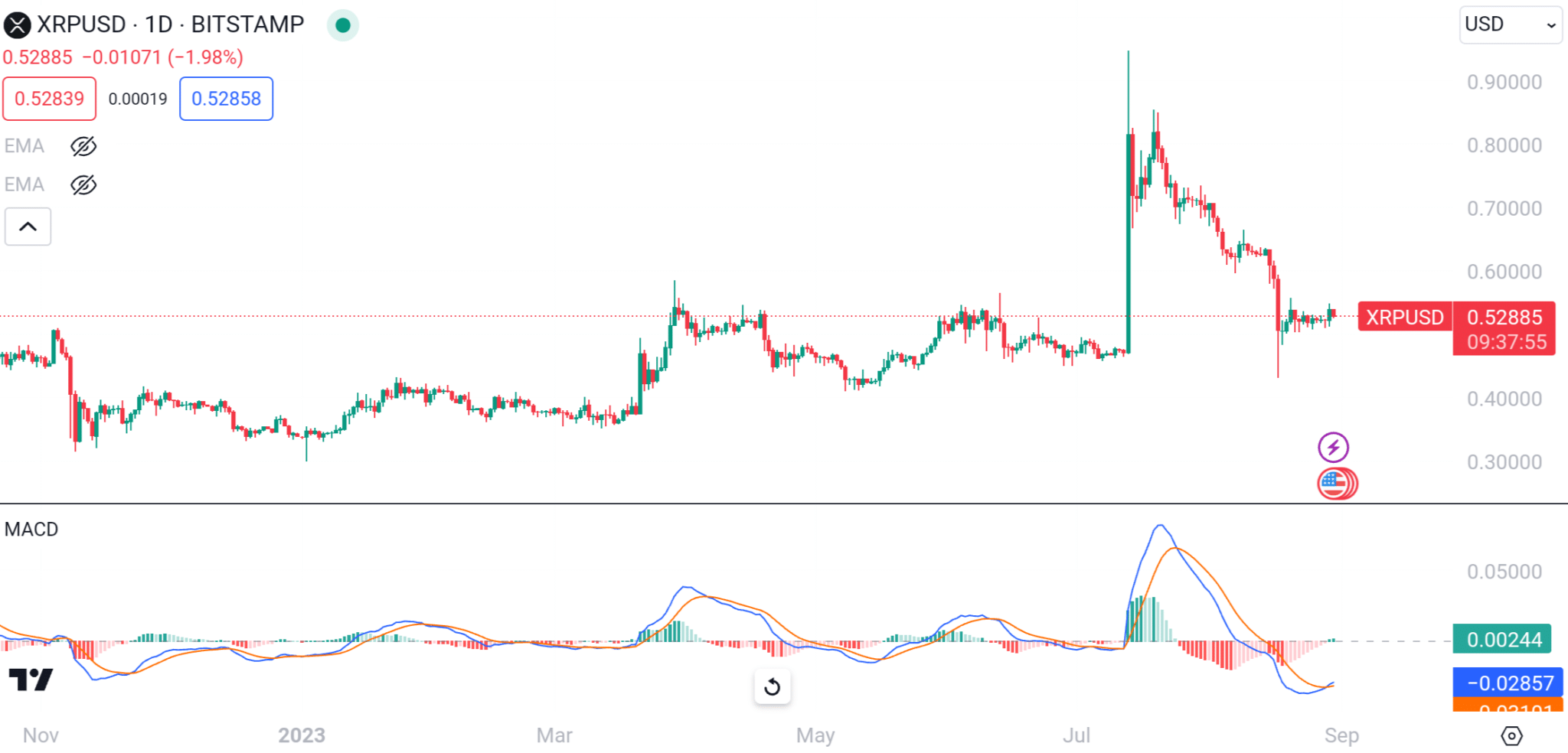 Interestingly, this phenomenon has occurred four times this year alone. Each time it happened, XRP's extended downturn for that period ended. Accordingly, a price recovery ensued.
The market last observed this phenomenon mid-July on the back of XRP's victory in the SEC lawsuit. Following the crossover, XRP rallied to the $0.9380 yearly high on July 13, primarily pumped by the ruling.
Each of the other three times the crossover occurred, XRP saw a reversal, albeit on a small scale. Following the recent repetition, market watchers expect a similar trend reversal. This reversal could lead to the end of the current downturn that has kept XRP below $0.60.
Multi-Year Trendline
MetaShackle, a prominent TradingView community analyst, identified the second signal suggesting a looming breakout. The chartist identified a pattern observed with XRP back in 2021. 
Notably, the asset faced a series of three massive declines, resulting in the retest of a multi-year ascending trendline. Each of the three retests led to an upward trajectory. Following the third retest, XRP rallied to the high of $1.9669 in April 2021.
After two years and four months, XRP is observing the same pattern. The asset has witnessed the first two declines. MetaShackle believes the third is on the horizon. Shortly after it, the analyst predicts an end to the downturn. He forecasts a surge to $1.89.
However, other metrics sending bullish signals for XRP include trade volume and whale accumulation. Remarkably, XRP recently witnessed a massive 103% increase in its trade volume. This surge resulted in over $1.5 billion worth of XRP traded in the past 24 hours.
Meanwhile, XRP trades below the $0.55 territory, changing hands at $0.5288. The asset is facing a 1.98% decline over the last 24 hours. Analyst Egrag noted that XRP needs to close above $0.60 to $0.67. Egrag thinks it could drop to $0.43 if this does not occur.
Join our Telegram Channel https://t.me/elevenews