Chainlink price begins recovery with successful completion of SWIFT experiment across multiple blockchains
Swift and Chainlink announce successful completion of experiment to transfer value for institutions by connecting blockchains.
The success of the interbank messaging giant's experiment is likely acting as a bullish catalyst for LINK price.
LINK price recovers, yielding nearly 2% gain onday.
Swift, the interbank messaging giant, announced a collaboration with Chainlink back in June. As of August 31, Swift released a report and said that the experiment to transfer value across multiple blockchains was successfully completed.
The success of the experiment and bullish on-chain metrics are the two catalysts likely driving LINK price recovery.
These catalysts are likely fueling LINK price recovery
Swift released the results from a series of its experiments that show how infrastructure can be used to facilitate tokenized value transfer across multiple blockchains in the ecosystem. According to the protocol's press release, the findings have the potential to remove friction that is currently slowing the growth of asset tokenization in the global market. 
Swift says in its report that 97% of institutional investors believe this development and successful experiment can boost asset management in the industry and reduce costs. This also implies that Swift's experiment opens the door to more investors to transfer value across multiple blockchains using Chainlink as a partner.
A key on-chain metric, supply of the token on exchanges is hinting at a bullish divergence. Based on data from crypto intelligence tracker Santiment, Chainlink has hit a key level, with nearly a 15.5% drop in its exchange supply. The on-chain metric is bullish and supports the likelihood of a price recovery in the altcoin.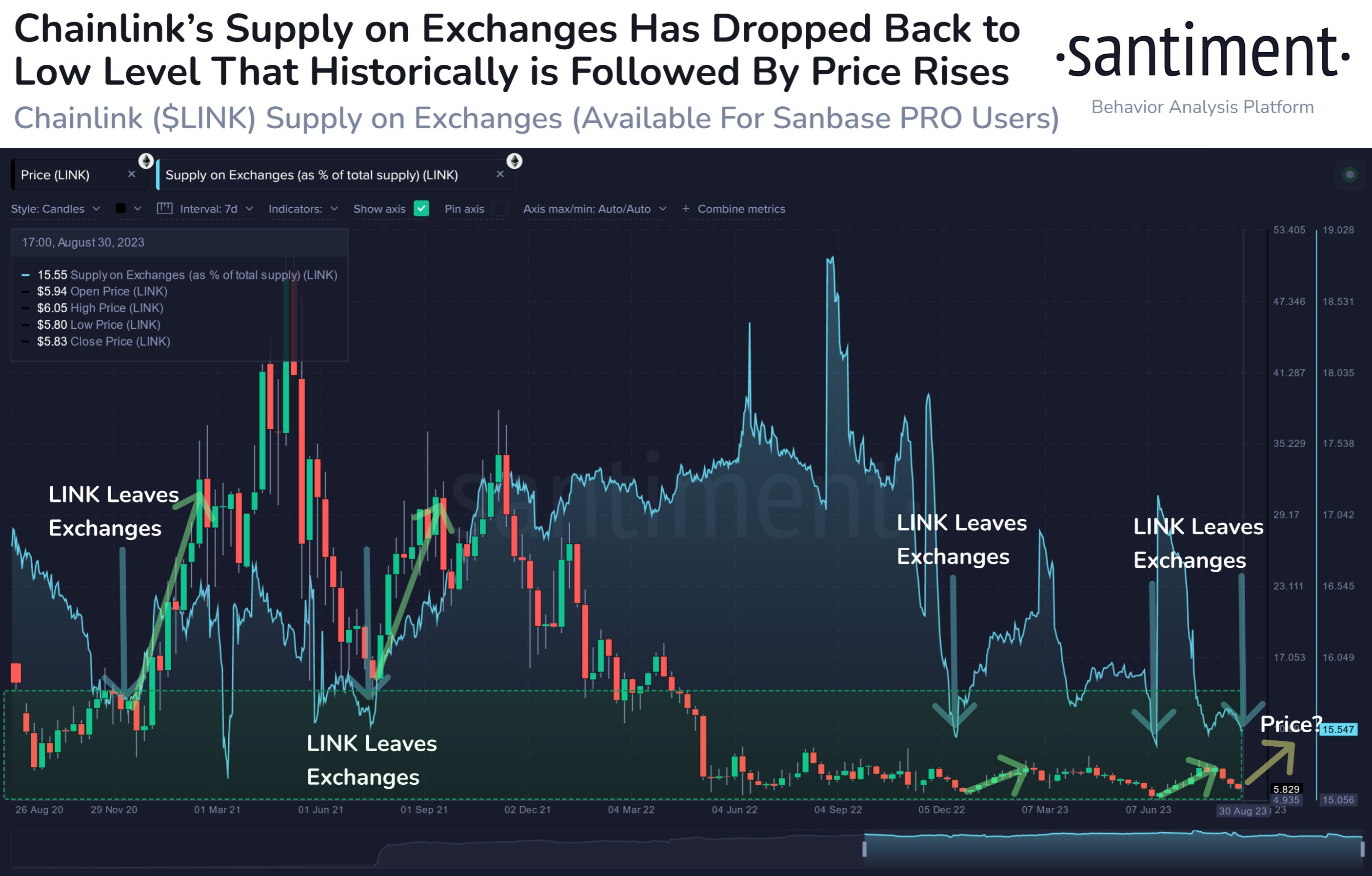 Chainlink supply on exchanges as seen on Santiment
At the time of writing, LINK price has started its recovery on Binance. LINK is exchanging hands at $5.970 and yielded nearly a 2% gain on the day.