Three cryptocurrencies likely to witness bullish breakouts like Stellar: Toncoin, Monero and Arbitrum
Altcoins are gaining momentum on Monday, with XLM, TON, XMR and ARB likely headed for bullish breakouts.
On-chain analysts at Santiment identified breakout potential in altcoins.
Analysts evaluated weekly social volume changes to identify top altcoins more likely to rally.
Stellar (XLM) price rallied nearly 6% on the day on Monday. On-chain analysts at crypto intelligence tracker Santiment analyzed this spike and identified three other altcoins that have a similar breakout potential.
Toncoin (TON), Monero (XMR) and Arbitrum (ARB) stood out among the top altcoins by market capitalization, according to Santiment. Using on-chain metrics like social dominance, the number of whale transactions worth $100,000 or more, and the total number of holders of the asset, the analysts concluded that these three assets are the most likely to register a price rally.
Top 3 altcoins with breakout potential: TON, XMR and ARB
Santiment's analysts evaluated social volume changes over a weekly timeframe and daily price changes to identify which altcoins have the potential to break into a rally. The Social volume change metric tracks the increase or decrease in the mentions of an asset across different social media platforms like X. It is useful in determining whether an asset is relevant or trending within the crypto community. Generally, an increase in social media mentions tends to support a bullish outlook for the asset's price, although it depends on the nature of the news that drove these mentions.
As seen in the chart below, XLM, TON, XMR and ARB emerged as the top assets with bullish potential.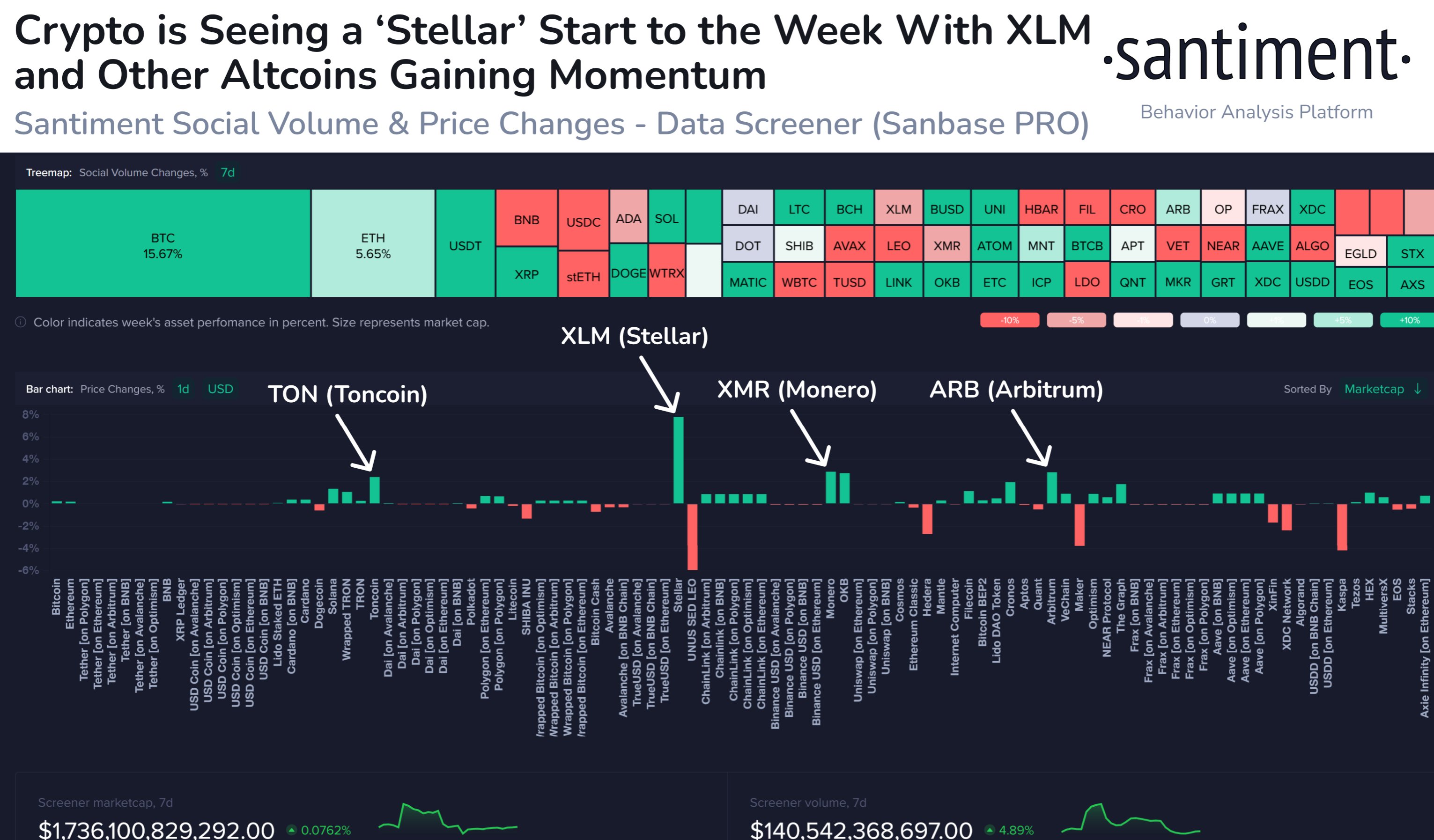 Social volume changes, in percentage, and price changes in top altcoins
Another related metric is social dominance, which tracks the dominance of an asset's mentions against others on social media platforms. Both TON and ARB have both noted an increase on Monday, while XLM and XMR lag behind.
Apart from popularity in social media, there are other on-chain metrics that seem to support an upcoming upward trend for these tokens. A high number of Whale transaction count, which keeps track of the number of transfers exceeding $100,000, can be a sign of a change in price trend as activity from large-wallet investors has the potential to move the asset's price.
In Toncoin's case, past increases in whale transaction count seen on June 10 and June 22 led to price rallies, data from Santiment shows. Transactions have increased again recently increasing the chances for another upward swing.
There is no significant change in whale transfers on XMR or ARB.

TON price vs social dominance vs whale transaction count
The total number of holders of a certain asset can also give clues over its performance. Generally, a rising number of users leads to a rising price of any project. This has happened with Arbitrum, whose users are on the rise since mid-August.
The increasing number of ARB holders and social dominance have both been associated with a price rally in the Layer 2 token as seen already on August 25 and August 29.

ARB price, social dominance and total amount of ARB holders
Based on the on-chain metrics and the initial price rise in TON, XMR and ARB, these three altcoins are likely to yield gains for holders this week.
Join our Telegram Channel https://t.me/elevenews