Analyst Predicts XRP Drop to $0.28 Before Rallying to $1, Sets Entry Points on Monthly, Weekly, and Daily Charts
Prominent analyst shares elaborate XRP analysis on three different timeframes, envisioning a potential slump to $0.28 before a surge to $1.
Poseidon, a notable crypto analyst, recently shared an in-depth analysis of XRP on the daily, weekly, and monthly timeframes. The elaborate analysis envisions a potential slump to $0.28, followed by a rally to $1 once the bull run kicks in.
Deep dive into $XRP

Monthly chart
In the echo bubble, xrp was the one that increased the most compared to rival large cap coins. When you look at the candle closings of the last 2 months, it suddenly jumped upwards with the news of the lawsuit from the range movement it created… pic.twitter.com/oqDlyl9aBz

— Poseidon (@CryptoPoseidonn) September 5, 2023
Daily ChartPoseidon points out a series of rapid price movements in XRP on the daily chart. The asset broke below the range high at $0.5496 on August 29. XRP experienced a swift downturn following this drop, leaving behind an inefficient region.
Image source: https://twitter.com/CryptoPoseidonn/status/1699063107493199945
Poseidon suggests that if this area fills up and daily closes occur below the range high once again, it might be time to consider a short position, targeting a five times return. This indicates that XRP could continue to slump in the short term.Poseidon advises patience for those eyeing long-term investments until XRP falls to $0.28. Once this occurs, he suggests it's time to consider long positions for a potential 15-time return. This suggests a conviction that XRP would rally from the $0.28 price.The analyst acknowledges that he is uncertain of XRP's potential to return to the ATH of $3.31 during this rally. However, he maintains optimism if the broader bull market rekindles. Should this occur, he believes the likelihood of XRP reaching $1 again is high.For XRP to reclaim parity with the dollar, it would need to rally by 98% from its current position. The last time XRP saw the $1 price was in December 2021. Since dropping below the position, the closest it has been to recapturing it was on July 13.Weekly ChartOn the weekly chart, Poseidon highlights a sudden break in XRP's long-term accumulation phase triggered by news-related volatility.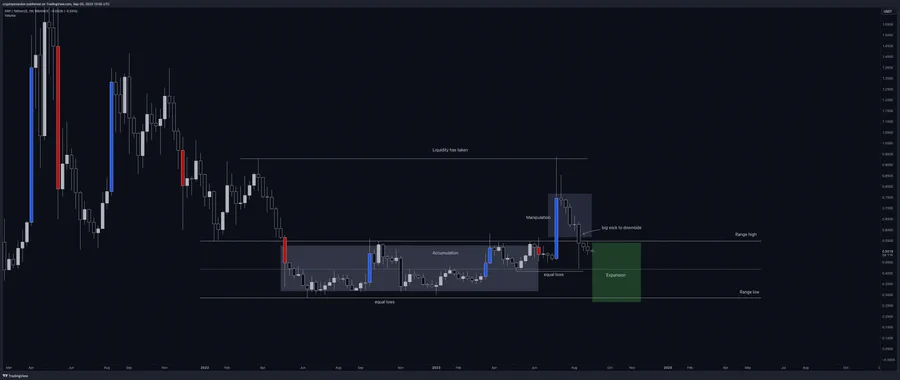 Image source: https://twitter.com/CryptoPoseidonn/status/1699063107493199945
To sustain this momentum, XRP needed to stay above the high at $0.5496. However, the market lacked sufficient buyers to support this move. As long as XRP remains below the high at $0.5496, it could retest the $0.40 level.After clearing this point, Poseidon predicts a pump to the upside to eliminate late shorts, eventually leading to a return to the $0.28 range low level.Monthly ChartTurning to the monthly chart, Poseidon points out that XRP experienced significant growth compared to other large-cap coins during the echo bubble. Echo bubbles are sudden rallies on the heels of the news, market sentiment, or speculation.

Image source: https://twitter.com/CryptoPoseidonn/status/1699063107493199945
XRP's abrupt upward spike following news of the lawsuit victory was met with a lack of buyer participation. This buyer apathy resulted in a bad rejection candle in July, eliminating the gains picked up during the echo bubble.August saw XRP close back within the range. The analyst believes this is not a good sign and a correction is imminent. Poseidon's analysis suggests that with this correction, XRP will likely retest the $0.40 (mid-range) and $0.28 (range low) levels before a new bull market emerges. XRP is trading for $0.5035 as of press time, down 0.35% over the last 24 hours. Despite a 7.10% decline in the past seven days, the asset has fiercely defended the $0.50 territory. 
Join our Telegram Channel https://t.me/elevenews