XRP price likely to slump as pro-XRP attorney Deaton analyzes the Howey memo and Hinman speech
XRP price is stagnating in a demand zone as altcoin price action surrounds $0.50 level.
Attorney John Deaton analyzed the Howey memo, explains that SEC's enforcement lawyers did not conclude whether XRP is a security.
William Hinman famously gave a speech offering Ethereum a free pass and steering clear of XRP's status.
XRP price tackled support at $0.50 on the daily price chart on Binance, as holders await a recovery in the asset. The altcoin is a demand zone between $0.46 and $0.50 and likely risks a slump in its price in the short term.
Two catalysts influencing XRP price are legal minds' analysis of the contents of the Howey memo, drafted by the Securities & Exchange Commission's (SEC) enforcement lawyers, and former SEC executive William Hinman's Ethereum speech.
Howey Memo and Hinman's Ethereum speech: What they mean for Ripple's XRP
XRP investors and pro-XRP attorneys are analyzing the contents prepared by the SEC's enforcement lawyers that were kept out of public view in the lawsuit. Attorney John Deaton explains that the Howey Memo, drafted to examine the status of XRP as a security, was likely inconclusive, and so the contents were kept out of public view as the lawsuit progressed.
The day following the draft of the Howey Memo, SEC's former Director of Corporation Finance, William Hinman, gave a speech that is widely interpreted as a "free pass to Ethereum," while Ripple and its executives awaited clarity on the altcoin's security status.
Deaton shed light on these two developments that are likely turning points in XRP's journey to being considered a security by the financial regulator.
Ripple Labs chair Chris Larsen condemned the SEC's regulation by enforcement approach in a recent tweet:
I sincerely hope we're seeing the beginning of the end of the SEC's policy of regulation by enforcement. The Courts are rejecting it, and now it's time for Congress to take the lead on crypto policy.

Thanks @EdLudlow @technology for the chat! https://t.co/3gZOR4lq5J

— Chris Larsen (@chrislarsensf) September 6, 2023
XRP price is in a slump, fails to begin recovery
Lockridge Okoth, a technical analyst at FXStreet, evaluated the daily price chart for XRP and made an observation that bulls are likely "sitting on their hands." This has exposed XRP price to the risk of decline toward critical support at $0.48. A break below this support level could push the altcoin to the lower base of the demand zone at $0.46.
Okoth notes that a 15% decline to August 17's intraday low of $0.41 is likely, and the Relative Strength Index (RSI) supports this thesis.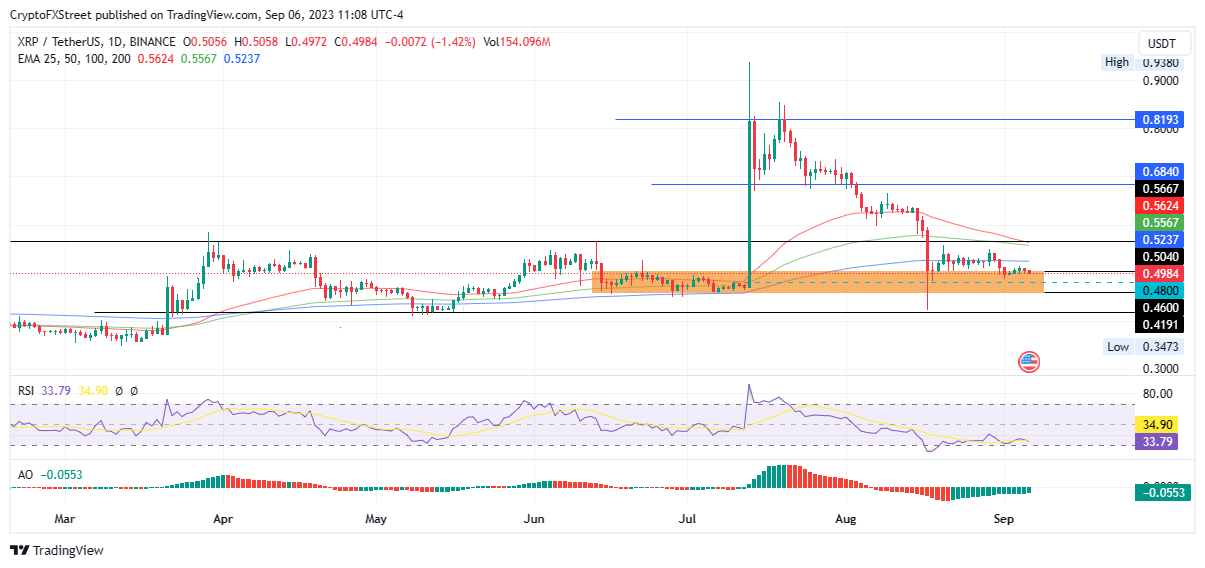 XRP/USDT one-day price chart on Binance
XRP price could recover from the recent decline if it climbs past the 100-day and 50-day Exponential Moving Averages (EMAs) at $0.55 and $0.56, respectively.
Join our Telegram Channel https://t.me/elevenews