SOL crashes ahead of FTX hearing, is BTC next?
Solana price took a 9% hit as the Omnibus Hearing could allow FTX to liquidate its assets.
Bitcoin price has produced a lower low on the weekly timeframe, adding credence to the bearish outlook.
The US CPI on September 13 could move the markets if the inflation comes in hotter than expectations.
Over the weekend, Vitalik Buterin's Twitter was compromised, and SOL price faced a massive sell-off on rumors of the FTX bankruptcy hearing. This week, in particular, is extremely important due to a few things and is more than likely to induce volatility and move markets in the coming days.
Let's take a look at what to expect next week.
Bitcoin price produced a lower low on the weekly timeframe, reinforcing the bearish outlook.
According to DeFi Investor on Twitter, FTX will likely get approval to liquidate its assets after the Omnibus Hearing on September 13.
The US CPI release on September 13 will also play a key role in how calm the markets will be for the next week.
Bitcoin price at a critical point
Bitcoin price produced a weekly candlestick close below the June 12 low at $25,939, creating a lower low on the weekly time frame. This move signals an incoming downward move for BTC and reinforces the already bearish outlook.
Additionally, as mentioned in a previous publication, the third quarter is where investors need to be expecting dips and not rallies. Moreover, September is the most bearish month in the 12-year history of Bitcoin price, with an average monthly return of -5%.
If the bearish outlook continues, BTC could revisit these key levels at $24,500, $23,600 and $21,300.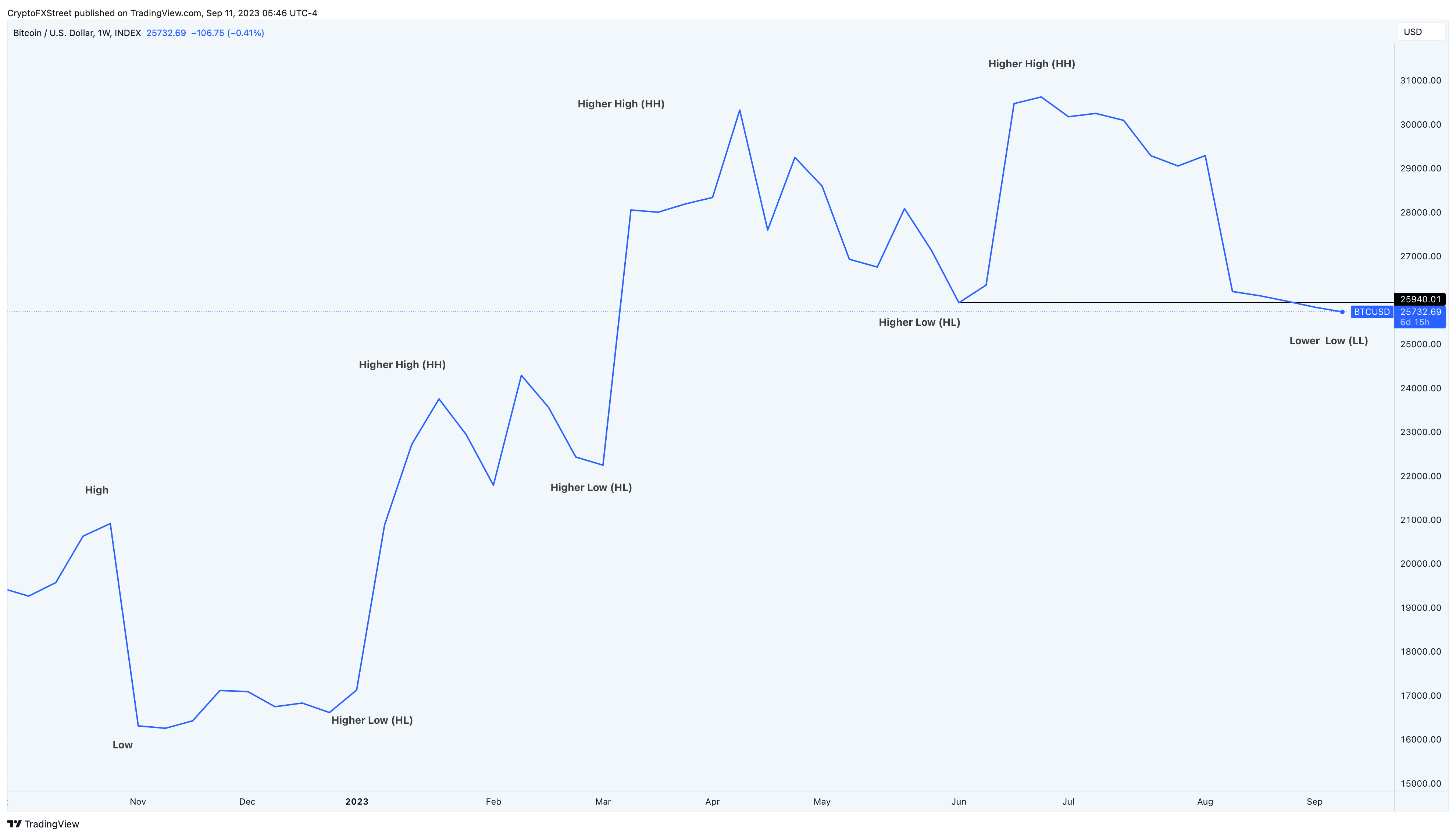 BTC/USDT 1-week chart
Read more: Bitcoin Weekly Forecast: BTC could revisit $21,000 as sell signals multiply ahead of US CPI
FTX assets to flood exchanges?
According to DeFi Investor on Twitter, the hearing on September 13 will likely give FTX approval to liquidate its $3.5 billion worth of assets to compensate the creditors.
Front-running investors have already begun to sell SOL, which experienced a steep 9% correction in the last 24 hours.
Big selling pressure is potentially coming next week🚨

FTX will likely get approval to liquidate its assets on Sept. 13.

FTX had $3.4B in crypto in April. The proposed plan is to sell assets worth up to $200M per week. pic.twitter.com/4aHnhOVKP1

— The DeFi Investor 🔎 (@TheDeFinvestor) September 9, 2023
US CPI to dictate where BTC will head next
On September 13, the US Consumer Price Index (CPI) will be released, which is forecast to come in at 3.5%, which is higher than the previous month's 3.2%. 
Only if the deviation of the US CPI is much higher than the anticipated numbers will the probability of an interest rate hike from the Federal Reserve increase. But if the numbers are underwhelming, then markets are unlikely to react.
Join our Telegram Channel https://t.me/elevenews