Shiba Inu whales move 1.52 trillion SHIB overnight, meme coin gears for recovery
Shiba Inu has registered a spike in large volume transactions in the last 24 hours.
SHIB tokens worth $11.11 million were moved in whale transfers, signaling increase in user activity.
SHIB price climbed nearly 5% since September 11 low of $0.00000695.
Shiba Inu, one of the largest meme coins in the crypto ecosystem, seems to be gearing towards a price recovery, according to the latest on-chain developments. Large volume transfers initiated by whales moved 1.52 trillion SHIB tokens in the past 24 hours.
Shiba Inu large transaction volume likely to fuel volatility in SHIB
Large transaction volumes are typically associated with volatility in the asset's price, particularly in days of thin trading. In the case of SHIB, based on data from crypto intelligence tracker IntoTheBlock, the total volume of token transfer in the last 24 hours accounts for 1.52 trillion SHIB.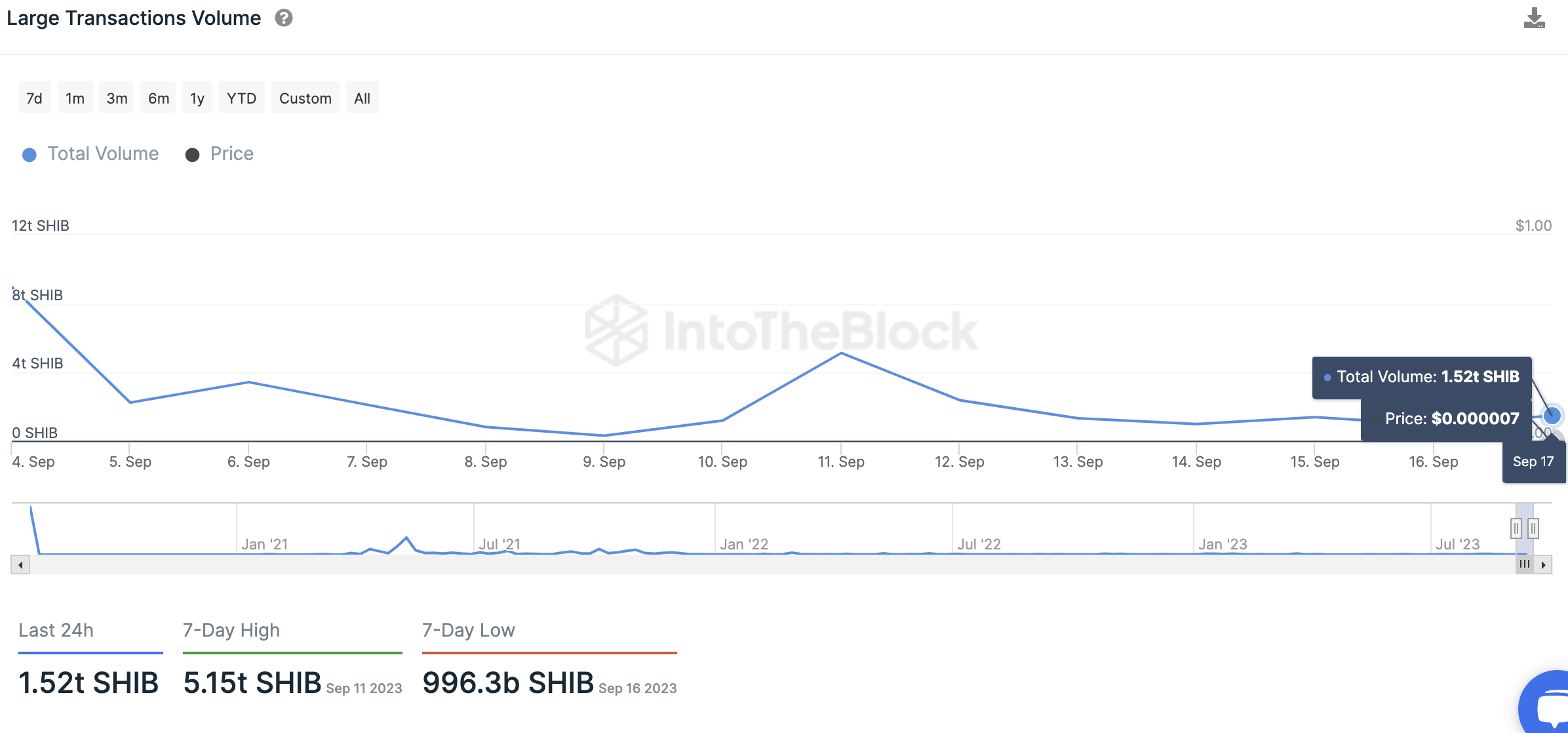 Large transaction volume in Shiba Inu
SHIB tokens worth $11.11 million were moved across the chain. Such moves signal an increase in user activity, which in thinly traded days can bring a spike in volatility in the asset's price in either direction. In Shiba Inu's case, it is possible that the price reaction is to the upside as the meme coin has gained 5% from September 12, when it posted a three-month low of $0.00000695.
The meme coin's price has been in a downward trend since August 12. At the time of writing, SHIB price is below its three long-term 10-day, 50-day and 200-day Exponential Moving Averages (EMA) at $0.00000738, $0.00000795 and $0.00000890, respectively.
Events like the relaunch of the Shibarium network after the botched first attempt and the mass burn of SHIB tokens have failed to catalyze a recovery in SHIB price. The spike in large transactions by whales could push the meme coin higher, supporting a decisive break out of the downward trend.
Join our Telegram Channel https://t.me/elevenews